Passing Yiddish Down in the Family
17.09.2013
Chana Gonshor, born in 1919 in Warsaw, proudly explains how many of her children, grandchildren, and even in-laws understand and/or speak Yiddish.
To learn more about the Wexler Oral History Project, visit:http://www.yiddishbookcenter.org/tell…
Speaking Yiddish on the Street
 11.05.2012
Kalman Weiser explains that when he speaks Yiddish in public he is often interrupted by Yiddish speakers. (Yiddish with subtitles)
To learn more about the Wexler Oral History Project, visit:http://www.yiddishbookcenter.org/tell…
Favorite Yiddish Words
 18.03.2011
Summer students, faculty and others share their favorite Yiddish words and expressions
ניגון חב"ד ידוע על הגג (על הצ'לו) | Chabad Niggun on the roof on CELLO
05.03.2014
יחי המלך המשיח !
צ'לן על הגג ! תהנו… תתאהבו…
Benad – בנעד
The Value of an Uninspired Mitzva by r yoel kahn yiddish 2014
27.02.2014
The topic of this webcast for Parshas Pekudei is "The Value of an Uninspired Mitzva It is delivered in Yiddish and a transcription in English 5774
Automatic Business Parshas Vayakhel by r yoel kahn yiddsh 2014
27.02.2014
The topic of this webcast for Parshas Vayakhel is "Automatic Business Jew's business should not be his life's main focus." It is delivered in Yiddish and a transcription in English 5574
Judaism's 6 Points of Connection
26.02.2014
Judi Gladstone, of Secular Jewish Circle of Puget Sound, explains the 6 points of connection for all Jews, religious or secular.
Secular Jewish Circle is Seattle's Home for Secular Jews.
Visit our website: http://www.secularjewishcircle.org
The Secular Jewish Circle of Puget Sound (SJC) has been a vibrant, independent, and diverse community since 1994. At SJC, Judaism thrives through holiday celebrations, Bar/Bat Mitzvahs ceremonies, a culture-based Sunday school for children, book club, dinners, outdoor family events, and social action. Our intergenerational community includes Jewish individuals and couples, children, interfaith and multi-cultural families, and members of the LGBT community.
3/03/14- Preview of the 2014 Atlanta Jewish Music Festival with Russell Gottschalk – @atlantaJmf
 04.03.2014
3/3/14- Preview of the 2014 Atlanta Jewish Music Festivall with Russell Gottschalk – Director & Founder- @atlantaJmf #freshJewishMusic http://www.atlantajmf.org – by C. David Triviño, Esq. Atlanta, Georgia USA @T4Vista via YouTube Capture
"Are We One People?" – Rabbi Sivan Maas
 16.01.2014
An exploration of historical and contemporary Jewish diversity through the symbolism and evolution of Hanukkah. Presented at Colloquium 2013 of the International Institute for Secular Humanistic Judaism on "The Future of Jewish Peoplehood."
WEEKLY STORY: Two Guests
A pleasing fragrance to G‑d (1:17)
Regarding an animal offering the Torah says "a pleasing fragrance to G‑d," and regarding a bird offering the Torah also says "a pleasing fragrance to G‑d." This comes to tell you that whether one offers much or offers little, it is pleasing to G‑d—so long as one directs his heart to heaven . . .
—Rashi's commentary
One day, Rabbi Shmuel of Lubavitch said to his son, Rabbi Sholom DovBer: "Today, two people came to see me. From one, I derived great pleasure; from the other, only aggravation.
"The first was Reb Eliyahu, a simple merchant from Abeleh, a small settlement near Lubavitch.1 My conversation with Reb Eliyahu went as follows:
"'Reb Eliyahu, how are things with you?'
"'Thank G‑d.'
"'How's business?'
"'Thank G‑d. But, Rebbe, my heart aches for Yosef of our village—he simply has no success in anything. We raised a small sum between us and bought him a horse and wagon so that he could take some goods to the city, but the poor fellow has no luck. Always something happens: the axle cracks, the horse breaks a leg, and then the horse is stolen altogether. All shlimazeldik possibilities befall him. Oh, Rebbe, how can I help him?!'
"Reb Eliyahu emitted a deep sigh and burst into tears: 'Rebbe! Please help him!'
"I said to Reb Eliyahu: 'But indeed, there is much that you can do for him. When a Jew participates in the sorrow of his fellow and prays for him, he banishes all negative decrees.'
"I then took a coin from my pocket. 'I want to be your partner,' I said. 'May the Almighty grant that you be privileged to be of assistance to a fellow Jew, and may your efforts meet with success.'
"'Rebbe, you want me for a partner!?' cried Reb Eliyahu, trembling from head to foot. 'Do you know what I am? I am the 'coarse substance'2 which the Tanya (the fundamental text of Chabad chassidic philosophy) speaks of, whose only rectification is to be crushed . . .'
"And my second guest? The esteemed chassid Rabbi Eliezer of Plotzk, author of the work Mishnat Eliezer, was also in Lubavitch today.
"'How are things?' I asked.
"'Thank G‑d. I give an in-depth class in Talmud to the young men, and they learn well. On Shabbat they meditate and pray long after the congregation has concluded. They study the teachings of Chassidism . . .'
"'What of their character traits?' I interjected.
"'Well . . . You know how it is with the children of the rich . . .'
"I said to him: 'The fault is their mentor's, not theirs. The foundation of education and guidance is the imparting of a good character. Not to teach the book, but to teach the person.
"'As soon as you return home, I want you to establish a free-loan fund. Every one of these young men should contribute half of his dowry.'
"'But Rebbe,' protested Rabbi Eliezer, 'I will never prevail upon them to do this!'
"'If I say so, you will manage. Tell the young men that when they give, they are not giving what is theirs, and if they do not give, they will not have what to give. I hope that on your next visit you will bring me better tidings.'
When the rebbe finished telling his son about these two encounters, he remarked: "Had I wished to give in to the desire of my G‑dly soul,3 I would have grabbed Reb Eliyahu Abeler and covered his face with kisses . . ."
FOOTNOTES
1.
Abeleh was one of the hamlets that Rabbi Shmuel was trying to turn into a "town." At the time, a new anti-Jewish decree had been passed by the czarist government forbidding Jews to live in villages, so the rebbe invested much effort to promote as many settlements as possible to the status of "town."
2.
Chomer ha-gas, in Hebrew.
3.
See Strength In Numbers.
PARENTING: Kids in the Kitchen
| | |
| --- | --- |
| Kids in the Kitchen | Adar II 2, 5774 · March 4, 2014 |
| Making Shabbat "Their" Way | |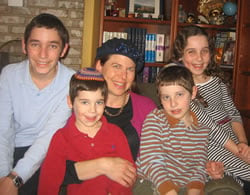 The author and her children
Friday morning dawned frigid—it was colder in Chicago than in Anchorage(!)—and snowy. My kids were off from school, and I woke up with a pounding headache and fever.
Normally, Friday is my busiest day: I wake up early and start cooking my soup first thing, so it can simmer all day. Once my kids are at school, I shop for groceries, do laundry, straighten up, and cook our favorite Shabbat dishes. I love the peace and quiet of the house as I chop vegetables and prepare meals.
Clearly, this Friday was going to be different.
"What's for breakfast, Mommy?" one of my kids asked. I blinked at him blearily. It dawned on me that I was going to need to rely on him if I was ever going to make it through the day. "You know what?" I replied. "I'm going to need your help."
As I got toast and eggs ready, I gave him his first task: helping his younger brother say his morning prayers. I'd never asked this of him before, and I couldn't help but smile as I overheard their conversation. "This part is really hard," he said to his brother. I got ready to step in to help, when I remembered something I'd heard the noted author and child psychologist Wendy Mogul say years before.
Clearly, this Friday was going to be different
It's important to give kids tasks and chores to do, she said, but that's only half the battle; just as crucial is to let children find their own ways of doing them. Forcing children to mimic the way we act is akin to slavery, she said; it saps their excitement in new tasks, and prevents them from "owning" the chores we want them to master.
So I bit my tongue, and heard my son continue, "This part is really hard; it's like a tongue-twister!" And then slowly, painstakingly, he worked through the passage for his brother. I'd rarely heard the two of them more animated; the pride on their faces was touching as they finally put the prayerbook away and came to breakfast.
As we ate, I outlined the day. "Shabbat starts in a few hours," I said, "and we have to get ready. I'd like you to do some of the cooking. What would you like to do first?"
"Dessert!" my kids cried in unison. Biting my tongue again, I set out ingredients. I'm not sure if it was the flu or remembering Wendy Mogul's advice, but I stayed silent as my kids got out copious amounts of sugar sprinkles to decorate their creations with. I didn't say anything when—searching for cookie cutters—they dragged out the bucket containing their modeling clay stamps and molds.
After a while, the kitchen table was coated with a sticky mix of dough and sugar, Play-Doh and sprinkles. But two dozen fantastic cookies lay on a tray for me to bake, and my kids were excited, eager for their next task.
As I laid out more ingredients and we all cleaned up, I noticed something unusual for a Friday in my house: as messy as we all were becoming, we were all in great moods. There was none of the usual stress I normally associate with cooking and cleaning with kids.
Instead, we talked about Shabbat. My oldest son took time out to explain the week's Torah portion to his younger siblings. One child unexpectedly started singing a Shabbat song. One son announced that he was going to go take a bath and dress for Shabbat—hours early. (I was about to ask him to wait—he did wind up getting his nice Shabbat clothes all dirty—but I held my tongue; my kids were so excited about their Shabbat preparations, I didn't want to spoil it.)
The afternoon passed by in a blur. My five-year-old polished our silver kiddushcups and candlesticks (and his entire body and most of the kitchen and bathroom). My eight-year-old discovered a passion for peeling potatoes (and peeled ten pounds of them before I stopped him). When I noticed that some things still needed finishing, I searched for ways to phrase my requests. "Kids," I finally said, "I see there are still some things that need to be done before Shabbat—can you please figure out what they are?" Like magic, my kids got to work, cleaning and tidying and getting everything ready.
Just before Shabbat, my son saw me putting on my boots, and asked where I was going. When I said I was taking out the garbage, he jumped up. "I'd love to!" he cried. Standing there, in all his (now slightly dirty) Shabbat finery, he looked so eager, so excited.
Our soup was a hard, burned solid
That magical Shabbat, our soup was a hard, burned solid. (All the broth had somehow evaporated away.) We still hadn't gotten all the silver polish off the bathroom sink. But our kiddush cups shone, and so did my kids' faces. This was "their" Shabbat, and I noticed they treated it differently. They seemed to enjoy their food even more after planning the menu and doing the cooking. They were proud of how neat their rooms were, and took extra care to keep them tidy. They even took charge in other ways, suggesting we all sing after dinner, for instance, and choosing their favorite songs.
I'm not sure I'm ready to hand over the reins so completely again; I'm still finding lumps of cookie dough all over the kitchen floor, and I doubt our experiment in extreme kid-empowerment would be so successful each week. Besides, I like my professional-looking challahs, and enjoy doing Shabbat "my way."
But as my kids get older, I'm going to try to remember they need a "my way," too—that the surest route to feeling you own something is to work on it and make it yours. I want my kids to grow up loving Shabbat—I want to see the joy and energy of this recent kid-directed Shabbat in them again. If the best way to make that happen is to tolerate a little cookie dough (and silver polish and burned soup . . .), it's a price I'm more than willing to pay.
ESSAY: A Great Smallness
| | |
| --- | --- |
| A Great Smallness | Adar II 3, 5774 · March 5, 2014 |
| | |
An article in New York magazine entitled "How Not to Talk to Your Kids" described Thomas, a gifted fifth-grader who attended a highly competitive school. In his school, prospective kindergarteners were given an IQ test to confirm their precociousness, and only the top one percent of all applicants was accepted. Thomas scored in the top one percent of the top one percent.
Since Thomas could walk, he has always heard that he was smart. But as he progressed through school, this self-awareness didn't always translate into fearless confidence in tackling his schoolwork.
In fact, Thomas's father noticed just the opposite. "Thomas didn't want to try things he wouldn't be successful at. Some things came very quickly to him, but when they didn't, he gave up almost immediately."
The article explained that since 1969, with the publication of The Psychology of Self-Esteem, in which it was opined that self-esteem was the single most important facet of a person, the belief that one must do whatever he can to achieve positive self-esteem has become a movement.
"Anything potentially damaging to a kid's self-esteem was axed. Soccer coaches handed out trophies to everyone, and teachers threw out their red pencils. Criticism was replaced with ubiquitous, even undeserved, praise."
Studies over the past ten years, spearheaded by psychologist Carol Dweck, however, have concluded that high self-esteem didn't improve grades or career achievement.
"When we praise children for their intelligence," Dweck wrote in her study summary, "we tell them that this is the name of the game: Look smart, don't risk making mistakes."
On the other hand, she explains, "Emphasizing effort gives a child a variable that they can control . . . Emphasizing natural intelligence takes it out of the child's control, and it provides no good recipe for responding to a failure." Offering praise, the article concluded, has become a sort of panacea for the anxieties of modern parenting.
---
As parents, we obviously believe that genuine self-esteem is important to our children's psychological and spiritual development. But how can we avoid the possible negative effects in praising our children's achievements?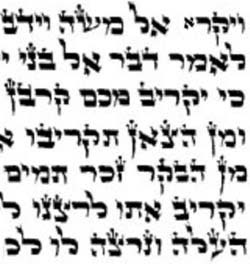 This week's Torah reading, the first portion of the third book of the Torah, is called Vayikra, which means "He called." It begins with G‑d calling to Moses from the Sanctuary to teach him the laws that he would transmit to the Jewish people.
There is an interesting anomaly in how the word vayikra is written in the Torah scroll. The last letter of the word, the letter aleph, is written in a small, undersized script. In contrast, the first letter of the opening word of the Book of Chronicles, "Adam"—also an aleph—is written with a large, oversized script.
What is the message of the small and large alephs? And do they perhaps hold a lesson for us as parents in how to help our children gain a positive and productive self-image?
The chassidic masters explain that Adam was formed by G‑d Himself, fashioned in the "divine image." Aware of his superior qualities as "G‑d's handiwork" and the crowning glory of creation, he became somewhat proud. The large aleph in Adam's name indicates his self-importance, which led to his downfall in the sin of the tree of knowledge.
In contrast, Moses was also aware of his superior qualities as the greatest prophet to ever live, through whom the Torah was communicated to this world for perpetuity. But, rather than cause him conceit, this awareness brought him humility. Moses recognized that his impressive capabilities were granted to him as a gift from G‑d. Accordingly, he felt no conceit, but a pressing sense of responsibility. Thus, when Moses recorded in the Torah that G‑d called to him, he wrote the word vayikra with a small aleph.
Adam and Moses were both great men, aware of their greatness. But in Adam this sense of self-worth caused his disgrace, whereas in Moses it evoked humility and further greatness.
True humility and a productive self-image do not come from denying one's talents, but rather from acknowledging that they are merely a bequest from Above, providing a channel through which to exert the greatest effort in accomplishing His will.
---
The most empowering self-image that you can give your child is the knowledge that she is a part of something much greater than herself. She is a creation of G‑d, who has great expectations from her. It is not the talents that she is born with that matter, but what she makes of them.
The lesson of the aleph is: Teach your child his greatness. Show him his infinite potential, his vast talents and his special capabilities.
But at the same time, clarify to your child that these are gifts endowed to him by G‑d, who desires that he utilize his unique talents to better our world—in a way that he, and only he, can.
Help your child experience her largeness, but at the same time, let her feel her smallness. Realizing her responsibility and the significance of her personal attainments will cause her to continually strive to reach ever higher.
For more information on the Colloquium 2013 program, please visithttp://iishj.org/colloquium-13.html.
Kissin offers Jewish composers, Yiddish poets in striking concert departure
Washington Post
He is also known as a pianist of Russian Jewish extraction. He is hardly known at all as an Israeli, and for good reason. He took Israeli citizenship only last December. And he is emphatically not known, outside a small circle, as someone who recites …
See all stories on this topic »
/
Yiddish Theater's Latest Fusion
The Jewish Week
In an interview, Herskovits told The Jewish Week that in addition to allowing the company to "shine a light on other Yiddish literature, especially poetry and novels," the new series is very much in the boundary-busting spirit of Yiddish theater …
See all stories on this topic »
/
Purim tale gets Yiddish musical treatment
San Francisco Examiner
This week in Berkeley, the Yiddish Theater Collective presents the local premiere of "Di Megileh of Itzik Manger," a show that's been a hit with Jewish audiences in Israel and New York. It tells Queen Esther's tale — the basis for the Jewish holiday …
See all stories on this topic »
/
Only 2% of Israeli Jews speak Yiddish as mother tongue
Israel Hayom
New data released by the Central Bureau of Statistics over the weekend indicated that Israel is home to only 120,000 people who speak Yiddish as their mother tongue — 2% of the Jewish population. The figure represents a sharp decline from 2008, when …
See all stories on this topic »
/
On Why I Take Yiddish Now
New Voices
In my previous article, however, I also mentioned that, for me, Yiddishkeit was a way to connect with my Jewish identity, both because it was the language my ancestors spoke, and because, I think, at least in the United States, Yiddish culture has …
See all stories on this topic »
/
Yiddish Vinkl
Cleveland Jewish News
(A bisl Yiddish; Jewish Presence in Poland, http://www.KosherPress.com). • "A harts iz a shlos, m'darf dem rikhtikn shlisl. A heart is a lock; you have to find the right key." (www.yiddishin10lessons.blogspot.com). • "A goldener shlisl efnt ale tirn. A golden …
See all stories on this topic »
/
Uruguayan book sheds new light on Jewish Legion
San Diego Jewish World
uruguay-jewish legion MONTEVIDEO, Uruguay–A previously unknown Yiddish book, Zichronot Fun Yiddischen Legion (Memories of the Jewish Legion) by Moshe Krel, written, published, and printed in Montevideo, Uruguay in May, 1938, was discovered by …
See all stories on this topic »
/
Yiddish dancing just one of many events at Spa Flurry Festival
Schenectady Gazette
But have you tried Yiddish dancing? "People love it. You don't have to pay as much attention to what your feet are doing, so you can focus more on style," says Avia Moore, a young Canadian who travels around the world to teach people how to do the …
See all stories on this topic »
/
Blitspostn, Vebzaytlekh, Veblogs: The Rise of Yiddish Online
Slate Magazine (blog)
And yet Yiddish, decimated by the Holocaust, is thriving online. Once the primary language of Central and Eastern European Jews, Yiddish had over 10 million speakers before the Second World War and boasted a thriving literature, a theater scene …
See all stories on this topic »
/
arts, culture & judaica | Purim shpiel with a twist: Poetic Yiddish musical …
Jweekly.com
Now, "Di Megileh" makes its West Coast premiere with a production from the YiddishTheater Collective in collaboration with KlezCalifornia and the Jewish Music Festival. It runs Thursday, March 6 to March 10 at the Jewish Community Center of the East Bay.
See all stories on this topic »
Haifa Symphony: Welcome to America, finally
The Jewish Journal of Greater L.A.
"Modern Jewish repertory is characteristic programming of the Haifa Symphony," Dawidow, 59, said. "The choices for the tour, as much as possible, represent the music I love and that the audience will love." Along with the Tchaikovsky concerto, Israeli …
See all stories on this topic »
/
Matisyahu on music, religion and life in L.A.
The Jewish Journal of Greater L.A.
M: This record is filled with Jewish themes. My last record ["Spark Seeker"] was, as well. I was trying to understand when people would say, "Oh it's not Jewish anymore"; I realized what it is. What people want is blatant, obvious Jewish references so …
See all stories on this topic »
/
Rome Jewish community president also sent pig head
Jewish Telegraphic Agency
… president of the Rome Jewish community revealed that he too had been sent the severed head of a pig about 10 days after pig heads were sent to Rome's main synagogue, the Israeli embassy and a museum with an exhibit on Jewish culture in January.
See all stories on this topic »
/
President of Rome Jewish Community Was Also Sent Severed Pig's Head
Jewish Daily Forward
The president of the Rome Jewish community revealed that he too had been sent the severed head of a pig about 10 days after pig heads were sent to Rome's main synagogue, the Israeli embassy and a museum with an exhibit on Jewish culture in January.
See all stories on this topic »
/
Comedy Central's 'Broad City' Isn't Just Funny. It's Important.
Tablet Magazine
It's important. And it belongs in the same pantheon with a small group of iconoclastic artists, so many of them Jewish, who have redefined culture with loud and libidinal bursts of energy and made it joyous again. Think Lenny Bruce. Think Joey Ramone.
See all stories on this topic »
/
Reel World: Jewish Film Festival launches, KiMo goes crazy for Swayze …
Weekly Alibi
Albuquerque is home to a number of increasingly diverse cinematic celebrations—from the Italian Film & Culture Festival to the Southwest Gay & Lesbian Film Festival. Now you can add the ABQ Jewish Film Festival to the mix. The Jewish Community Center …
See all stories on this topic »
/
Critical thinking is the norm at Hebrew Academy
Huntington Beach Independent
Administrators at the academy said such a philosophy has been exercised at the school since it started in 1969, not simply for academic reasons but because it's part of theJewish culture. Director of Admissions Alexandra Greenberg explained that every …
See all stories on this topic »
/
Rabbi to speak on 'The Secular Synagogue: Judaism Beyond God'
Arizona Daily Star
The Secular Humanist Jewish Circle is a local group that aims to meet the affiliative needs of cultural, humanist, secular Jews (and their non-Jewish family members/partners) in the greater Tucson community. The organization is open to individuals and …
See all stories on this topic »
/
The Jewish Case Against Unplugging
Jewish Daily Forward
The Jewish cultural organization Reboot's "Sabbath Manifesto," which aims to put a "modern spin on the tradition of a weekly day of rest," places unplugging on the top of its list and is encouraging everyone to take part in the National Day of …
See all stories on this topic »
/

by Sam Glaser

My groovy, let's-all-make-aliyah theme song that describes the various major redemption moments of the past century.

---

by Emuna Braverman

Our eldest son is acting out in strange ways. Is this a passing phase or a cry for help?

---

by Emuna Braverman

Do our kids realize that losing is not the worst thing to happen? Do we?

---

by Mrs. Lori Palatnik

Yes, it does make a difference.

---

by Sara Yoheved Rigler

Unmasking the Divine on Purim.

---

by Rabbi Akiva Tatz

Searching for clarity and the road back to the garden.

---

by Mark Miller

An anti-Israel group is advancing a conspiracy theory that Jews control the Internet. If true, the Internet would look something like this…

---

by Marnie Winston-Macauley

Sean Penn helped rescue businessman Jacob Ostreicher from Bolivia. Let's thanks Penn and these other lesser known heroes.

---

by Dreamworks

How do we know our limits if we don't try to push past them?
---
Not a sign of defeat, but a sign of engagement
Posted: 05 Mar 2014 06:41 AM PST
I just shared a post about prayer and parenthood. (Which has garnered some lovely comments, by the way; thanks, y'all!) Next up, I wanted to offer something different. Variety being the spice of life, and all that. But apparently the writing I'm doing this week is either for other sources (and therefore not publishable here), or is on these same themes. As my mentor Jason Shinder used to say, "Whatever gets in the way of the work, is the work." I guess this intersection is the work in which I'm immersed at this moment in time.
Lately, in fits and starts, I've been reading Verlyn Klinkenborg's Several short sentences about writing. I've dogeared the page where this appears:
But if you accept that writing is hard work,
And that's what it feels like while you're writing,
Then everything is just as it should be.
Your labor isn't a sign of defeat.
It's a sign of engagement.
The difference is all in your mind, but what a difference.
He's talking about the writing life, of course, though (predictably) I've been thinking of this as pertaining to spiritual life, too. Writing life, spiritual life: both will inevitably contain times when "the thrill is gone," when the spark doesn't feel as though it's there; times when one has to work hard just to get the boulder moving up the hill, or when the journey is arduous instead of scintillating. And that's not a sign of failure, as Klinkenborg notes: it's a sign that one is engaged in something that matters.
Or, taking his words in a different direction, try this paraphrase:
But if you accept that parenting is hard work,
And that's what it feels like while you're parenting,
Then everything is just as it should be.
Your labor isn't a sign of defeat.
It's a sign of engagement.
The difference is all in your mind, but what a difference.
Parenting is hard work! And it's supposed to be. Though rearing a four-year-old presents different challenges than caring for an infant, it's still work. I still struggle to maintain the good humor, the equanimity, the right balance of gentleness and firmness to which I aspire. I still fall down on the job, snap at our son when I didn't mean to, drive myself up a tree with fruitless attempts to convince him to try a food which he doesn't already know he enjoys. But if I take Klinkenborg to heart, then the fact that parenting is hard work doesn't mean I'm failing at it — on the contrary, it means I'm doing it well.
Just so with spiritual life. Sometimes my prayer life and my spiritual consciousness "jut flows," and sometimes it feels as though the channels are blocked, as though God isn't listening — or maybe as though I can't muster the focus to be listening in return. Sometimes I can't wait to set aside time for daily prayer, and other times I want to skip it all and just go back to sleep. That doesn't mean I'm failing in my spiritual life. If I'm paying enough attention to notice that sometimes it's easy, and sometimes it's hard, then I'm paying attention, period, and that's an essential component of spiritual life.
And just so with writing. Whether I'm writing poetry, or blog posts, or essays, there's work involved in choosing the right words and putting them in the right order — reading them aloud, winnowing a word here and a phrase there, reading them aloud again — paying attention to white space, scrapping the boring words and replacing them with words which (ideally) sing. That's the craft of writing. Sometimes it feels like flying, but more often it feels like building a stone wall, testing it for soundness, taking it apart, building it again. (Which is why Stone Work, by John Jerome, manages to be simultaneously about building a stone wall and about the writing life. I miss you, John.)
As Thomas Lux wrote in his poem "An Horatian Notion" (one of the few poems I've ever memorized):
…Inspiration, the donnée

the gift, the bolt of fire
down the arm that makes the art?
Give me, please, a break!
You make the thing because you love the thing
and you love the thing because someone else loved it
enough to make you love it.
(I wrote a kind of d'var Torah on that poem a while back — What are we here for?) Poetry doesn't come from a bolt of fire. Sustained spiritual practice doesn't either. Though sometimes peak spiritual experiences can involve a kind of ecstatic blaze, the way to cultivate that flame is to tend it carefully, day in and day out, even when you don't feel like keeping the fire burning. The way to cultivate poetry is to keep writing and revising it. And as for parenting — I don't think one gets a choice, having become a parent, about whether or not to keep doing it on a daily basis! These are long-haul journeys. We enter into them trusting that there will be blessings to balance the labor.
There's something beautiful, to me, in the idea that these lifelong practices take work, and that they're supposed to take work. It's okay if writing is hard — if spiritual life is hard — if parenting is hard. "The labor isn't a sign of defeat. / It's a sign of engagement." It's how we know we're actually in the world, doing work that matters.