Marsz Pamięci z okazji 71. rocznicy likwidacji getta – spot 2014
25.02.2014
Marsz Pamięci z okazji 71. rocznicy likwidacji getta w krakowskim Podgórzu – niedziela, 9 marca 2014 roku, godz. 12.00; pod patronatem Jacka Majchrowskiego, Prezydenta Miasta Krakowa i Tadeusza Jakubowicza, Prezesa Gminy Wyznaniowej Żydowskiej w Krakowie; organizator Marszu: Stowarzyszenie Festiwal Kultury Żydowskiej; projekt i realizacja klipu: Tomasz Jurecki & ElektroMoon Vision. więcej informacji: http://www.jewishfestival.pl
How to Lay Tefillin
27.03.2010
When laying tefillin, you'll make your blessing once the wraps are on the sides of your head. Find out how to correctly lay the head tefillin with help from a Rabbi in this free video on Jewish culture.
Expert: Rabbi Mordechai Salfer
Contact: http://www.doresh.org
Bio: Rabbi Mordechai Salfer is the Rosh Yeshiva of Yeshivas Doresh and holds a doctorate in psychology.
Filmmaker: Aaron Zippin
Jewish Culture : How to Wear a Tallit
 27.03.2010
To wear a tallit, start by holding it over your head while holding both edges of the embroidered edge. Discover how to wear a tallit with guidance from a Rabbi in this free video on Jewish culture.
Jewish Practices : How to Wear Tefillin
28.03.2010
When wearing tefillin, it's important to remember that the knot is always supposed to face in towards the heart. Make sure you are wearing your tefillin correctly with guidance from a Rabbi in this free video on Jewish practices.
Expert: Rabbi Mordechai Salfer
Jewish Practices : How to Wear Kippah
28.03.2010
A kippah can be made out of any material and is worn on the top of the head to remind you that there is something above. Satisfy this Jewish obligation with help from a Rabbi in this free video on Jewish practices.
Expert: Rabbi Mordechai Salfer
Jewish Practices : How to Hang a Mezuzah
28.03.2010
A mezuzah is hung typically within the top third of the doorway on the right side of the entrance. Learn how to properly hang a mezuzah with help from a Rabbi in this free video on Jewish practices.
Expert: Rabbi Mordechai Salfer
Contact: http://www.doresh.org
Bio: Rabbi Mordechai Salfer is the Rosh Yeshiva of Yeshivas Doresh and holds a doctorate in psychology.
Filmmaker: Aaron Zippin
How to Care for a Shofar
28.03.2010
When caring for a shofar, make sure to clean it out with bleach and water to eliminate any odors that might accompany it at first. Discover how to care for a shofar with advice from a Rabbi in this free video on Jewish practices.
Expert: Rabbi Mordechai Salfer
How to Blow a Shofar
28.03.2010
A shofar is blown from the right side of the mouth and will begin with a long sound to start with. Find out how to prepare and blow a shofar with guidance from a Rabbi in this free video on Jewish practices.
Expert: Rabbi Mordechai Salfe
Passing Yiddish Down in the Family
17.09.2013
Chana Gonshor, born in 1919 in Warsaw, proudly explains how many of her children, grandchildren, and even in-laws understand and/or speak Yiddish.
To learn more about the Wexler Oral History Project, visit:http://www.yiddishbookcenter.org/tell…
Speaking Yiddish on the Street
 11.05.2012
Kalman Weiser explains that when he speaks Yiddish in public he is often interrupted by Yiddish speakers. (Yiddish with subtitles)
To learn more about the Wexler Oral History Project, visit:http://www.yiddishbookcenter.org/tell…
Favorite Yiddish Words
 18.03.2011
Summer students, faculty and others share their favorite Yiddish words and expressions
ניגון חב"ד ידוע על הגג (על הצ'לו) | Chabad Niggun on the roof on CELLO
05.03.2014
יחי המלך המשיח !
צ'לן על הגג ! תהנו… תתאהבו…
Benad – בנעד
The Value of an Uninspired Mitzva by r yoel kahn yiddish 2014
27.02.2014
The topic of this webcast for Parshas Pekudei is "The Value of an Uninspired Mitzva It is delivered in Yiddish and a transcription in English 5774
Automatic Business Parshas Vayakhel by r yoel kahn yiddsh 2014
27.02.2014
The topic of this webcast for Parshas Vayakhel is "Automatic Business Jew's business should not be his life's main focus." It is delivered in Yiddish and a transcription in English 5574
Judaism's 6 Points of Connection
26.02.2014
Judi Gladstone, of Secular Jewish Circle of Puget Sound, explains the 6 points of connection for all Jews, religious or secular.
Secular Jewish Circle is Seattle's Home for Secular Jews.
Visit our website: http://www.secularjewishcircle.org
The Secular Jewish Circle of Puget Sound (SJC) has been a vibrant, independent, and diverse community since 1994. At SJC, Judaism thrives through holiday celebrations, Bar/Bat Mitzvahs ceremonies, a culture-based Sunday school for children, book club, dinners, outdoor family events, and social action. Our intergenerational community includes Jewish individuals and couples, children, interfaith and multi-cultural families, and members of the LGBT community.
3/03/14- Preview of the 2014 Atlanta Jewish Music Festival with Russell Gottschalk – @atlantaJmf
 04.03.2014
3/3/14- Preview of the 2014 Atlanta Jewish Music Festivall with Russell Gottschalk – Director & Founder- @atlantaJmf #freshJewishMusic http://www.atlantajmf.org – by C. David Triviño, Esq. Atlanta, Georgia USA @T4Vista via YouTube Capture
"Are We One People?" – Rabbi Sivan Maas
 16.01.2014
An exploration of historical and contemporary Jewish diversity through the symbolism and evolution of Hanukkah. Presented at Colloquium 2013 of the International Institute for Secular Humanistic Judaism on "The Future of Jewish Peoplehood."
THE FREEMAN FILES: Purim & Alcohol
| | |
| --- | --- |
| Purim & Alcohol | Adar II 4, 5774 · March 6, 2014 |
| Do I have to get drunk on Purim? | |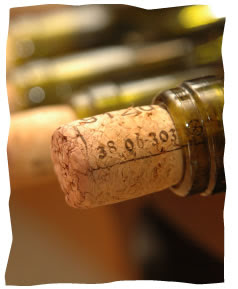 Question:
I'm going to sound like a nerd, but I'm not. Do I have to drink on Purim?
Response:
Purim is not about drinking. Purim is about being drunk with sincere happiness.
Traditionally, Jews have celebrated Purim by drinking a little extra wine at their Purim feast with friends, and if that gets you there, then it's the halachically prescribed way to do the mitzvah. If all drinking does is make you sick or do stupid things, then it goes against everything that Purim is about.1 If you are planning to drive, or you know that drinking can otherwise get you in trouble, then alcohol might as well be pork juice.2
So, what's the whole story with people drinking on Purim? Why is Purim the holiday that's not just happy, but totally, insanely nuts?
Here's the story, straight and simple: Two and a half thousand years ago, the Jews in Shushan were delirious with joy. We're not talking just happiness, but an explosive, spontaneous mass celebration that nobody had ever experienced since Adam and Eve in the Garden of Eden. So they wanted that for all generations, Jews should experience the same ecstatic celebration that they felt then.
Why were they so insanely happy? Not just because they were finally rid of Haman's antisemitic thugs who had been harassing them for an entire year. It was deeper than that. It was because they had withstood an awesome challenge and came out with flying colors.
You see, this was the first time Jews had experienced antisemitism as an exiled nation. They had been picked out from all the other conquered peoples of the Persian empire for persecution because they were, well, just different. Any of them could have easily escaped that persecution and threat of annihilation just by deciding to be not different. By saying, hey, I'm just another Persian citizen. Speak Persian. Eat Persian. Do Persian stuff. Worship Persian idols. Simple. Like they say, why beat 'em when you can join 'em?
And why shouldn't they have joined them? They had already gotten the boot out of the Promised Land. And at that point, the prophet Jeremiah had told them the exile was going to last 70 years. Well, they had counted the 70 years, and everyone figured it was up. And they were still in exile.
Worst of all, only a few years back they had actually started returning and rebuilding in Jerusalem, by royal decree. And then, after just one year, the whole project was axed by a new king's royal decree. You know what it's like when you see the light at the end of the tunnel—and then it goes out? Or, what if that light turns out to be a locomotive coming at you at full throttle?
Which is just how things looked then. The entire nation was under threat of termination, extinction and utter annihilation. And G‑d is nowhere to be found. So it would have been a simple, excusable, knee-jerk reaction for those Jews to say, "Look, He abandoned us, so why shouldn't we abandon Him?"
But they didn't. Every last Jew stood up and said, "I'm a Jew and I'm proud! Haman and his thugs can do what they want! I was born a Jew, and I'll die one too!"
As you can imagine, they were fairly stressed out that year. But then comes the big civil war where Haman's thugs come out in full force, and whaddayaknow, the Jews fight back and are miraculously saved! They see the G‑d of Israel is still on their side! So they break out the champagne and celebrate. Deliriously.
In many ways, Purim was like a second birth for the Jewish People. The first time they were born was at the foot of Mount Sinai, when they heard G‑d telling them, "I'm your G‑d; you are My people. Now, this is what you have to do . . ."
At that time, they didn't really have much choice. I mean, here's a G‑d who just liberated you from slavery amidst fantasmic miracles and hi-tech wonders, fed you bread from the sky and water out of a rock. And He's choosing you for His people, with a promised land of milk and honey to boot. Who could turn down such an offer?3
But this time was the real birth, the true bonding of the Jewish people with one another and with their G‑d. Because this time they had every excuse to cop out. And they didn't. This time was for real.
So, that explains the wild celebration. When the Jewish nation was born the first time around, everyone was also pretty euphoric. They say that at every word G‑d spoke, the souls of those Jews took flight. Special angels had to be appointed to stuff their souls back into their bodies each time. If that was so back then, you can imagine the euphoria when they were born for real this time around. And the Jews of Shushan wanted you to feel that exhilaration, that rapture, that jubilant ecstasy and bliss, every year again and again.
Okay, so how are you going to get there? You've got your own worries and concerns around your neck, anchoring you down and nailed into a body on earth. You need to break out. You need to be set free to fly in the ecstatic, egoless joy that they felt then.
Well, in the Talmud, Rava gives this advice for transcending the ego: "A person has to get drunk on Purim until he cannot distinguish between 'cursed is Haman' and 'blessed is Mordechai.'"4 That works for some people, especially those so high on their Jewishness already. Like they say, "Wine goes in and secrets come out."5 Some people's secret self is pretty holy. But the rest of us . . . well, we all know our own secrets.
Fortunately, there are alternatives.6 Some pretty good ones, too. Keeping in mind that you have to: a) give gifts to two poor people, b) give a food package to one friend, and c) celebrate a Purim feast (with a few l'chaims), here are some enhanced methodologies for an ultimate Purim:
Snap on a bright red nose, a curly purple wig and a lunatic smile. Drop into a retirement home or hospital and make an utter fool of yourself, just to cheer up all the lonely people. Nobody has to ever find out who you are. If you visit the psychiatric ward, just make sure you have a way to get out when you're done.
Hire a clown and offer to be his sidekick. Go with him to the local children's hospital. Take along a pack of lollipops. Go wild.
Fill a shopping cart with groceries for a whole family. Drop in unexpected on some jobless immigrant family who can't pay their rent. Fill up the fridge and write a check for the rent. Leave some toys for the kids.7
Dress yourself up along with your kids in full Purim gear. Run around your neighborhood the entire day delivering Purim packages (mishloach manot) to Jewish neighbors who've never heard of the whole thing. Continue until you collapse on the couch at the end of the day. Do this two years in a row, and you will transform your neighborhood.
I'll bet, if you put your mind to it, you can think of way more. Or maybe don't use your mind. On occasions like this, you might get further losing your mind a little. All in a good way.8
FOOTNOTES
1.
Proof that you do not need to drink comes from Rabbi Yehudah bar Ilai, a sage of the Mishnah. Rabbi Yehudah taught that we are obligated to drink four cups of wine at the Passover Seder, even if it makes us sick. He said about himself that he drank all four cups even though that made him so sick that he was incapable of drinking any wine until 51 days later, on Shavuot. Apparently, then, as those who deal with halachah point out (Shaloh, Shaarei Teshuvah), he couldn't have drunk any wine on Purim—since then he would be unable to drink on Passover, which is only 30 days later. This is cited as proof that on Purim, unlike Passover, the drinking in and of itself is not a mitzvah. There is a mitzvah to be drunk—but there are other ways to accomplish this, as explained later.
2.
In the words of Orchot Chaim, cited by Beit Yosef (Orach Chaim 695:2): "To be thoroughly drunk is completely forbidden. There is no greater sin than this, for it leads to adultery, bloodshed, and many other sins besides. Rather, you should drink a little more than you are accustomed to."
And here is Maimonides, discussing drinking on other holidays: "When a person eats and drinks on a festival, he should not get pulled into the wine and laughter and frivolity, saying that the more of this, the greater the mitzvah of rejoicing on a festival. For drunkenness and too much laughter and frivolity are not rejoicing, but wild and stupid behavior. We were not commanded to be wild or stupid. We were commanded to rejoice, because this is a way to serve the Creator of all things, as it says (Deuteronomy 28:47), 'Because you did not serve the L‑rd your G‑d out of joy and with a good heart when you had everything.' This teaches that serving G‑d must be with joy. But it is impossible to serve G‑d in the midst of mockery, frivolity and drunkenness" (Mishneh Torah, Hil. Yom Tov 6:20).
3.
See Talmud, Shabbat 88a, where the rabbis claim it was downright coercion. They even go so far to say that the acceptance at the Torah at Mount Sinai was outright iffy due to this legal technicality—if not for the authentic, fully volitional acceptance on Purim.
4.
Talmud, Megillah 7b. Cited as the halachah in Shulchan Aruch, Orach Chaim 695:2.
5.
"Wine" (yayin) and "secret" (sod) have the same numerical value (gematria) in Hebrew.
6.
Maimonides (Mishneh Torah, Hil. Megillah ve-Chanukah 2:15) provides this option: "What are a person's obligations at this feast? One must eat meat and prepare a fine meal according to what one can afford. One should drink wine until he is drunk, and fall asleep in his stupor."
7.
A final note from Maimonides, near the end of the laws of Purim (2:17): "Better that a person should increase his gifts to the poor on Purim than to expand his Purim feast and gifts of food to his friends. For there is no greater and more beautiful celebration than to make happy the poor, the orphan, the widow and the immigrant. One who rejoices the hearts of these sorrowful people is similar to the Divine Presence, as the prophet says (Isaiah 57:15), 'To revive the spirit of the downtrodden and to revive the heart of the oppressed.'"
8.
On all the above, see Likkutei Sichot, vol. 31, p. 177.
NEWS: Fear of War and Economic Collapse Brings Uncertainty to Ukraine Jewry
Adar II 3, 5774 · March 5, 2014
| | |
| --- | --- |
| By Dovid Margolin | |

Rabbi steered the growth of Chabad centers around the state, starting in Chicago

Post Comment

  |  

Read Story

What seems like a hobby measures up as a creative form of tzedakah.

Post Comment

  |  

Read Story

Couple works to build a Jewish infrastructure as young families move to the area

Post Comment

  |  

Read Story

A decade of growth prompts Chabad center and community to aim for a primary school

Post Comment

  |  

Read Story

Talk of the Planet
A Time Out for Tech at SXSW #openShabbat
Couple hosts a Friday-night dinner encouraging real conversation, without all the apps
In the Media
The Fading Voice of The Holocaust's Last Survivors
S. Louis Post DispatchFamily Remembers Terror Shooting That Killed Ari Halberstam 20 Years Later
CBS NYUkraine Crisis Leaves Jews Feeling Vulnerable
S. Diego Jewish World
WEEKLY STORY: Two Guests
A pleasing fragrance to G‑d (1:17)
Regarding an animal offering the Torah says "a pleasing fragrance to G‑d," and regarding a bird offering the Torah also says "a pleasing fragrance to G‑d." This comes to tell you that whether one offers much or offers little, it is pleasing to G‑d—so long as one directs his heart to heaven . . .
—Rashi's commentary
One day, Rabbi Shmuel of Lubavitch said to his son, Rabbi Sholom DovBer: "Today, two people came to see me. From one, I derived great pleasure; from the other, only aggravation.
"The first was Reb Eliyahu, a simple merchant from Abeleh, a small settlement near Lubavitch.1 My conversation with Reb Eliyahu went as follows:
"'Reb Eliyahu, how are things with you?'
"'Thank G‑d.'
"'How's business?'
"'Thank G‑d. But, Rebbe, my heart aches for Yosef of our village—he simply has no success in anything. We raised a small sum between us and bought him a horse and wagon so that he could take some goods to the city, but the poor fellow has no luck. Always something happens: the axle cracks, the horse breaks a leg, and then the horse is stolen altogether. All shlimazeldik possibilities befall him. Oh, Rebbe, how can I help him?!'
"Reb Eliyahu emitted a deep sigh and burst into tears: 'Rebbe! Please help him!'
"I said to Reb Eliyahu: 'But indeed, there is much that you can do for him. When a Jew participates in the sorrow of his fellow and prays for him, he banishes all negative decrees.'
"I then took a coin from my pocket. 'I want to be your partner,' I said. 'May the Almighty grant that you be privileged to be of assistance to a fellow Jew, and may your efforts meet with success.'
"'Rebbe, you want me for a partner!?' cried Reb Eliyahu, trembling from head to foot. 'Do you know what I am? I am the 'coarse substance'2 which the Tanya (the fundamental text of Chabad chassidic philosophy) speaks of, whose only rectification is to be crushed . . .'
"And my second guest? The esteemed chassid Rabbi Eliezer of Plotzk, author of the work Mishnat Eliezer, was also in Lubavitch today.
"'How are things?' I asked.
"'Thank G‑d. I give an in-depth class in Talmud to the young men, and they learn well. On Shabbat they meditate and pray long after the congregation has concluded. They study the teachings of Chassidism . . .'
"'What of their character traits?' I interjected.
"'Well . . . You know how it is with the children of the rich . . .'
"I said to him: 'The fault is their mentor's, not theirs. The foundation of education and guidance is the imparting of a good character. Not to teach the book, but to teach the person.
"'As soon as you return home, I want you to establish a free-loan fund. Every one of these young men should contribute half of his dowry.'
"'But Rebbe,' protested Rabbi Eliezer, 'I will never prevail upon them to do this!'
"'If I say so, you will manage. Tell the young men that when they give, they are not giving what is theirs, and if they do not give, they will not have what to give. I hope that on your next visit you will bring me better tidings.'
When the rebbe finished telling his son about these two encounters, he remarked: "Had I wished to give in to the desire of my G‑dly soul,3 I would have grabbed Reb Eliyahu Abeler and covered his face with kisses . . ."
FOOTNOTES
1.
Abeleh was one of the hamlets that Rabbi Shmuel was trying to turn into a "town." At the time, a new anti-Jewish decree had been passed by the czarist government forbidding Jews to live in villages, so the rebbe invested much effort to promote as many settlements as possible to the status of "town."
2.
Chomer ha-gas, in Hebrew.
3.
See Strength In Numbers.
PARENTING: Kids in the Kitchen
| | |
| --- | --- |
| Kids in the Kitchen | Adar II 2, 5774 · March 4, 2014 |
| Making Shabbat "Their" Way | |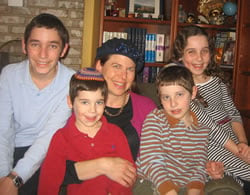 The author and her children
Friday morning dawned frigid—it was colder in Chicago than in Anchorage(!)—and snowy. My kids were off from school, and I woke up with a pounding headache and fever.
Normally, Friday is my busiest day: I wake up early and start cooking my soup first thing, so it can simmer all day. Once my kids are at school, I shop for groceries, do laundry, straighten up, and cook our favorite Shabbat dishes. I love the peace and quiet of the house as I chop vegetables and prepare meals.
Clearly, this Friday was going to be different.
"What's for breakfast, Mommy?" one of my kids asked. I blinked at him blearily. It dawned on me that I was going to need to rely on him if I was ever going to make it through the day. "You know what?" I replied. "I'm going to need your help."
As I got toast and eggs ready, I gave him his first task: helping his younger brother say his morning prayers. I'd never asked this of him before, and I couldn't help but smile as I overheard their conversation. "This part is really hard," he said to his brother. I got ready to step in to help, when I remembered something I'd heard the noted author and child psychologist Wendy Mogul say years before.
Clearly, this Friday was going to be different
It's important to give kids tasks and chores to do, she said, but that's only half the battle; just as crucial is to let children find their own ways of doing them. Forcing children to mimic the way we act is akin to slavery, she said; it saps their excitement in new tasks, and prevents them from "owning" the chores we want them to master.
So I bit my tongue, and heard my son continue, "This part is really hard; it's like a tongue-twister!" And then slowly, painstakingly, he worked through the passage for his brother. I'd rarely heard the two of them more animated; the pride on their faces was touching as they finally put the prayerbook away and came to breakfast.
As we ate, I outlined the day. "Shabbat starts in a few hours," I said, "and we have to get ready. I'd like you to do some of the cooking. What would you like to do first?"
"Dessert!" my kids cried in unison. Biting my tongue again, I set out ingredients. I'm not sure if it was the flu or remembering Wendy Mogul's advice, but I stayed silent as my kids got out copious amounts of sugar sprinkles to decorate their creations with. I didn't say anything when—searching for cookie cutters—they dragged out the bucket containing their modeling clay stamps and molds.
After a while, the kitchen table was coated with a sticky mix of dough and sugar, Play-Doh and sprinkles. But two dozen fantastic cookies lay on a tray for me to bake, and my kids were excited, eager for their next task.
As I laid out more ingredients and we all cleaned up, I noticed something unusual for a Friday in my house: as messy as we all were becoming, we were all in great moods. There was none of the usual stress I normally associate with cooking and cleaning with kids.
Instead, we talked about Shabbat. My oldest son took time out to explain the week's Torah portion to his younger siblings. One child unexpectedly started singing a Shabbat song. One son announced that he was going to go take a bath and dress for Shabbat—hours early. (I was about to ask him to wait—he did wind up getting his nice Shabbat clothes all dirty—but I held my tongue; my kids were so excited about their Shabbat preparations, I didn't want to spoil it.)
The afternoon passed by in a blur. My five-year-old polished our silver kiddushcups and candlesticks (and his entire body and most of the kitchen and bathroom). My eight-year-old discovered a passion for peeling potatoes (and peeled ten pounds of them before I stopped him). When I noticed that some things still needed finishing, I searched for ways to phrase my requests. "Kids," I finally said, "I see there are still some things that need to be done before Shabbat—can you please figure out what they are?" Like magic, my kids got to work, cleaning and tidying and getting everything ready.
Just before Shabbat, my son saw me putting on my boots, and asked where I was going. When I said I was taking out the garbage, he jumped up. "I'd love to!" he cried. Standing there, in all his (now slightly dirty) Shabbat finery, he looked so eager, so excited.
Our soup was a hard, burned solid
That magical Shabbat, our soup was a hard, burned solid. (All the broth had somehow evaporated away.) We still hadn't gotten all the silver polish off the bathroom sink. But our kiddush cups shone, and so did my kids' faces. This was "their" Shabbat, and I noticed they treated it differently. They seemed to enjoy their food even more after planning the menu and doing the cooking. They were proud of how neat their rooms were, and took extra care to keep them tidy. They even took charge in other ways, suggesting we all sing after dinner, for instance, and choosing their favorite songs.
I'm not sure I'm ready to hand over the reins so completely again; I'm still finding lumps of cookie dough all over the kitchen floor, and I doubt our experiment in extreme kid-empowerment would be so successful each week. Besides, I like my professional-looking challahs, and enjoy doing Shabbat "my way."
But as my kids get older, I'm going to try to remember they need a "my way," too—that the surest route to feeling you own something is to work on it and make it yours. I want my kids to grow up loving Shabbat—I want to see the joy and energy of this recent kid-directed Shabbat in them again. If the best way to make that happen is to tolerate a little cookie dough (and silver polish and burned soup . . .), it's a price I'm more than willing to pay.
ESSAY: A Great Smallness
| | |
| --- | --- |
| A Great Smallness | Adar II 3, 5774 · March 5, 2014 |
| | |
An article in New York magazine entitled "How Not to Talk to Your Kids" described Thomas, a gifted fifth-grader who attended a highly competitive school. In his school, prospective kindergarteners were given an IQ test to confirm their precociousness, and only the top one percent of all applicants was accepted. Thomas scored in the top one percent of the top one percent.
Since Thomas could walk, he has always heard that he was smart. But as he progressed through school, this self-awareness didn't always translate into fearless confidence in tackling his schoolwork.
In fact, Thomas's father noticed just the opposite. "Thomas didn't want to try things he wouldn't be successful at. Some things came very quickly to him, but when they didn't, he gave up almost immediately."
The article explained that since 1969, with the publication of The Psychology of Self-Esteem, in which it was opined that self-esteem was the single most important facet of a person, the belief that one must do whatever he can to achieve positive self-esteem has become a movement.
"Anything potentially damaging to a kid's self-esteem was axed. Soccer coaches handed out trophies to everyone, and teachers threw out their red pencils. Criticism was replaced with ubiquitous, even undeserved, praise."
Studies over the past ten years, spearheaded by psychologist Carol Dweck, however, have concluded that high self-esteem didn't improve grades or career achievement.
"When we praise children for their intelligence," Dweck wrote in her study summary, "we tell them that this is the name of the game: Look smart, don't risk making mistakes."
On the other hand, she explains, "Emphasizing effort gives a child a variable that they can control . . . Emphasizing natural intelligence takes it out of the child's control, and it provides no good recipe for responding to a failure." Offering praise, the article concluded, has become a sort of panacea for the anxieties of modern parenting.
---
As parents, we obviously believe that genuine self-esteem is important to our children's psychological and spiritual development. But how can we avoid the possible negative effects in praising our children's achievements?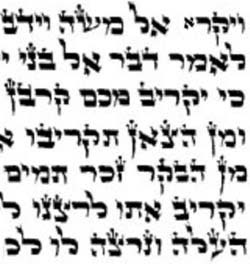 This week's Torah reading, the first portion of the third book of the Torah, is called Vayikra, which means "He called." It begins with G‑d calling to Moses from the Sanctuary to teach him the laws that he would transmit to the Jewish people.
There is an interesting anomaly in how the word vayikra is written in the Torah scroll. The last letter of the word, the letter aleph, is written in a small, undersized script. In contrast, the first letter of the opening word of the Book of Chronicles, "Adam"—also an aleph—is written with a large, oversized script.
What is the message of the small and large alephs? And do they perhaps hold a lesson for us as parents in how to help our children gain a positive and productive self-image?
The chassidic masters explain that Adam was formed by G‑d Himself, fashioned in the "divine image." Aware of his superior qualities as "G‑d's handiwork" and the crowning glory of creation, he became somewhat proud. The large aleph in Adam's name indicates his self-importance, which led to his downfall in the sin of the tree of knowledge.
In contrast, Moses was also aware of his superior qualities as the greatest prophet to ever live, through whom the Torah was communicated to this world for perpetuity. But, rather than cause him conceit, this awareness brought him humility. Moses recognized that his impressive capabilities were granted to him as a gift from G‑d. Accordingly, he felt no conceit, but a pressing sense of responsibility. Thus, when Moses recorded in the Torah that G‑d called to him, he wrote the word vayikra with a small aleph.
Adam and Moses were both great men, aware of their greatness. But in Adam this sense of self-worth caused his disgrace, whereas in Moses it evoked humility and further greatness.
True humility and a productive self-image do not come from denying one's talents, but rather from acknowledging that they are merely a bequest from Above, providing a channel through which to exert the greatest effort in accomplishing His will.
---
The most empowering self-image that you can give your child is the knowledge that she is a part of something much greater than herself. She is a creation of G‑d, who has great expectations from her. It is not the talents that she is born with that matter, but what she makes of them.
The lesson of the aleph is: Teach your child his greatness. Show him his infinite potential, his vast talents and his special capabilities.
But at the same time, clarify to your child that these are gifts endowed to him by G‑d, who desires that he utilize his unique talents to better our world—in a way that he, and only he, can.
Help your child experience her largeness, but at the same time, let her feel her smallness. Realizing her responsibility and the significance of her personal attainments will cause her to continually strive to reach ever higher.
For more information on the Colloquium 2013 program, please visithttp://iishj.org/colloquium-13.html.
Pflicht Maimonides, der Rambam (1138–1204), kommt zu zwei grundlegenden Annahmen: Das Gebet ist ein Gebot aus der Tora und eine täglich zu …
Aboard the S.S. Jewlicious
The Jewish Journal of Greater L.A.
Slave hunters, reggae stars, cabaret, slam poetry — it was just another weekend at Jewlicious Festival, the eclectic, diverse Jewish festival put on by Rabbi Yonah Bookstein. Jewlicious is a grass-roots organization based in Los Angeles whose aim is …
See all stories on this topic »
Jewish films, women composers bring international sights, sounds to town
Gainesville Sun
Celluloid images from Israel and Poland, and the music of women composers from France, Germany, Italy and India bring international sights and sounds to Gainesville in two annualevents returning this week. The Fourth Annual Gainesville Jewish Film …
See all stories on this topic »
Aboard the S.S. Jewlicious
The Jewish Journal of Greater L.A.
Slave hunters, reggae stars, cabaret, slam poetry — it was just another weekend at Jewlicious Festival, the eclectic, diverse Jewish festival put on by Rabbi Yonah Bookstein. Jewlicious is a grass-roots organization based in Los Angeles whose aim is …
See all stories on this topic »
Breakthrough Jew – Dylan Siegel
Shalom Life
Hot, hip, and heady, the next wave of Jewish artists and influencers has already arrived. This is Breakthrough Jew, your weekly showcase of those on the verge of discovery and ready to be a regular figure in pop culture; setting trends, redefining …
See all stories on this topic »
For 18th Annual Celebration, Shabbat Across America Comes Home on March 7
DigitalJournal.com
This year, for the first time, participants can also host their own Shabbat Across America At Home events, experiencing and sharing the beauty of Jewish traditions, community, and spiritual reflection right at home with friends and family. Events will …
See all stories on this topic »
'Boyle Heights Heroes' remembers L.A.'s Jewish roots
The Jewish Journal of Greater L.A.
At its peak, Boyle Heights was home to a diversity of Jews, as well as 30 active synagogues. Today, one of the last remnants of Yiddishkayt in Boyle Heights is the Breed Street Shul. It's now being used for events that bridge the gap between past and …
See all stories on this topic »
Reel World: Jewish Film Festival launches, KiMo goes crazy for Swayze …
Weekly Alibi
Now you can add the ABQ Jewish Film Festival to the mix. The Jewish Community Center and Congregation Albert have joined forces to present this annual event, the inaugural theme of which is "Exploring the Jewish Journey Through Film—from Broadway …
See all stories on this topic »
Book Events Hartford Neighborhoods Talk, Jewish Book Festival
Hartford Courant
Three authors will speak in a panel discussion called "Can't Put It Down" on Wednesday, March 12, at 7 p.m., as the 21st Annual Jewish Book Festival continues at the MandellJewish Community Center, 335 Bloomfield Ave., West Hartford. Randy Susan …
See all stories on this topic »
Kissin offers Jewish composers, Yiddish poets in striking concert departure
Washington Post
He is also known as a pianist of Russian Jewish extraction. He is hardly known at all as an Israeli, and for good reason. He took Israeli citizenship only last December. And he is emphatically not known, outside a small circle, as someone who recites …
See all stories on this topic »
/
Yiddish Theater's Latest Fusion
The Jewish Week
In an interview, Herskovits told The Jewish Week that in addition to allowing the company to "shine a light on other Yiddish literature, especially poetry and novels," the new series is very much in the boundary-busting spirit of Yiddish theater …
See all stories on this topic »
/
Purim tale gets Yiddish musical treatment
San Francisco Examiner
This week in Berkeley, the Yiddish Theater Collective presents the local premiere of "Di Megileh of Itzik Manger," a show that's been a hit with Jewish audiences in Israel and New York. It tells Queen Esther's tale — the basis for the Jewish holiday …
See all stories on this topic »
/
Only 2% of Israeli Jews speak Yiddish as mother tongue
Israel Hayom
New data released by the Central Bureau of Statistics over the weekend indicated that Israel is home to only 120,000 people who speak Yiddish as their mother tongue — 2% of the Jewish population. The figure represents a sharp decline from 2008, when …
See all stories on this topic »
/
On Why I Take Yiddish Now
New Voices
In my previous article, however, I also mentioned that, for me, Yiddishkeit was a way to connect with my Jewish identity, both because it was the language my ancestors spoke, and because, I think, at least in the United States, Yiddish culture has …
See all stories on this topic »
/
Yiddish Vinkl
Cleveland Jewish News
(A bisl Yiddish; Jewish Presence in Poland, http://www.KosherPress.com). • "A harts iz a shlos, m'darf dem rikhtikn shlisl. A heart is a lock; you have to find the right key." (www.yiddishin10lessons.blogspot.com). • "A goldener shlisl efnt ale tirn. A golden …
See all stories on this topic »
/
Uruguayan book sheds new light on Jewish Legion
San Diego Jewish World
uruguay-jewish legion MONTEVIDEO, Uruguay–A previously unknown Yiddish book, Zichronot Fun Yiddischen Legion (Memories of the Jewish Legion) by Moshe Krel, written, published, and printed in Montevideo, Uruguay in May, 1938, was discovered by …
See all stories on this topic »
/
Yiddish dancing just one of many events at Spa Flurry Festival
Schenectady Gazette
But have you tried Yiddish dancing? "People love it. You don't have to pay as much attention to what your feet are doing, so you can focus more on style," says Avia Moore, a young Canadian who travels around the world to teach people how to do the …
See all stories on this topic »
/
Blitspostn, Vebzaytlekh, Veblogs: The Rise of Yiddish Online
Slate Magazine (blog)
And yet Yiddish, decimated by the Holocaust, is thriving online. Once the primary language of Central and Eastern European Jews, Yiddish had over 10 million speakers before the Second World War and boasted a thriving literature, a theater scene …
See all stories on this topic »
/
arts, culture & judaica | Purim shpiel with a twist: Poetic Yiddish musical …
Jweekly.com
Now, "Di Megileh" makes its West Coast premiere with a production from the YiddishTheater Collective in collaboration with KlezCalifornia and the Jewish Music Festival. It runs Thursday, March 6 to March 10 at the Jewish Community Center of the East Bay.
See all stories on this topic »
Haifa Symphony: Welcome to America, finally
The Jewish Journal of Greater L.A.
"Modern Jewish repertory is characteristic programming of the Haifa Symphony," Dawidow, 59, said. "The choices for the tour, as much as possible, represent the music I love and that the audience will love." Along with the Tchaikovsky concerto, Israeli …
See all stories on this topic »
/
Matisyahu on music, religion and life in L.A.
The Jewish Journal of Greater L.A.
M: This record is filled with Jewish themes. My last record ["Spark Seeker"] was, as well. I was trying to understand when people would say, "Oh it's not Jewish anymore"; I realized what it is. What people want is blatant, obvious Jewish references so …
See all stories on this topic »
/
Rome Jewish community president also sent pig head
Jewish Telegraphic Agency
… president of the Rome Jewish community revealed that he too had been sent the severed head of a pig about 10 days after pig heads were sent to Rome's main synagogue, the Israeli embassy and a museum with an exhibit on Jewish culture in January.
See all stories on this topic »
/
President of Rome Jewish Community Was Also Sent Severed Pig's Head
Jewish Daily Forward
The president of the Rome Jewish community revealed that he too had been sent the severed head of a pig about 10 days after pig heads were sent to Rome's main synagogue, the Israeli embassy and a museum with an exhibit on Jewish culture in January.
See all stories on this topic »
/
Comedy Central's 'Broad City' Isn't Just Funny. It's Important.
Tablet Magazine
It's important. And it belongs in the same pantheon with a small group of iconoclastic artists, so many of them Jewish, who have redefined culture with loud and libidinal bursts of energy and made it joyous again. Think Lenny Bruce. Think Joey Ramone.
See all stories on this topic »
/
Reel World: Jewish Film Festival launches, KiMo goes crazy for Swayze …
Weekly Alibi
Albuquerque is home to a number of increasingly diverse cinematic celebrations—from the Italian Film & Culture Festival to the Southwest Gay & Lesbian Film Festival. Now you can add the ABQ Jewish Film Festival to the mix. The Jewish Community Center …
See all stories on this topic »
/
Critical thinking is the norm at Hebrew Academy
Huntington Beach Independent
Administrators at the academy said such a philosophy has been exercised at the school since it started in 1969, not simply for academic reasons but because it's part of theJewish culture. Director of Admissions Alexandra Greenberg explained that every …
See all stories on this topic »
/
Rabbi to speak on 'The Secular Synagogue: Judaism Beyond God'
Arizona Daily Star
The Secular Humanist Jewish Circle is a local group that aims to meet the affiliative needs of cultural, humanist, secular Jews (and their non-Jewish family members/partners) in the greater Tucson community. The organization is open to individuals and …
See all stories on this topic »
/
The Jewish Case Against Unplugging
Jewish Daily Forward
The Jewish cultural organization Reboot's "Sabbath Manifesto," which aims to put a "modern spin on the tradition of a weekly day of rest," places unplugging on the top of its list and is encouraging everyone to take part in the National Day of …
See all stories on this topic »
/

by Sarah Neal

Although they mean well, these three words are like a knife digging deeper into my heart.

---

by AIPAC

His thinking on Iran, Palestinians and reaching a peace deal.

---

by Rabbi Tzvi Sytner

Where did Mordechai's get the strength to sit for 10 years outside the palace?

---

by Rabbi Yaakov Salomon

My mother's penetrating legacy.

---

by Alex Idov

Move over poppy seed and apricot fillings, here's a new twist to the traditional hamentash.

---

by Gad Elbaz, Naftali Kalfa and Ari Lesser

Get in the Purim mood with this fun music video celebrating miracles.

---

by Rabbi Yosef Farhi

New parsha series featuring pearls of Torah wisdom for everyday life.

---

by Rabbi Noah Weinberg

Minimize sleep – because on a deeper level, it's about "waking up" to life.
by Sam Glaser

My groovy, let's-all-make-aliyah theme song that describes the various major redemption moments of the past century.

---

by Emuna Braverman

Our eldest son is acting out in strange ways. Is this a passing phase or a cry for help?

---

by Emuna Braverman

Do our kids realize that losing is not the worst thing to happen? Do we?

---

by Mrs. Lori Palatnik

Yes, it does make a difference.

---

by Sara Yoheved Rigler

Unmasking the Divine on Purim.

---

by Rabbi Akiva Tatz

Searching for clarity and the road back to the garden.

---

by Mark Miller

An anti-Israel group is advancing a conspiracy theory that Jews control the Internet. If true, the Internet would look something like this…

---

by Marnie Winston-Macauley

Sean Penn helped rescue businessman Jacob Ostreicher from Bolivia. Let's thanks Penn and these other lesser known heroes.

---

by Dreamworks

How do we know our limits if we don't try to push past them?
---
Joshua Prager's Half-LifePosted: 06 Mar 2014 03:50 AM PST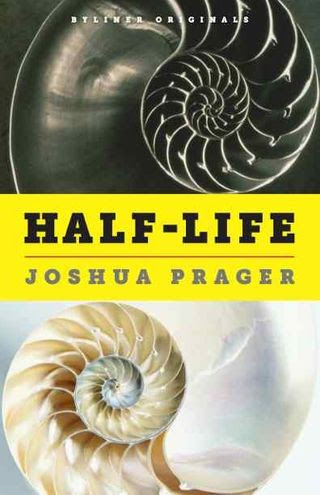 I recently finished Joshua Prager's Half-Life: Reflections from Jerusalem on a Broken Neck. Prager was a young man of nineteen studying in Jerusalem when the bus he was riding in was slammed by another vehicle — not an act of terrorism, as one might have assumed, (especially when a Palestinian driver hits a bus full of Jews), but simple carelessness and bad driving. His neck was broken, a moment of rupture which divided his life irrevocably into a "before" and an "after."
The book's narrative curls around and loops in on itself. We read about Prager as a hale and hearty student; we read about him paralyzed; we read about the morning of the crash, and the last bodily freedom he remembers; we read about physical therapy and the excruciating effort to regain bodily control. Learning to breathe and to sit again. From quadriplegic to hemiplegic to walking, albeit with difficulty, with a cane.
We return with Prager to Jerusalem, and as voyeurs on his shoulder we accompany him as he slowly makes his way through the city where his life changed. Navigating, for instance, the cobbled streets and uneven city curbs which I remember from pushing a stroller there in the summer of 2008 with my housemates' three-year-old in tow.
This book is full of poignant tension between what was, and what is, and what might yet be. The same could be said of Jerusalem, with its storied history and contested present and future. As Prager himself notes: "This ancient city is a palimpsest, its narratives written and rewritten on white stone." This memoir's structure evokes that quality. At the beginning of any new section, we might be in the now or we might be in the then — or any moment in between. Even in the now, the then peeks through.
Prager approaches his subject with clear eyes and deft turns of phrase. I admire his ability to write so candidly about his experience, without sentimentality and without sparing anyone, including the reader. The scene where he goes to meet the driver of the minibus responsible for his injuries is a particularly fine example of that. He doesn't sugar-coat and he doesn't flinch from what is — and he also resists the urge to demonize or oversimplify. (You can hear him tell that story in his TED talk, which I've linked to below.)
One of the book's most memorable moments for me (as a rabbi and sometime hospital chaplain) is the scene where the rabbi emeritus of his synagogue walks into his hospital room and loudly prays over his prone body. Prager writes:
I was mortified. No, rabbi! NO!

But I, who one month before had wrestled a trio of classmates, pinning each, was unable to fend off a rabbi in his eightieth year. And as the litany unfurled — God asked to shine his face upon me, to be gracious to me, to lift up his countenance to me, to give me peace — I wished to disappear. But I saw over my stockinged feet that the congregation was not listening, the yellow man beside me, his saffron urine bagged between us, minding his tea. And so I succumbed to a blessing.
In some ways this whole memoir feels to me like a book about succumbing to blessing with grace, and also a book about fighting for every inch of recovery and understanding. The two coexist sometimes uneasily, and that tension is part of what drives the narrative forward.
Prager resists the platitudes — "everything happens for a reason" or "God only gives us what we can handle." (Two of the top sentences on my list of things never to say to hospital patients, by the by.) But he also resists, I think, the sense that if God doesn't have a "plan" then our lives is meaningless. I experienced this book as Prager's work at making meaning out of his own life, out of the lived Torah of his human experience. And in reading about his process, we join him in making, or finding, meaning too.
You can read an excerpt online here. To my surprise, the Kindle edition is only $3.99 on Amazon. Worth a read.
For more:
Joshua Prager's TED talk, In search of the man who broke my neck 
The Q & A: Joshua Prager: Reconstituting a Self, The Economist