Shiurim 17th of Tammuz  language  hebrew,french,english,spanish,german,russian SHIURIM & COMMENTARIES
CLICK "PLAYLIST" TOP LEFT OF THE VIDEO THEN SELECT YOUR VIDEO
CLICK sur "PLAYLIST" en haut à gauche de la video puis slectionner votre vidéo
CLICK "PLAYLIST"parte superior izquierda DEL VIDEO , seleccione su VIDEO
CLICK "Playlist" в левом верхнем углу VIDEO затем выберите VIDEO
CLICK "Playlist" oben links im VIDEO anschließend Wählen Sie Ihr VIDEO
Natan Sharansky – This is Your Life – Limmud Conference 2013

30.12.2013
From being a refusenik in Russia to deputy Prime Minister of Israel, Natan has led an extraordinary life. He talks about his life to Jane Eisner, editor-in-chief of the Jewish Daily Forward.

COJECO 10th Anniversary Celebration – Feliks Frenkel
Alon Nechushtan Videos
Alon Nechushtan Trio performs "Muppet Shock" at the Cornelia Street Cafe in New York City. Celebrating the release of the "Words Beyond" CD on Buckyball Records.
Alon Nechustan – piano, Michael Bates – bass, Howard Owen – drums


Mark Rothko (Марк Ро́тко) Artworks and Analysis (Abstract Expressionist) – The Powerful Story of Art
06.07.2014
Mark Rothko (Latvian: Markus Rotkovičs, Russian: Марк Ро́тко; born Ма́ркус Я́ковлевич Ротко́вич; Marcus Yakovlevich Rothkowitz; September 25, 1903 — February 25, 1970) was an American painter of Russian Jewish descent. He is generally identified as an Abstract Expressionist, although he himself rejected this label and even resisted classification as an "abstract painter." With Jackson Pollock and Willem de Kooning, he is one of the most famous postwar American artists.
"If you are only moved by color relationships, you are missing the point. This documentary is interested in expressing the big emotions – tragedy, ecstasy, doom."
"Di farshtoysene" fun Y.-L. Perets (Khane Fishman-Gonshor)
30.06.2014
י.־ל. פּרץ און די ייִדישע פֿרױ
דריטער טײל, חלק ב'׃ "די פֿאַרשטױסענע"
חנה פֿישמאַן־גאָנשאָר
Lectures sponsored by the Jewish Community Foundation of Montreal.
דער לײענזאַל
Leyenzal – A Yiddish Literacy Project

Magillah : Rozhinkes mit Mandlen [Raisins and Almonds] (Live 2012)
02.08.2012
April 5th, 2012 – A huge yiddish hit by A. Goldfaden, from the yiddish theatre (Michelle Heisler – voice, Henri Oppenheim – accordion, Julie Triquet – violin, Andy Dacoulis – guitar, Mathieu Deschenaux, double bass, Eric Breton – drums, Damian Nisenson – sax).

Music In the Holocaust – A Sonja Larson Presentation
Encounters with the Past: Remembering the `Bygone' in Israeli Culture: Part 1-3
02.07.2014
The University of Washington's 34th Annual Samuel and Althea Stroum Lectures in Jewish Studies featured Professor Yael Zerubavel, director of The Allen and Joan Bildner Center for the Study of Jewish Life at Rutgers University. Zerubavel concludes the three-part series, Encounters with the Past: Remembering the "Bygone" in Israeli Culture, by looking at the new commemorations of Israel's pioneering period, which have transformed into an "old past." These changes illuminate profound transformations in contemporary Israel and Israelis' understanding of their identities as well as their pasts.
A Guest at the Forverts – Motl Gordon
Motl Gordon visits "FORVERTS"
A program hosted by Boris Sandler

The Pin at Anne Frank Center
06.11.2013
L'Chayim – Janusz Makcuh – Jewish Culture Festival in Krakow
16.06.2014
The non-Jewish founder and director of the Jewish Culture Festival in Krakow, Poland, Janusz Makuch sits to discuss his connection to the Jewish heritage and how he came to create one of the largest Jewish culture festivals in the world. With Mark S. Golub on LChayim.
The Dorel Livianu Music Museum
The Belzer Rebbe by the Kotel on Rosh Chodesh Sivan 5774 אדמו"ר של בעלז בכותל בראש חודש סיוון
31.05.2014
Answering Kidnapping with Kindness – Salomon Says
22.06.2014
Our role in the rescue mission
Please pray for the safe and speedy return of Yaakov Naftali ben Rachel Devorah, Gilad Michael ben Bat Galim, and Eyal ben Iris Teshura.
For more articles and videos by Rabbi Salomon visit http://www.aish.com
Special Mass Prayer at Talmon
20.06.2014
The Jewish Mobsters
Etgar Keret
Talk Yiddish To Me (Nisht-Dirty Parody)
Doni zasloff thomas
Elie Wiesel Interview with Oprah
Ben Gurion University
Lithuanian Jewish Culture
Temani Yemanie Hebrews
JEWISH WORLD : JewishNewsOne
Israel and Jewish Culture Michael Laitman
Popular Festival of Jewish Culture in Warsaw videos
Popular San Francisco Jewish Film Festival videos SFJFF Presents: The Tailor
12.02.2014
Culture and confusion meet on a Brooklyn street, in this hilariously charming tale of similarities amid diversity. Film directed by Gordon Grinberg
This short film is part of the San Francisco Jewish Film Festival short film showcase program, SFJFF Presents. To discover more great Jewish short films each month, join the SFJFF YouTube channel by clicking the red SUBSCRIBE button above.
For more details about SFJFF films and programs, visit http://www/sfjff.org.
---
Descent for the sake of ascent: the fast of 17 TamuzPosted: 09 Jul 2014 10:41 AM PDT
On Tuesday, July 15, many Jews will observe Tzom Tamuz, "the fast of Tamuz" — one of Judaism's minor fast days, commemorating the breach of Jerusalem's city walls which led (three weeks later) to the destruction of the Second Temple by the Romans in 70 C.E.
I say "many Jews" because I know that the minor fasts are not universally observed, especially in liberal Jewish communities. The notion of commemorating the first chink in Jerusalem's armor almost two thousand years ago may seem strange to us.
But I think there's value in observing 17 Tamuz, and being conscious of the Three Weeks which link it with Tisha b'Av, even if you do not fast, and even if you aren't certain you actually want to mourn the fall of a Temple you can barely imagine.
There is a deep wisdom in the way the Jewish calendar unfolds. Our festivals and fast days are waypoints along the journey we travel each year. 17 Tamuz marks the beginning of the descent toward Tisha b'Av. At Tisha b'Av, we mark the beginning of the ascent toward the Days of Awe.
In Hasidic tradition there's the idea that often in order to rise, one first has to fall. Yeridah tzorech aliyah: one has to go down in order to be able to go up. Descent for the sake of ascent. This drama plays itself out in a variety of places in Torah — for instance, in the Joseph story, in which "descent for the sake of ascent" is a recurring motif. The downs are necessary precursors to the ups.
For Lurianic kabbalists, the whole of creation was a shattering which it is our unique privilege to be able to rebuild. If there had never been a rupture, then there couldn't be a healing.
This drama plays itself out on the stage of every human life. We fall down, we get up again. And while our modern sensibilities may be offended by the notion that tragedy or trauma is necessary in order for growth or forward motion to appear, I believe that there are gifts to be found when circumstances have laid us low. As the 17th-century Japanese poet Mizuta Masahide wrote, "My barn having burned down, I found I could see the moon."
17 Tammuz, the Three Weeks which follow it, and Tisha b'Av which comes at the end of those weeks, are a time for us to delve together into descent. It's not only "my barn" which has burned down — it'sour barn, the place which was spiritual home for all of us together. It's not only my life which sometimes contains brokenness or sorrow — it's all of our lives. We're in this together.
It can be tempting to want to paper over the places that hurt. To look on the bright side, to put on a happy face, to focus on the positive. I do these things all of the time. But 17 Tammuz and the weeks which follow are an opportunity to let ourselves experience moments of descent, together.
17 Tamuz is a day to consider: when and how do your "walls," the boundaries of your emotional and spiritual integrity, feel breached? What is it like to feel that something painful has come through your defenses? When and how do we come to feel that the integrity of our community has been shattered? What issues, subjects, or sore spots make us feel defenseless and alone?
The tradition says that 17 Tammuz is the anniversary of the day when Moshe came down the mountain, saw the people worshipping the golden calf, and in heartbroken fury shattered the first set of stone tablets containing God's words. What are the idols our communities have fallen into holding sacred? Can we allow ourselves to grieve the ways in which our communities are not yet what we most yearn for them to be?
The point of 17 Tammuz and the Three Weeks and Tisha b'Av isn't wallowing in anger and sorrow. It's allowing ourselves to recognize the things that hurt, the places where we are broken, so that together we can emerge from those places humbled and energized to begin the climb toward the spiritual heights of the High Holidays. Descent for the sake of ascent. If we're willing and able to go down together, we build bonds of community which will lift us to greater heights when it's time to climb up.
All of the things I've just written are, I think, true every year as we reach this moment in our seasonal-liturgical cycle. Here is something which is unique to this year:
This year the 17th of Tammuz falls during the Muslim holy month of Ramadan, when our Muslim cousins are fasting from dawn to nightfall every day. (This "minor fast" in our tradition is observed in the same way — morning to night, not 25 hours like Yom Kippur.) And this year, 17 Tammuz arises amidst tremendous bloodshed and suffering in Israel and Palestine — the murders of the three Israeli teens Naftali Fraenkel, Gilad Sha'ar, and Eyal Yifrah; the murder of Muhammad Hussein Abu Khdeir, apparently burned alive; Hamas firing rockets into Israel (see A view from Jerusalem – Israel at war); Israel bombarding Gaza in return (see You can never be emotionally ready).
Eliaz Cohen, a poet who lives in the settlement of Gush Etzion, has suggested that in the midst of so much sorrow and violence in Israel and Palestine, Jews and Muslims can choose to consciously fast on this day in solidarity with one another, as a "Hunger Strike Against Violence." You can learn more at Fasting Together, Jews and Muslims Choose Life (FB, mostly in Hebrew) 0r War Looming: Make Fasts of 17 Tammuz and Ramadan Hunger Strikes Against Violence(English). Some of us who are the talmidim (students) of Reb Zalman are taking on this joint fast in his memory, knowing that he wept for both the children of Abraham and the children of Ibrahim.
Whether or not you fast from food and drink on 17 Tammuz, I ask my Jewish and Israeli readers to please consider fasting from negative assumptions about our Muslim cousins and Palestinian neighbors; whether or not you are observing the Ramadan fast from food, I ask my Muslim and Palestinian readers to please consider fasting from negative assumptions about your Jewish cousins and Israeli neighbors in turn. May this minor fast day, and the following Three Weeks of opening ourselves to grief, bring us together in our low places so that together we may begin the work of building a better world.
---
Remembering my rebbePosted: 07 Jul 2014 08:56 AM PDT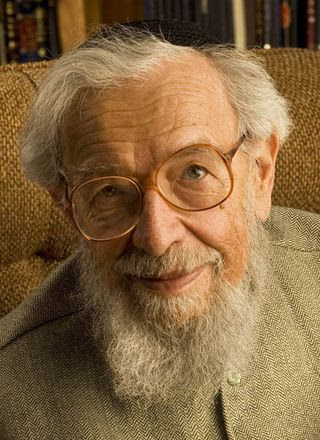 How can I begin to write about Reb Zalman?
So many others knew him longer than I did. And so many others have written, and will write, about how his extraordinary life and work have shaped Jewish life today. I only knew his work for the last twenty years; I only knew him in person for ten years. Many of his students, colleagues, and friends spent a lifetime with him.
Rabbi Arthur Waskow has written, "No one else in the 20th/ 21st century  brought such new life, new thought, new joy, new depth, new breadth, new ecstasy, new groundedness, new quirkiness, into the Judaism he inherited –- and transformed." (Reb Zalman: His Light is Buried Like A Seed — To Sprout.)
Rabbi Laura Duhan Kaplan has written, "Reb Zalman was an extraordinary individual who appeared at an extraordinary moment in time, and helped shape a response. In many ways, all of Judaism today is a renewed Judaism." (A Special Person at a Special Time: Reb Zalman's Jewish Renewal.)
Rabbi Jay Michaelson has written, "Hundreds of teachers, rabbis, cantors, and Jewish leaders found in Reb Zalman's 'translation' of traditional Judaism into contemporary life a way to savor the blessings of Jewish life and practice, while consciously confronting those aspects of Jewish tradition which needed to be renewed — or discarded outright." (Reb Zalman, the Prophet of Both-And)
Other people have written about him wisely and well, is what I'm saying. But his teachings and his life have been so foundational to my sense of what Judaism is and can be — I can't let his passing elapse without writing something here. Writing is how I remember, and I want to remember him. Have you ever been around someone who — the moment you enter into their presence — you can just feel that they really have it together, that they're tapped into something deep? Reb Zalman was one of those people.
I said last week that Reb Zalman is the reason I became a rabbi. And he is. I became a rabbi because I wanted to serve God and the Jewish people. But for many years I thought that was a yearning which would go unfulfilled. I found my teachers, my community, and ultimately my rabbinic lineage through Reb Zalman.
And I found Reb Zalman through Rodger Kamenetz.
In 1994, my dear friend David (who is now soon to be ordained a rabbi himself) gave me a copy of Rodger Kamenetz's book The Jew in the Lotus. The story it tells is a true one: about the delegation of rabbis spanning the breadth of Judaism and Jewish practice who went together to Dharamsala, India to meet with the Dalai Lama and answer his question of how the Jewish poeple had survived 2000 years of Diaspora.
I remember reading that book — I was in college at the time — and being deeply moved by Rodger's descriptions of Reb Zalman. I remember in particular the scene where Reb Zalman  goes to daven alongside Sikhs at prayer in their temple. Rodger writes:
Reb Zalman's spontaneous davening in a Sikh temple had placed him squarely on the side of total immersion dialogue. Explaining to me later, he quoted from the Psalms, "I am a friend to all who respect you, O Lord." The Sikh guru and he are "in the same business, struggling to see holy values don't get lost. I see every other practitioner as organically doing in his bailiwick what I am doing in mine. When a non-Jewish person affirms me, I feel strengthened in my work. When I affirm a non-Jewish person, he or she feels strengthened in their work." Zalman also cited Isaiah's prophecy, "My house shall be called a house of prayer for all nations."

…I was electrified by his joyous crossing of boundaries, his davening chutzpah. It broke through my own neat categories. I associated Orthodox practice with insularity. Yet here was Zalman, making contact with another religion by davening maariv.
I read that and I thought: holy wow — his roots are so deep, and his wings are so broad.
Here's another scene from that book which moved me profoundly:
 The morning [Reb Zalman] led the davening, he came up to me during the last part of the Shema, touched me on the shoulder, looked straight into my eyes, and said, "Your God is a true God." I found that a powerful challenge.

I usually felt as I prayed in a group that I was assenting to ideas and images that were very foreign to me or that I didn't have time to check out. Zalman's gesture had cut through that in a very personal way…. My God is a true God? Whch God was he talking about? Long white beard, old Daddy in the sky? Autocrat, general, father, king? Master of the Universe, doyen of regulations and punishments? These were the images that made me reject the very idea of God.

But in a funny mental jujitsu, the more I struggled with these images, the more what Zalman said came through. "Your God is a true God" meant to me that the images and the language weren't going to be supplied in advance. I would have to find them for myself out of my own experience….
I think of that scene every time I daven the words Adonai eloheichem emet, "your God is a true God." What does it mean to assert that my God is true? Perhaps that I am ready and willing to continue engaging with the tradition, with God, with our central stories and beliefs, in order to wrestle forth from all of those things a true relationship with the Holy One of Blessing. One way or another, Reb Zalman's challenge to Rodger continues to resonate in me.
And, of course, there's the chapter where the angel of the Jews meets on a high plane with the angel of Tibet. (If you've read the book, you know the one I mean. If you haven't, I won't spoil you — it's worth reading in context. Trust me, this book is incredible.)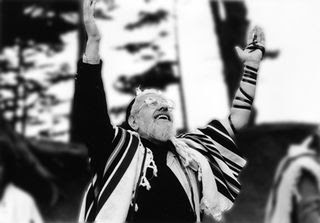 I reached the end of that book and I thought, "Wow, that rabbi sounds amazing. I didn't know you could be a rabbi like that." He was so clearly erudite, grounded, rooted in Jewish tradition (ordained by Chabad, for heaven's sake) — and also equally clearly open to the unique wisdom available in other spiritual traditions.  Around that time, when my then-boyfriend, now my husband, asked me to help him understand what I loved about Judaism — what I dreamed Judaism could be; why I was attached to it; what I loved about it — I lent him Judith Plaskow'sStanding Again at Sinai and Rodger Kamenetz's The Jew in the Lotus. (It is a source of endless joy to me that I have now had the opportunity to get to know both Judith and Rodger!) Over the next several years I read what I could about, and by, Reb Zalman. His words and actions, in Rodger's book, had touched something deep in me.
For personal reasons, in the years after college, I went through a period of painful alienation from Jewish community. What brought me back in? My first week at Elat Chayyim, the Jewish Renewal retreat center where I had my first living experiences of Jewish Renewal community, Jewish Renewal learning, and most importantly Jewish Renewal prayer.
For reasons I couldn't consciously explain, despite feeling distant from Jewish community, I signed up for a week-long retreat at Elat Chayyim with Reb Zalman. I'd come away from The Jew In The Lotus wondering whether this guy could possibly be as wonderful as Rodger made him sound. I needed to know whether he was for real. Unfortunately that summer he needed surgery and wasn't able to be at Elat Chayyim in person, but I'd already committed the money and planned to take a week there that summer, so I chose a different week-long retreat and took the plunge.
My first week at Elat Chayyim proved to me that there was more in Judaism than I had ever dreamed. I came home from that week and told Ethan that I had found my teachers — that I wanted to become a rabbi someday like these people were rabbis. I learned that week that not only was Reb Zalman "for real," but he was part of an amazing community of teachers, learners, and fellow seekers. People who yearned as I yearned. People who had dedicated their lives to opening up the immeasurable treasures of Jewish tradition to we who were thirsty. Reb Zalman was in many ways the grandfather of Jewish Renewal — and has left behind an amazing legacy of students, and their students, and their students, and generations of seekers and learners to come.
Reb Zalman on dialogue with Bishop Tutu, the Dalai Lama, and others: "What cosmology is needed to heal the planet?"One of the things which drew me to Reb Zalman and to Jewish Renewal was what he called "deep ecumenism" — not merely interfaith conversations on a surface or superficial level, but the need to enter into deep conversations with other people of faith, not only for our own sakes, but for God's sake, and for the sake of the planet:
I'd like us to enter into dialogue with devoutness, a dialogue of devoutness. There is a dialogue of theology, and that's mostly futile. Why? Because it begins with what we should finish with. All theology is the afterthought of a believer. If we can't get to the primary stuff of belief …how do you get to the primary stuff of belief? By simply talking about how do you davven? If you show me your way that works for you I'll show you mine and we can share. (From Deep Ecumenism, the transcript of a weeklong workshop taught at Elat Chayyim in 1998.)
He taught that every religion is an organ in the body of humanity — that we need each one to be what it most uniquely is (after all, if the heart tried to do the liver's work, we'd be in trouble) and we also need each one to be in conversation and connection with the others (if the heart stopped speaking to the lungs, that wouldn't be so good either.) I've pointed many times before to the story of Reb Zalman among the Sufis of Hebron, which remains one of my favorite stories about him. I was drawn from the start to his post-triumphalism — the knowledge that ours isn't the only legitimate path to the One.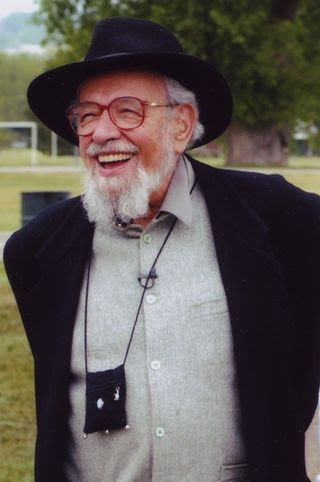 Reb Zalman could be very serious when the moment demanded, but he was frequently merry when he taught or when he led davenen. His eyes twinkled. He laughed a big beautiful belly laugh. He sang often while teaching — lines of psalms or prayer, quotations, references, which were almost as likely to be in Arabic or Latin or Greek or Sanskrit as they were to be in Hebrew or Aramaic. He held an enormous wealth of kabbalistic and Hasidic teachings in his mind and was able to draw them forth and speak them in contemporary language, using metaphors which reached us where we are today.
He loved computer metaphors. He used to say that his first computer had only 36k of memory, and what he can do now on his computer he couldn't have imagined then; just so, our increasing consciousness allows us to bring added holiness into the world in our generation. He taught us to think of the three words for "forgive us," which we recite over and over on Yom Kippur, as "drag the sins into the trash; empty the trash; and wipe the hard drive clean." I was always tickled when he pulled out science fiction metaphors, too. I remember hearing him teach about an imagined planet of two-headed beings; he used that story as a parable to explain the halakhic validity of counting those who are not men toward a minyan.
Or he would draw an analogy between how different religious traditions call on different names and faces of God, and "logging on" in different ways to the Cosmic life-source which we name as God. Our chants and prayers are the "password" which connect us with the Holy One of Blessing, and maybe our blessings connect us with this "port" and someone else's words connect them with that "port," but we're all connecting with the same One. And, he would point out, in the past we saw a difference between praying, e.g., in the name of the God of Israel or praying Bismillah ir rahman ir rahim (in the name of God, the Merciful, the Compassionate) or praying in Jesus' name. But that kind of triumphalism is no longer fruitful. As he wrote in "An Empathic Ecumenism:"
In the past every religious community wanted to make the deposit in the God-field only in their own name. They even saw it as a great combat in Heaven. Which religion is going to win? Which are going to be the victors in the religious sphere? It may have been necessary at one time in our development that we have such an attitude. But, today, this attitude just doesn't work. The question now is not who is going to be the champion of all religions, but how can we potentiate all the memory, all the energy, all the awareness, all the spirituality of all those forces in order to raise them?
The question isn't who's going to "win" — it's how can we all bring our energy, our spiritual technologies, our hearts and souls, together in order to effectively transform the broken world? "The only way to get it together," he used to say, "is together."
Singing, Reb Zalman dons the Bnai Or rainbow tallit which he designed years ago.He taught about paradigm shift, and saw the great events of the 20th century (from the horrors of the Shoah to the wonder of seeing Earth from space) as part of a new paradigm shift, a new turning. He taught about the importance of integral thinking, of seeking to build change which could both include and transcend what had come before. (This very much shapes the way Jewish Renewal rabbis think about halakha.) He taught us new (old) ways of entering deeply into prayer. The words of prayer, he taught us, are like a recipe book — but in order to be sustained by the recipes, we have to enact them, to feel them in our hearts and souls.
In recent years he spoke to us frequently about how this "deployment" would someday end. I love that language: the sense that God had deployed his soul (indeed, has deployed all of our souls!) into this life to do particular work. He knew his time in this incarnation would not be forever. When he spoke to us in January at the OHALAH conference, he said:
It's such a wonderful trip that the Ribbono Shel Olam put me on. I can't tell you how grateful I am for the movie in which I acted in life! It is so amazing. And yet. Movies come to an end too…

When my tour of duty is over, the One who deployed me will find others to deploy.
I posted not long ago about about the book The December Project, by Sara Davidson, which consists of interviews with Reb Zalman about death and dying and end-of-life work, framed by her experiences and her skepticism and her transformation. If you never had the blessing of being able to learn directly with Reb Zalman, this book is one way to get a glimpse of how he spoke. Another way, of course, is to dip into some of the wealth of material on YouTube. I am already finding sustenance in watching short YouTube videos — hearing his voice, seeing the sparkle in his eye, remembering that his teachings are alive even though his body has reached its rest. (I can also recommend his books — I frequently lend out my copy of Jewish With Feeling, and his recent book Davening: a Guide to Meaningful Jewish Prayer is terrific, and oh, his new edition of Psalms in a translation for praying…!)
He taught me to talk not about God but to God — which has deeply informed not only my prayer life but also the way I'm trying to teach our son about God. At OHALAH in January he remarked:
When I drive, I have a sense that the Ribbono Shel Olam in blue jeans is sitting in the passenger seat and I can just talk. Even that kind of thing, having a daily conversation with the holy Shekhinah in that way, is what keeps you on track…
I can't tell you how often I have followed his example and spoken with God while driving alone on a quiet country road, or how frequently that practice has opened my heart and sustained me.
The last time he and I spoke was some months ago when I shared a post I'd been working on for a long time — abouttaharah before cremation. Once the post was online, I sent an email about it to the listserv for OHALAH, the association of Jewish Renewal clergy. Within an hour of my sending it, I got a call from Reb Zalman. "Reb Rachel lebn," he said, "I want to talk with you about what you've written." And we talked, and he clarified some things about his own thinking, and later that day I added an addendum to the post. He was actively engaged with thinking and teaching until the very end of his life — he had just completed a Shavuot retreat at Isabella Freedman a few weeks ago when he fell ill and was hospitalized.
I am even more grateful now that I took our infant son to a Shavuot retreat with Reb Zalman at Isabella Freedman the spring before I received smicha  — and that I was privileged to hear in person the Torah he gave over at 4am that night, the last and most intense teaching of the tikkun which led us to the dawn. Someday I will be able to tell our son, "You don't remember this, but your first Shavuot, I took you to a retreat with my rebbe, and it was amazing."
I find myself thinking now about something else he said at OHALAH a few months ago: even as he was reminding us to hold fast to those things which are foundational and should not be changed, he also urged us to continue innovating and exploring. That was Reb Zalman in a nutshell: deeply rooted in the soil of our tradition, and also stretching branches out toward the highest heavens. He said:
Ours is the beta version of what klal Yisrael needs. And in a beta version, not everything that's being tried is going to be finally adopted! But we have to continue to experiment, to experience, so that the things that come from the past, we can see how can they be updated and shaped. In this way the past can serve us in the present and in the future.

And when we realize that there are certain things that cannot be updated, and we open ourselves to theRuach haKodesh and ask ourselves what the future needs, then we learn to see in the present what we need to create.
That kind of openness is what led him to playfully experiment with so many different things: from recorded prayers designed to be heard on a walkman so that Hebrew would flow into one ear and English into the other, to bringing ancient Jewish meditation practices to the forefront of modern Jewish life, to workshops in "davenology," to chanting English translations of Torah and haftarah to the ancient melodies of trope, symbolic rainbow-striped tallitot, calling people to the Torah in group aliyot and giving group blessings, eco-kashrut, and countless other ideas and innovations which have shaped Jewish life today across the denominations. As his official ALEPH obituary notes, "Where others saw walls, he saw doors."
When I learned that Reb Zalman's soul had left this earthly plane, I was at the synagogue preparing for Shabbat. One of my congregants, who was here that afternoon and saw me weeping, left a card for me on my desk. "How blessed we are if, in our lifetime, we meet someone whose guiding light leads us where we are meant to go," she wrote. I am blessed indeed.
Photo by Dan Sieradski, 2007.
What makes a rebbe? One traditional answer is that "A rabbi answers questions; a rebbe answers people. A rabbi hears what you say with your mouth; a rebbe hears what you say with your soul." Reb Zalman taught that "rebbe" is a role — not a specific person, necessarily, but a way of relating. He taught that we can be rebbeim for each other, that we can consciously choose to move in and out of the rebbe role. "Everyone should, for time to time, get the chance to sit in the master's chair," he said in 2013. "Just so that they can get attuned to what happens when you reach up and say, dear God, what would you like me to share with these people? And to see what comes; it's very beautiful, very holy." He used to do an actual exercise where everyone would sit at the table, with him in the rebbe's chair at the head, and he would offer a teaching — and then instruct everyone to rise and shift over one chair, and whoever had moved into the rebbe's chair would have the opportunity to be in that role for a little while. (In retrospect I see in that teaching yet another gentle way of reminding us that his deployment wouldn't be forever.)
It seems to me that a rebbe is not only a pastoral caregiver but a spiritual conduit. The Zohar, a foundational work of Jewish mysticism, refers to Moses as the raaya meheimna of Israel — a phrase which can be translated both as "faithful shepherd" and "shepherd of faith." A rebbe, like Moses, not only cares for his flock, but serves as a conduit for our faith, connecting us with God. The rebbe is never the object of that faith, the endpoint of the faith — God forbid we should worship a rebbe, even a great one! Rather, the rebbe opens the door and helps us connect with God. She is not the moon, but the finger pointing to the moon.
It is said of Moshe Rabbenu, Moses our Teacher, that "never again will there arise a prophet like Moshe." And indeed there will not. Moshe led the people out of Egypt and into a new reality. Moshe spoke directly to God, face-to-face. And there are ways in which Reb Zalman feels to me like a Moshe — irreducible, irreplaceable. There will never be another one like him. No one will ever bridge between pre-Shoah Europe and postmodern America, between deep Hasidic immersion and far-flung spiritual influences, between kabbalah and Sufism and Native American shamanistic practice and Buddhism and integral theory and transpersonal psychology and Gaia theory and computer metaphors, the way that he did. Never again will there arise a teacher like Reb Zalman.
And at the same time, I think back to a Hasidic story I heard Reb Zalman tell many times, about the hasid who inherited his father's Hasidic dynasty and promptly began doing things differently than his father had done. His followers complained, but he countered that he was doing precisely what his father had done — "my father was the rebbe in the way his heart called him to be, and I am the rebbe in the way my heart calls me to be."
There will never be another Reb Zalman, but I hope that all of us who are his students, and the students of his students, and the students of his students of his students, will follow in his footsteps — not by mimicking his life and practice but by living out Jewish Renewal in the ways our hearts and souls call us to do, and the ways we perceive the Holy One is calling us to do. By serving the Holy One of Blessing as only we can. By doing the work of healing and bridge-building for which our souls were deployed in this world. That's how we can honor his memory. And I feel certain that somewhere, somehow, in some ineffable way that I can't intellectually understand, he is smiling at us still, and singing with us, andshepping naches to see us continuing the work of renewing Judaism and healing our earth.
Some of the other posts I've found meaningful:
Memorial contributions may be made to ALEPH's Rabbi Zalman Schachter-Shalomi Endowment for Jewish Renewal. Please give generously in his memory and to help sustain his legacy.