Kupat Ha'ir is the largest volunteer based charity fund supported by Jews worldwide. Kupat Ha'ir is the lifeline for thousands of needy. With offices in Israel, the U.S., Canada http://www.kupat.org

Six13 – High Holiday Mashup
18.09.2014
Send this as a PERSONALIZED, CUSTOMIZABLE MUSICAL ROSH HASHANAH VIDEO CARD to your friends and family. It's free and easy! http://www.six13.com/#!/sendcard

Rosh HaShanah Simanim (Signs)
28.08.2012
It's the month of Elul and we're greating ready for Rosh HaShana at Villa Rimona.
CLICK "PLAYLIST" TOP LEFT OF THE VIDEO THEN SELECT YOUR VIDEO
CLICK sur "PLAYLIST" en haut à gauche de la video puis slectionner votre vidéo
CLICK "PLAYLIST"parte superior izquierda DEL VIDEO , seleccione su VIDEO
CLICK "Playlist" в левом верхнем углу VIDEO затем выберите VIDEO
CLICK "Playlist" oben links im VIDEO anschließend Wählen Sie Ihr VIDEO
Yom Kippur/5774/Aug/2014 | Jewish Days of Distinction
18.09.2014
Joy of Israel Episode 6 [1/2]- City of David with Israeli Master Chef Tom Franz/h1>
Joy of Israel Episode 6 [2/2]- City of David with Israeli Master Chef Tom Franz/h1>
High Holiday Recipes
Rosh Hashanah: קרין גורן- מתכון לעוגת דבש במיקרו במיוחד לראש השנה
08.09.2014
קרין גורן במתכון מיוחד לעוגת דבש במיקרו (קלה מאוד להכנה) שצולם לפרויקט 'סימנים' לראש השנה- פרויקט על טעמים וזיכרונות לראש השנה של אתר בית אבי חי.
שפים מובילים מבשלים פרשנות אישית לסימני ראש השנה.
לעוד מתכונים,סרטים וכתבות הכנסו לפרויקט סימנים באתר האינטרנט של בית אבי חי
http://musaf.bac.org.il/project/symnym
שנה טובה!
המתכון המלא:
עוגת דבש אישית מהירה שמכינים במיקרוגל
עוגת דבש בספל במיקרוגל
כמות ל-2 ספלים
1 ביצה
2 כפות סוכר
1/4 כוס דבש
3 כפות שמן
1/4 כפית קינמון
1/2 כוס קמח תופח
ספלון אספרסו (או 1/4 כוס קפה חזק וחם)
עוד 2 כפיות דבש, לזיגוג לפני ההגשה
לאופן ההכנה הלא הכנסו לפרויקט סימנים:
http://musaf.bac.org.il/project/symnym
**צילום והפקה: פילטר הפקות

NBC 6 in the Mix Segment in Florida
11.09.2014
Jamie Geller joins Roxy Vargas on 6 in the Mix with a how to make Individual Stuffed Apple Challah rolls for Rosh Hashanah. Get the full recipe here http://www.joyofkosher.com/recipes/in…

Rosh HaShana Foods | SEPHARDI style
Rosh Hashanah: 101
19.07.2010
Challah Connection gives an overview of the food traditions of Rosh Hashana.

How to Make Popular Rosh Hashanah Recipes
18.02.2011
Watch more How to Celebrate Jewish Holidays videos: http://www.howcast.com/videos/154870-…
Rosh Hashanah is known as the Jewish New Year, a holiday marked by reflection, charity, and repentance. Food is an integral part of the holiday and is used to symbolize the hope for a sweet, fruitful new year.
Step 1: Bake challah bread
Bake challah bread. Dissolve 1 package dry yeast and 2 tablespoons of sugar in 1/2 cup warm water until the yeast begins to foam. Combine 5 1/2 cups flour, 1 cup water, 1/4 cup oil, 2 eggs, and teaspoon salt in a food processor, gradually adding the flour.
Step 2: Cover dough
Put the dough in a greased bowl, cover and let it rise for one hour. Knead the dough and shape it into circular roll, then let it rise again. Glaze with one additional egg and then bake on a cookie sheet at 375 degrees Fahrenheit for 30-40 minutes.
Tip
In its round form, the challah represents the cycle of life and the passing year. It is passed around the table so everyone can break off a piece.
Step 3: Slice up apples
Use a knife to slice up a selection of apples. Serve with individual dishes of honey for dipping.
Tip
After an apple slice is dipped in honey, the blessing for eating tree fruits is recited. After the apple is tasted, the apples and honey prayer is recited.
Step 4: Offer fish
Offer a fish dish, which symbolizes the hope that the coming year will bring plenty. Place any whitefish fillets — such as snapper, trout, haddock or sole — in a baking dish.
Step 5: Season the fillets
Sprinkle the fillets with salt and pepper, apple cider or red wine vinegar, olive oil, and a dash of honey. Garnish with raisins if desired. Bake at 400 degrees for about 20 minutes or until the fish is no longer translucent.
Step 6: Serve new fruits
Serve new fruits, such as pomegranates. A new fruit means one that has just come into season, recently picked. Tradition holds that a pomegranate contains 613 seeds, just as there are 613 of God's commandments.
Step 7: Make carrot tzimmes
Make tzimmes, a savory, sweet carrot side dish. Peel and slice 12 carrots. Melt 3 tablesoons butter in a saucepan, then add 3 tablespoons honey, 3 tablespoons brown sugar, and 3 tablespoons lemon juice. Add the sliced carrots and bring the mixture to a boil. Simmer for 1 hour on low heat. L'Shanah Tovah!
Did You Know?
Rosh Hashanah occurs on the first and second days of Tishri, the seventh month of the Jewish calendar. The holiday was established in the Book of Leviticus.

Restaurant casher chinois surprenant en Anvers
24.05.2013
Anvers possède l'une des plus grandes populations juives d'Europe, tant et si bien qu'elle est souvent désignée comme la Jérusalem du Nord. Il n'est donc pas surprenant de constater qu'Anvers dispose de restaurants casher. Mais il est surprenant d'y trouver un restaurant casher chinois
Eat In Good Health! – Kasha Varnishkes (100% gluten-free)
16.01.2012
Eat In Good Health!
A Cooking Show in Yiddish with English subtitles
with Rukhl Schaechter and Eve Jochnowitz
Kasha Varnishkes (100% gluten-free)

OMA & BELLA COOKBOOK VIDEO: RED BORSCHT
07.04.2013
GET THE COOKBOOK HERE: http://omabella.com/omabella-cookbook…

Best Potato Kugel Recipe – Quick & Kosher with Jamie Geller
10.01.2011
http://www.joyofkosher.com/recipe/pot… | Jamie Geller shows you how to make her recipe for Potato Kugel in individual cups. The best part about them is that every piece is a crusty corner piece, so nobody has to fight over that coveted crunch.

India's Jewish Food
14.03.2013
Joan Nathan travels to India to look for Jewish food and discovers a rich cultural history in the process.

Jewish and Kosher Recipes: Avocado Sandwich
Kosher roast chicken smothered with mushrooms, onions and veggies
18.10.2012
Use just one pan to cook this meal. Just 45 minutes roasting a 2&1/2 lb. bird.
1 chicken 2 & 1/2 lb., 12 oz. onion, 7-8 oz. vine ripe tomato, 2 oz. celery,
3 oz. carrots, 3 oz. shitaki mushroom, 6 garlic cloves, 1/4 c. dry sherry, 1 T. dried or fresh thyme, 1/4 tsp. black pepper, 1 c. water, 2 T. flour 1/2 hr. high heat then 15 min. low.

Kosher Enchilada Recipe : Healthy Mexican Recipes & More
Just A Jewish Mother's Brisket
15.01.2013
Learn how easy it is to make a traditional Jewish brisket- The NP – "No Patchke", No Fuss Way

Stir Fry Kosher Tilapia Fillets with Ginger – By Aviglatt.com
15.07.2010
This is a great recipe for the Nine Days (When Jewish People Traditionally Abstain from Eating Red Meat or Chicken) or any time of the year when something slightly spicy yet healthy is in order for you family. You can find the full recipe on our blog here: http://www.aviglatt.com/Blog/Blog.asp… and great Kosher Shopping Delivered Anywhere at: http://www.aviglatt.com/. Enjoy!

Avi Glatt

Roasted Potatoes
06.01.2014

Sarina Roffe
Everyday Kosher Cooking – Tropical Fruit Soup
15.10.2013
Everyday Kosher Cooking presents Chaia Frishman (of Fruit Platters & More) preparing a delicious dessert treat – Tropical Fruit Soup.
See us online at: http://www.EverydayKosherCooking.com

Jewish Moroccan Challah Bread and Seperating (hafrashat) Challah
23.03.2011
Step by step instruction how to make Jewish Moroccan Challah and how to preform the ancient tradition and positive commandment of seperating (hafrashat) challah


Popular Israeli cuisine & Couscous videos
Popular Jewish cuisine videos
High Holiday Recipes
Video Jewish Recipes of the Day
COMMENT: Holy Lunch
| | |
| --- | --- |
| Holy Lunch | Menachem Av 21, 5774 · August 17, 2014 |
| | |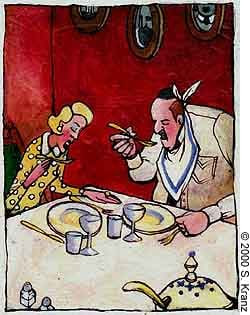 Have you ever closed a deal, celebrated your marriage (or its anniversary), or simply spent time with a good friend—without eating something together? When you think of home, is it not in your taste buds that the most elemental memories reside? And what about the food itself—can you get any closer to something than by ingesting it into yourself and turning it into your own flesh, bone and blood?
Tell me what, how, where and with whom you eat, and I'll tell you who and what you are.
---
Numerous explanations have been offered for the Torah's kosher dietary laws. Some point out the health benefits. Others dwell on the unifying effect these laws have on a dispersed people, and their role as a shield against assimilation. Nachmanides, the great 13th-century sage and Kabbalist, explains that "the birds and many of the mammals forbidden by the Torah are predators, while the permitted animals are not; we are commanded not to eat those animals possessive of a cruel nature, so that we should not absorb these qualities into ourselves."
But perhaps the most basic reason (insofar as a divine command can possess a "reason") is that presented by the Torah itself in the closing verses of its chapter on the dietary laws:
To differentiate between the impure and the pure, between the animal that may be eaten and the animal that may not be eaten. (Leviticus 11:47)
"To differentiate," lehavdil in the original Hebrew—this single word defines man's uniqueness as a moral creature. Or, in the Torah's terminology, a "holy" person.
As our sages point out in their commentary on this verse, the concept of lehavdilapplies only to two ostensibly similar things. Cows, too, differentiate, between a nutritious grass and a poisonous weed. But the kosher-observant shopper will differentiate between a piece of meat from an animal that was slaughtered by a certified shochet in accordance with the detailed laws of shechitah, and a piece of meat from an animal that was simply killed in an abattoir. No laboratory will discover any physical difference between the two. But the Jew accepts the first and rejects the second. And if he unwittingly brings the second into his kitchen, he will blowtorch the pan that cooked it and discard the china on which it was served.
Morality is the capacity to accept that there are things to be embraced and things to be rebuffed. Sometimes the desirability or undesirability of a thing is obvious; sometimes we can smell the difference, and sometimes we can understand it. But if that's where it stops, we're nothing more than cows avoiding the poison.
The point at which we begin to lead moral and holy lives is the point at which we say: "There is 'Yes' and there is 'No' in G‑d's world. These are objective truths, established by the Creator of reality. Often I will find that the 'Yes' things give me pleasure, safeguard my health, preserve society, and fulfill me spiritually, while the 'No' things achieve the opposite. But this is not what makes them 'Yes' or 'No.' On the contrary: because a thing is morally positive, it will invariably occupy a positive place in my life; because a thing is morally negative, it will inevitably hurt me. But my need to affirm the 'Yes' and reject the 'No' stands above these considerations, which are the result, not the source, of the intrinsic difference."
Of course, every time the Torah tells us to do something or not to do something, it is making this point. But nowhere is the imperative lehavdil as fundamental as when it dictates what we should eat and what we should not. Nowhere is it as intimately woven into our lives as when applied to the act of eating, by which the eater and the eaten literally become one flesh.
If you accept a yes/no line of demarcation across the diameter of your dinner plate, then—and only then—have you mastered the art of holiness.