Select Section WEEKLY Parshat Ha'Azinu language hebrew,french,english,spanish,german,russian, Machon Meir, CHABAD,The Jewish Woman,YOUTH/TEENS SHIURIM & COMMENTARIES


Machon Meir  ENGLISH  :MeirTV English

Rabbi Netanel Frankenthal

For over 35 years, Machon Meir has become known throughout Israel as the place to get a deeper understanding what it truly means to be a member of the Jewish people. It has also become the landing point for many new immigrants from all over the world because of the institute's encouragement of living in the Land of Israel. Machon Meir has also created a strategy to distribute Torah worldwide through their media channel, Arutz Meir. Since it began, Arutz Meir has debuted a range of television series and archived over 25,000 classes which are constantly being updated and viewed daily throughout the world in 5 different languages. With a variety of topics and discussions led by renowned Jewish scholars, our viewers will surely find a class that will create sparks of inspiration. Whether you are looking to connect to your Jewish heritage or you are simply seeking out answers, we exist to imbue the words of Torah and engage our viewers with real and meaningful
Machon Meir MeirTvFrench

Rav Yossef David
 Rav Chlomo Aviner
Machon Meir   MeirTvRussian
Rav Yona Levin
Rav Yona Levin

"За чашкой чая"
Беседа в тёплой, неформальной обстановке о том,
как современный интеллигентный слушатель воспринимает нашу традицию.
В передаче мы попробуем получить ответы на непростые вопросы,
которые еврейский народ задаёт уже не первое тысячелетие.
Присоединяйтесь, приходите к нам на чашечку чая.
Не стесняйтесь, чувствуйте себя как дома!
Из цикла передач "За Чашкой Чая" 96-го канала из Иерусалима.
Наша Традиция на вашем языке!
Machon Meir   ESPAÑOL MeirTvSpanish
Por más de 35 años, Machon Meir ha dado a conocer a través de Israel como el lugar para obtener una comprensión más profunda lo que realmente significa ser un miembro del pueblo judío. También se ha convertido en el punto de aterrizaje para muchos nuevos inmigrantes de todas partes del mundo, porque de aliento de la vida en la Tierra de Israel del instituto. Majón Meir también ha creado una estrategia para distribuir la Torá en todo el mundo a través de su canal de medios, Arutz Meir. Desde sus inicios, Arutz Meir ha estrenado una serie de series de televisión y archivado más de 25.000 clases que constantemente se están actualizando y ver todos los días en todo el mundo en 5 idiomas diferentes. Con una variedad de temas y discusiones dirigidas por renombrados eruditos judíos, nuestros televidentes seguramente encontrará una clase que va a crear chispas de inspiración.

Rab Dani Rotenberg
20.08.2014
Machon Meir   עברית    Rabbi Dov Bigon

Rabbi Elisha Wishlitzky

FOR FRIDAY NIGHT: Spirit and Matter (Ha'azinu)
Elul 28, 5774 · September 23, 2014
Spirit and Matter
Our lives tend to be divided between spirit and matter, the sacred and the everyday.
The dichotomy between spirit and matter, or Heaven and Earth, is also expressed at the beginning of this week's Torah reading,1 Haazinu, which takes the form of a long poem. Moses is the leader of the Jewish people, filled with love for them, yet also seeing with pain the long and tortuous history they would experience. He warns them about the mistakes they might make in their relationship with G‑d. Speaking dramatically to the Jewish people, Moses begins by addressing Heaven and Earth. Rashi tells us that he was calling them as witnesses to his words of warning which follow.
Moses says, "Give ear, Heavens, and I will speak; listen, Earth, to the words of my mouth."
Hebrew is a deeply poetic language which makes it difficult to translate into English. It has nuances which the English sometimes cannot convey at all. The Sages comment that the word haazinu, translated as "give ear" (ozen means ear) suggests a close proximity. If someone is standing next to you, you can speak right into their ear. By contrast, the word translated as "listen" suggests a greater distance, as if calling to someone who is far away.
Moses uses the closer term when he addresses the Heavens, and the more distant term when speaking to the earth. The Sages point out that Moses was a very spiritual person, and, therefore, in his case the Heavens were very close. By contrast, as far as he was concerned, the earth and all material concerns were further away.2
Now, what about us? Does the Torah reveal this aspect of Moses just to impress us with how holy he was, or is there a teaching which is also relevant for our lives?
There is a Chassidic idea that within each individual in the Jewish people there is a spark of Moses.3 This is our deepest aspect. In relation to this inner Moses, in our case too, the Heaven is closer than the Earth.
One moment. Isn't our task as human beings and as Jews to reveal G‑dliness in the world? Surely we have to be immersed in the material concerns of daily life? The Chassidic answer is: "yes, but they do not have to get you down!" Indeed we are active in the world. But at the same time we have a close affinity with Heaven. Hence Moses' words are directly relevant for us too. We are active in the world but, in a deep sense, we are not limited by it.4
This very idea is expressed in the approaching Sukkot festival. The sukkah represents our everyday home and everyday life. At the same time, it is a spiritual realm. One of the teachings of Sukkot is that yes, we are in a material world. But at every step we have the power to make it holy.
WEEKLY ALIYOT: Parshat Haazinu
Elul 28, 5774 · September 23, 2014
Haazinu Aliya Summary
General Overview: The bulk of this week's Torah reading, Ha'azinu, consists of a poetic song delivered by Moses and Joshua. The song is a prophecy of what will transpire to the Jews – the good and the bad – until the end of times. The portion concludes with G‑d commanding Moses to climb Mount Nebo, from where he would see the Promised Land before his passing.
---
First Aliyah: The heavens and earth, permanent fixtures of this world, are called upon to be witnesses to the words which Moses will now say. The Torah, Moses declares, is life to this world, much as rain and dew are to vegetation. G‑d is righteous and just, and all corruption stems from His children, who are thankless and lack the wisdom to recognize the source of all their blessing.
---
Second Aliyah: Moses beseeches the Israelites to contemplate their history, starting with the generation of the Tower of Babylon. When that generation sinned, G‑d could have destroyed humanity, but instead chose to spare them, only because of Israel — G‑d's portion — which was destined to arise from those people. In the desert, in a "desolate, howling wasteland," G‑d enveloped and protected the Israelites with clouds, caring for His nation as an eagle tenderly cares for his offspring, treating them like the pupil of His eye. "G‑d alone guided them, and no other god was able to disturb them."
---
Third Aliyah: Moses then speaks of the Israelites' future. G‑d settled them in the Land of Israel, the "peak of the earth." He provided them with their every need, the choicest produce, fruit and cattle. But Israel "became fat and rebelled," and abandoned the G‑d that made them and provided them with all their wealth and fortune. Instead they strayed after idols and abominable activities.
---
Fourth Aliyah: G‑d became incensed by His children's behavior. He decided to hide His face from them, and to send upon them invading armies, wild beasts, plagues, demons, and famine. If not for the obtuse nations who would have foolishly taken credit for Israel's demise, G‑d would've utterly destroyed the Jewish nation.
---
Fifth Aliyah: If the nations were wise they would have understood that no nation could experience such utter devastation unless G‑d had completely abandoned them and delivered them to their enemies. Otherwise, "How can one enemy pursue a thousand of Israel and two put ten thousand to flight?" Rather, the Israelites' misery came as a result of their actions, which resembled those of Sodom and Gomorrah, actions which G‑d chronicled from the start. However, the time will then come when G‑d will have a change of heart regarding His people. At that point He will ask them to note that all the gods which they had patronized were unable to help them when He unleashed His punishments against them, for only G‑d has the ability to injure or heal, cause death or bring life.
---
Sixth Aliyah: Then G‑d will turn His wrath against Israel's oppressors. "I will make My arrows drunk with their blood, My sword will consume their flesh." At that time, when G‑d will avenge the blood of His servants, the nations of the world will sing the praises of Israel. With this, the song of Ha'azinu concludes.
---
Seventh Aliyah: Moses and Joshua teach this song to the Israelites. Moses implores the people: "Pay close attention to this: it isn't an empty teaching; it is our life, and with it we will long endure on our land." G‑d then tells Moses to climb up Mount Nebo, from where he will view the land of Israel from afar before he passes away.
Rosh Hashanah videos for you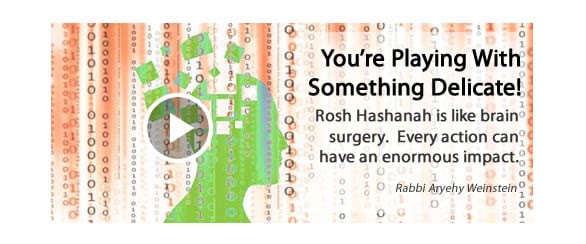 VOICES: Savoring the Sweetness: A Baby Boomer's Rosh Hashanah
| | |
| --- | --- |
| Savoring the Sweetness: A Baby Boomer's Rosh Hashanah | Elul 27, 5774 · September 22, 2014 |
| | |
September. As long as I can remember, my favorite time of year. We kids were bedecked with fresh new school clothes, our sharpened pencils and unbroken crayons lined up in their boxes like soldiers awaiting marching orders. Michigan autumns were marked by crisp blue skies and leaves turning an array of colors—scarlet, gold, yellow, magenta, as intense as the hues of those crayons.
In the midst of all this school hustle and bustle came another beginning—Rosh Hashanah. For those two days, we were pulled away from the schoolyard gang, reminded we were somehow different. We rose early, got
For two days we were pulled away from the schoolyard gang
decked out in our finery, and went to temple, where we sang beautiful, soulful melodies, tunes with a haunting seriousness so different from the sugary, superficial ditties we learned from TV. We dipped fresh, crunchy apples into sticky honey and relished golden, round challahs, purple raisins beckoning.Autumn and the Yamim Noraim, the High Holidays, seared together in that memory bank of childhood sensations. The dreamy, expansive days of summer had ended—days of lazily lying in a meadow, clouds and butterflies swirling overhead. Hot sun, cool pools, dripping popsicles and scraped-knees-filled days of endless possibility and freedom. But fall brought a more focused mood of anticipation, tempered with a bittersweet sense that winter was just around the corner. Rosh Hashanah's minor-tuned melodies too carried a message, which even a child could somehow sense. It's about more than shiny shoes and sweets, those songs whispered. A Jew's "partying" has a purpose—to inspire us to dig a bit deeper, reach a bit higher; to make our days count.
Fall was a time of measurement and accounting, as well as promise and hope. Our school health form declared just how much we'd grown, two or three inches since last September. And this year we would learn cursive writing and multiplying. And maybe be more popular!
Rosh Hashanah is a time of accounting, too, but with a more subtle set of achievement markers. Were we more patient, kind, this past year? No gold stars are given to award our victories, but we can relish an inner knowing as we slowly climb the ladder of self-refinement and growth. Hope springs eternal—we experience a
Were we more patient, kind, this past year?
combination of bitter remorse for squandered opportunities, and G‑d's loving embrace as we're given yet another chance for a fresh start.And as much as we kvetched, there was a relief to go back to the rules and structure of school, to submit to the authority of the teacher. We knew we'd learn new skills and grow through that discipline, stretch to levels we might never reach laying around the pool. And during this season, we adults submit to the yoke of Avinu Malkeinu, our Father, our King, who guides us with that perfect blend of endless, loving patience and the structure of mitzvahs that offer infinite growth possibilities, in ways we could never reach left to our own bumbling devices.
My chronological years have increased a bit since kicking the leaves and avoiding the sidewalk cracks on the way home were my primary fall activities. I like to think my understanding of Judaism has increased a bit as well. As one of the much analyzed and probed Baby Boomers, I've found some correlations between middle age and the High Holidays.
As we boomers move into the autumn of our fifties and sixties, many have conflicting reactions. Mortality is more than an abstract concept. We've sat in shocked silence at funerals of friends, and stood with bowed heads at graves of family. Our bodies are showing signs of limitations; those gray hairs and wrinkles keep appearing. One all-nighter is followed by three days of yawning and irritability. In spite of increased fatigue and forgetfulness, I find this time surprisingly liberating.
I see my friends stepping into their own skin in a deeper way, with a stronger sense of awareness, responsibility and identity. They want to mentor others, speak out, make a difference. It's suddenly easier to prioritize, let go of the trivialities. Having made more than a few meaty mistakes, I find it easier to see the big picture and focus on the real stuff.
Rosh Hashanah so elegantly provides us Jews with a yearly mid-stream pause. In the middle of our hectic lives, we take time to pull back and reflect. Like the melancholy honk of the geese flying south, we are reminded, through the pensive prayers, melodies and mood, that this life is a precious and time-bound gift. Time for inventory: How well are we measuring up to our ideals? What resolutions can we make to get and stay more on track?
Maimonides likened the penetrating blast of the shofar to an alarm clock: "Wake up you sleepers . . ." Or in more contemporary parlance, "Wake up and smell the coffee!" The summer's over, snap out of your dreamy dilly-dallying. Go for it—let's make our lives and world what we want them to be.
My prayers have changed as I've aged, ostensibly matured; like my newfound attitude, they are simpler, more focused on the essence. They cut deeper.
Bless me, forgive me, embrace me
"G‑d, please bless me, forgive me, embrace me. Me and mine. My dear husband is graying. Give him strength. My precious children and grandchildren. Those kids, so dear, so young and vulnerable (though of course they don't think so), those teens and budding young adults. G‑d, please watch over them. I have to let go, trusting You to keep them in Your palm, close by and protected. Protect Your precious children and Your beloved land, each one, each inch. Bring us close to You. Reveal Your light. That's all."
Red and gold mark these days—glorious leaves, crisp red apples dipped in golden honey—as we pray to receive and savor blessings of sweetness. To appreciate the aching beauty in quickly passing time, with our growing awareness of its ephemeral quality, and our fleeting chance to use it wisely. The Days of Awe are just that, awe at nature's flash of beauty throughout the seasons, awe and gratitude for our lives' possibilities and our Creator's closeness and majesty.
PARSHAH PICKS: Let My Teaching Fall Like Rain (Haazinu)
Elul 28, 5774 · September 23, 2014
General Overview:
The bulk of this week's Torah reading, Ha'azinu, consists of a poetic song delivered by Moses and Joshua. The song is a prophecy of what will transpire to the Jews – the good and the bad – until the end of times. The portion concludes with G‑d commanding Moses to climb Mount Nebo, from where he would see the Promised Land before his passing.
| | |
| --- | --- |
| By Rabbi Jonathan Sacks | |

THE PARSHAH

Deuteronomy 32:1–52

Moses' song to the Jews before his passing. G‑d instructs Moses to climb Mount Nebo, from which he will view the Promised Land.

COLUMNISTS

Why is Moses singing on the last day of his life?

By Levi Avtzon

"If Judaism will be celebrated rather than commemorated," sang Moses, "and allowed to work its music over you and your families, you will not be able to help but dance to its tune."

By Mendel Kalmenson

Moses asked for spiritual "rain." G-d responded by offering "dew"

By Lazer Gurkow

FEATURED VIDEO

Study some of the highlights of the weekly Torah portion with insights from various commentaries.

By Elimelech Silberberg

 Watch

 (48:19)

Practical Parshah – Haazinu

The meaning of the word "Amen," when to say it, and why.

By Mendel Kaplan

 Watch

 (55:00)

Haazinu Parshah Report

Rabbi Kadoozy astounds the scientific community with this rare satellite footage of planet earth.

Dovid Taub & Jonathan Goorvich

 Watch

 (4:03)

FEATURED AUDIO CLASSES

The five books of Torah are the blueprint for creation. Each Torah portion presents one dimension of the vast eternal plan. The Lubavitcher Rebbe, of righteous memory, in his talks revealed the theme of each portion. Presented here is a class on one of these talks.

By Manis Friedman

 Listen

 (26:58)
CHASSIDIC DIMENSION: The Teshuvah of Shabbos Teshuvah (Haazinu)
Elul 28, 5774 · September 23, 2014
Ha'azinu & Shabbos Teshuvah
The Teshuvah of Shabbos Teshuvah
The Torah portion Ha'azinu begins with Moshe saying:1 "Listen heaven and I will speak; hear earth the words of my mouth." The Sifri notes2 that concerning heaven Moshe used an expression denoting closeness, ha'azinu , while regarding earth he used an expression indicating distance, v'sishma , for Moshe was "close to heaven and distant from earth."
All of Torah serves to instruct each and every Jew. Since it tells us "listen heaven and hear earth," it is evident that like Moshe, we are expected to become "close to heaven and distant from earth." How are we to reach so rarefied a level?
Ha'azinu is often read on the Shabbos between Rosh HaShanah and Yom Kippur, a Shabbos known as "Shabbos Teshuvah ," a "Shabbos of Repentance."
The simple reason for the name is that this Shabbos falls within the Aseres Yimei Teshuvah , the "Ten Days of Penitence." However, since every aspect of Torah is extremely precise, it is to be understood that the name "Shabbos Teshuvah " serves to indicate that Shabbos enhances repentance, so that the Teshuvah of this Shabbos is superior to the Teshuvah of the other "Ten Days of Penitence."
What is the connection between Shabbos and a superior form of Teshuvah ?
The Alter Rebbe explains3 that the Teshuvah of Aseres Yimei Teshuvah involves the soul's essence, while Teshuvah during the rest of the year involves only the soul's internal powers. Thus, the former period of Teshuvah is far superior to the latter.
These two times for Teshuvah also correspond to the two general levels of repentance, the lower level — whose purpose is to rectify man's sins, and the higher level — which sees the soul returning and cleaving to its Source.4
In a general sense, these two forms of Teshuvah are mirrored in the difference between spiritual service during the week and spiritual service on Shabbos: During the week man is involved in mundane affairs, seeking to elevate the physical world to holiness. This corresponds to the lower level of repentance, in which the service is that of reuniting the soul's internal powers with G-dliness.
On Shabbos, however, mundane labor is prohibited, for the sanctity of the day is such that man transcends the physical; his labor on that day involves achieving ever-higher levels within the framework of holiness.5
Thus the Teshuvah of Shabbos is the loftier level of Teshuvah , whereby the soul is elevated and cleaves to its Source.6 The superiority inherent in the Teshuvah of "Shabbos Teshuvah " as compared to repentance during the other days of the "Ten Days of Penitence" will be understood accordingly:
The seven days between Rosh HaShanah and Yom Kippur correspond to the seven weekdays of the entire past year; each day of the seven rectifies the misdeeds committed on that weekday in the year just past, with Sunday rectifying for all past Sundays, Monday for all Mondays, etc.
Therefore, although the entire period of the Aseres Yimei Teshuvah involves the superior form of Teshuvah , nevertheless, since the weekdays of the Aseres Yimei Teshuvahinvolve atonement for the weekdays of the past year, it follows that the weekdayTeshuvah is not the loftiest form.
Shabbos, however, is the Teshuvah for past Shabbasos, which themselves are inherently superior in service and Teshuvah. It therefore follows that the Teshuvah ofShabbos Teshuvah is the loftiest of all the Aseres Yimei Teshuvah.
It is the attainment of this level on Shabbos Teshuvah that enables each and every Jew to be like Moshe — "close to heaven and distant from earth."
Based on Likkutei Sichos Vol. XIV, pp. 143-147.
WEEKLY ALIYOT: Rosh Hashana
Elul 27, 5774 · September 22, 2014
Rosh Hashanah Aliya Summary
Day One of Rosh Hashanah (Genesis 21:1-34; Numbers 29:1-6):
General Overview: On the first day of Rosh Hashanah, the Torah reading focuses on our Patriarch Isaac's birth. The reading begins with the words, "And G‑d remembered Sarah." According to the Talmud, G‑d "remembered" Sarah, and chose to bless her with a child, on Rosh Hashanah. The reading also discusses Ishmael's expulsion from Abraham's household due to the negative influence he posed for Isaac, and the treaty between Abraham and Abimelech, king of the Philistines.
First Aliyah: At the age of ninety, previously barren Sarah miraculously gave birth to a son, who, as per G‑d's instruction, was named Isaac. Isaac was circumcised when he was eight days old.
Second Aliyah: Sarah was overjoyed by the tremendous miracle. "Who would have said to Abraham that Sarah would nurse children," She exclaimed. Abraham made a huge feast on the day that Isaac was weaned. Sarah noticed that Ishmael, Abraham's eldest son born to him from her maidservant Hagar, was behaving inappropriately. She demanded from Abraham that he expel both Ishmael and Hagar from the household. G‑d instructed Abraham to hearken to Sarah's words, for "your progeny will be called [only] after Isaac."
Third Aliyah: Nevertheless, G‑d promised Abraham that Ishmael's descendents, too, will be made into a nation, for he, too, is Abraham's seed. Abraham expelled Hagar and Ishmael; they wandered in the desert and eventually ran out of water. Ishmael was about to perish from thirst when an angel "opened Hagar's eyes" and showed her a well of water from which to give Ishmael to drink. Ishmael grew up in the desert, became a skilled archer and married an Egyptian woman.
Fourth Aliyah: At that point, Abimelech, king of the Philistines, approaches Abraham and requested to enter into a treaty with him, whereby neither party will harm the other for three generations. Abraham agreed, but first reprimanded Abimelech concerning a well of water which he had dug which was stolen by Abimelech's subjects. Abimelech proclaimed his innocence, claiming to have been unaware of the situation. Abraham took sheep and cattle, and gave it to Abimelech as a symbol of their treaty.
Fifth Aliyah: Abraham then set apart seven ewes from the flock. Abraham told Abimelech to take those seven ewes as evidence that he, Abraham, dug the well. Abraham planted an orchard and established an inn in Beer Sheba and proclaimed the name of G‑d to all passersby.
Note: If the first day of Rosh Hashanah falls on Shabbat, then the same reading is read, however it is divided into seven aliyot (sections) instead of five.
Maftir: The maftir reading details the various sacrifices offered in the Holy Temple on Rosh Hashanah, along with the accompanying wine libations, oil and meal offerings.
---
Day Two of Rosh Hashanah (Genesis 22:1-24; Numbers 29:1-6):
General Overview: The Torah reading for the second day of Rosh Hashanah discusses the Binding of Isaac. On the day when we are judged by G‑d, we invoke the merit of our Patriarchs, and their willingness to sacrifice all for G‑d's sake. The reading concludes with the birth of Rebecca, Isaac's destined soulmate.
First Aliyah: G‑d commanded Abraham to take his son Isaac to the Land of Moriah, and offer him as a sacrifice on a mountain (eventually to become known as the Temple Mount). Abraham rose early in the morning, took along Isaac and necessary provisions, and set out for the Land of Moriah.
Second Aliyah: On the third day, Abraham spies the mountain from afar. He leaves behind his two servants and proceeds together with Isaac. In response to Isaac's question, "We have the fire and the wood, but where is the sacrificial lamb?", Abraham responds, "G‑d will provide for Himself the lamb…"
Third Aliyah: They arrived at the place which G‑d had designated. Abraham built the altar, bound Isaac, and placed him on the wood pyre atop the altar. As Abraham stretched out his hand to take the slaughtering knife, an angel appeared and ordered him to desist. "Now I know that you are G‑d fearing, since you have not withheld your only son from Me!" Abraham offered a ram which was caught in a nearby thicket in lieu of his son, and named the area "The L-rd Will See."
Fourth Aliyah: G‑d promised Abraham great blessings as a reward for passing this difficult test. "I will make your descendents as numerous as the stars in heaven!" Abraham and Isaac returned home to Beer Sheba.
Fifth Aliyah: After these events, Abraham was notified that his sister-in-law, Milkah, had given birth to children. One of these children, Bethuel, was the father of Rebecca, Isaac's future wife.
Maftir: The maftir reading details the various sacrifices offered in the Holy Temple on Rosh Hashanah, along with the accompanying wine libations, oil and meal offerings.
PARSHAH IN A NUTSHELL: Rosh Hashanah
Elul 27, 5774 · September 22, 2014
Rosh Hashanah Torah Readings
Genesis 21:1-34; Genesis 22:1-24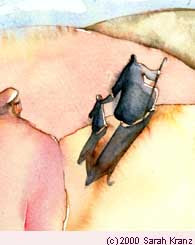 Day 1:
G-d remembers Sarah and gives her and Abraham a son, who is named Isaac (Yitzchak) meaning "will laugh"; Abraham is 100 years old, and Sarah 90. Isaac is circumcised at the age of eight days.
Hagar and Ishmael are banished from Abraham's home and wander in the desert; G-d hears the cry of the dying lad and saves his life by showing his mother a well. The Philistine king Avimelech makes a treaty with Abraham atBe'er Sheva.
Day 2:
G-d commands Abraham to sacrifice his son on Mount Moriah (the Temple Mount) inJerusalem. Isaac is bound and placed on the altar, and Abraham raises the knife to slaughter his son. A voice from heaven calls to stop him, saying it was a test; a ram, caught in the undergrowth by its horns, is offered
TORAH STUDIES: Rosh Hashanah – Yom Kippur
Elul 27, 5774 · September 22, 2014
The Ten Days of Teshuvah
The following Sicha is about the difficulties of translation itself. The act of translation assumes that for every word in one language, equivalents can be found in another. But this may be untrue, especially when we are dealing with ideas that are central and unique to Judaism. We may then fall into the error of equating a Jewish idea with one drawn from another culture when the two are in fact dissimilar, even opposite. This is the case with the three words constantly on our minds during the Ten Days of Teshuvah. In English they are repentance, prayer and charity. How far these differ from their Jewish counterparts—teshuvah, tefillah and tzedakah—the Rebbe emphatically explains.
1. The Service of the Ten Days
We express the hope that on Rosh Hashanah G-d blessed us with a "good and sweet year" to come, a year made fruitful by children, health and sustenance.
But there is no limit to goodness and blessing. Thus, during the Ten Days of Teshuvah we have the opportunity through our service, to cause G-d to grant us yet greater benefits from His "full and expansive hand."
What is this service? It is, as we say in our prayers, "repentance, prayer and charity" which avert evil and bring the good. But the words "repentance, prayer and charity" are misleading. By thus translating the Hebrew terms teshuvah, tefillah and tzedakah, we are led into a false comparison of these three elements of the religious life as they exist in Judaism and outside it.
In fact, there are crucial differences. Teshuvah is not repentance. Tefillah is not prayer. And tzedakah is not charity.
2. Teshuvah and Repentance
"Repentance" in Hebrew is not teshuvah but charatah. Not only are these two terms not synonymous. They are opposites.
Charatah implies remorse or a feeling of guilt about the past and an intention to behave in a completely new way in the future. The person decides to become "a new man." But teshuvah means "returning" to the old, to one's original nature. Underlying the concept of teshuvah is the fact that the Jew is, in essence, good. Desires or temptations may deflect him temporarily from being himself, being true to his essence. But the bad that he does is not part of, nor does it affect, his real nature. Teshuvah is a return to the self. While repentance involves dismissing the past and starting anew, teshuvah means going back to one's roots in G-d and exposing them as one's true character.
For this reason, while the righteous have no need to repent, and the wicked may be unable to, both may do teshuvah.1 The righteous, though they have never sinned, have constantly to strive to return to their innermost. And the wicked, however distant they are from G-d, can always return, for teshuvah does not involve creating anything new, only rediscovering the good that was always within them.
3. Tefillah and Prayer
"Prayer" in Hebrew is not tefillah but bakashah. And again these terms are opposites. Bakashah means to pray, request, beseech. But tefillah means, to attach oneself.2
In bakashah the person asks G-d to provide him, from above, with what he lacks. Therefore when he is not in need of anything, or feels no desire for a gift from above, bakashah becomes redundant.
But in tefillah the person seeks to attach himself to G-d. It is a movement from below, from man, reaching towards G-d. And this is something appropriate to everyone and at every time.
The Jewish soul has a bond with G-d. But it also inhabits a body, whose preoccupation with the material world may attenuate that bond. So it has constantly to be strengthened and renewed. This is the function of tefillah. And it is necessary for every Jew. For while there may be those who do not lack anything and thus have nothing to request of G-d, there is no-one who does not need to attach himself to the source of all life.
4. Tzedakah and Charity
The Hebrew for "charity" is not tzedakah but chessed. And again these two words have opposite meanings.
Chessed, charity, implies that the recipient has no right to the gift and that the donor is under no obligation to give it. He gives it gratuitously, from the goodness of his heart. His act is a virtue rather than a duty.
On the other hand tzedakah means righteousness or justice. The implication is that the donor gives because it is his duty. For, firstly, everything in the world belongs ultimately to G-d. A man's possessions are not his by right. Rather, they are entrusted to him by G-d, and one of the conditions of that trust is that he should give to those who are in need. Secondly, a man has a duty to act towards others as he asks G-d to act towards him. And as we ask G-d for His blessings though He owes us nothing and is under no obligation, so we are bound in justice to give to those who ask us, even though we are in no way in their debt. In this way we are rewarded: Measure for measure. Because we give freely, G-d gives freely to us.
This applies in particular to the tzedakah which is given to support the institutions of Torah learning. For everyone who is educated in these institutions is a future foundation of a house in Israel, and a future guide to the coming generation. This will be the product of his tzedakah—and his act is the measure of his reward.
5. Three Paths
These are the three paths which lead to a year "written and sealed" for good.
By returning to one's innermost self (teshuvah), by attaching oneself to G-d (tefillah) and by distributing one's possessions with righteousness (tzedakah), one turns the promise of Rosh Hashanah into the abundant fulfillment of Yom Kippur: A year of sweetness and plenty.
(Source: Likkutei Sichot, Vol. II pp. 409-411)