שימחו נא בשמחת התורה
Sukkot & Simchat Torah 2014 8–17 October
SHANA TOVA IN YiDDISH
Kupat Ha'ir is the largest volunteer based charity fund supported by Jews worldwide. Kupat Ha'ir is the lifeline for thousands of needy. With offices in Israel, the U.S., Canada http://www.kupat.org
CLICK "PLAYLIST" TOP LEFT OF THE VIDEO THEN SELECT YOUR VIDEO
CLICK sur "PLAYLIST" en haut à gauche de la video puis slectionner votre vidéo
CLICK "PLAYLIST"parte superior izquierda DEL VIDEO , seleccione su VIDEO
CLICK "Playlist" в левом верхнем углу VIDEO затем выберите VIDEO
CLICK "Playlist" oben links im VIDEO anschließend Wählen Sie Ihr VIDEO
Yiddish Song – Belz, Mayn Shtetele Belz
Jerome Allen "Jerry" Seinfeld (born April 29, 1954) is an American comedian, actor, writer, and television/film producer, best known for playing a semi-fictional version of himself in the sitcom Seinfeld (1989–1998), which he co-created and co-wrote with Larry David. For the show's final two seasons, they were co-executive producers.
In his first major foray back into the media since the finale of Seinfeld, he co-wrote and co-produced the 2007 film Bee Movie, also voicing the lead role of Barry B. Benson. In February 2010, Seinfeld premiered a reality TV series called The Marriage Ref on NBC. Seinfeld directed Colin Quinn in the Broadway show Long Story Short at the Helen Hayes Theater in New York which ran until January 8, 2011. More recently, Seinfeld has been the creator and host of the web series Comedians in Cars Getting Coffee.
Jerry Seinfeld was born in Brooklyn, New York. His father, Kálmán Seinfeld (1918–1985), was a sign maker of Hungarian Jewish[2][3]descent;[4] his mother, Betty (née Hesney; born 1915),[5] is of Syrian Jewish descent; her family lived in Aleppo. Wikipedia
Jerry Seinfeld Performs Standup
19.02.2014
Jimmy welcomes Jerry Seinfeld to perform as the first comedian on The Tonight Show Starring Jimmy Fallon, and Jerry tells jokes about technology and the U.S. Postal Service.
Subscribe NOW to The Tonight Show Starring Jimmy Fallon: http://bit.ly/1nwT1aN
Watch The Tonight Show Starring Jimmy Fallon Weeknights 11:35/10:35c
https://www.youtube.com/results?search_query=Jerry+Seinfeld

A Painter's Vision
05.10.2014
Four Artists, Four Stories, One Vision. This Sukkot, October 12, 2014, Nadja Marks-Shafton presents a remarkable exhibition of contemporary Jewish art in the Old City of Jerusalem. At Aish HaTorah in the Kotel Plaza, four artists will come together to share their inspirational art. Opening night is Oct. 12, 2014 from 6-11 P.M., with a night of art, live music, wine and refreshments. World-renowned musicians Yitzchak and Tamar Attias will perform. Rabbi Doniel Katz will also offer inspiring Torah, and much more.

Sukkot Building Special 5770 part 1 of 3
Sukkot Building Special 5770 part 2 of 3
Sukkot Building Special 5770 part 3 of 3
Kol Nidre – Al Jolson, The Jazz Singer (1927)
Kol Nidre sung by Perry Como
Neil Diamond – Kol Nidre
Cantor Boaz Davidoff Kol Nidre
Cantor Buchdahl sings "Kol Nidrei" 2012
Yiddish Еврейская песня
Jan Peerce Eishes Chayil Благородная женщина Woman of Valour
Ян Пирс Благородная женщина (И.Румшинский – И.Лиллиан) Дир.- Гершон Кингсли Еврейская песня Перевод частичный: "Настоящая благородная, честная, достойная, добрая, родная, дорогая, золотая душа, радость и удовольствие, хороший друг и маменю".
Jan Peerce Eishes Chayil Woman of Valour אשת חיל (J.Rumshinsky – I.Lillian) Cond.- Gershon Kingsley Yiddish song Translated, in part: "Real noble, honest, decent, kind, darling, golden soul, joy and delight, a good friend and dear Mameniu".
לילי איסאַדאָר יאָסף רומשינסקי אַן אמתע אשת חיל אַן אמתע אשת חיל אַ טײַערע קײַן טײַערע אַןפֿון

Lithuanian Jewish Culture
hebrew
London Jews explore the ongoing cultural contribution of Latin America's Jewish communities
Latin America is famous for its music, delicious food, breathtaking scenery and of course salsa music. But it is also home to approximately 450,000 Jewish people. Here in London's hip Camden Town young Jewish professionals were given the opportunity to learn more about the immense contribution Jewish people have made to the region

Gefiltefest at the London Jewish Cultural Centre sees Ashkenazi take on Sephardi in the kitchen
Ashkenazi and Sephardi cooking goes back centuries, but the two are distinctly different from one another. Here at the fourth annual Gefiltefest at the London Jewish Cultural Centre cooks from both sides have taken part in a competitive cook-off.

Joan Rivers Returns to The Tonight Show
David Letterman – Dave Walks Out On Joan Rivers
Joan Alexandra Molinsky[8] (June 8, 1933 – September 4, 2014), widely known as Joan Rivers, was an American actress, comedian, writer, producer, and television host noted for her often controversial comedic persona — where she was alternately self-deprecating or sharply acerbic, especially toward celebrities and politicians.
Joan Rivers 
Rivers came to prominence in 1965 as a guest on The Tonight Show. Hosted by her mentor, Johnny Carson, the show established Rivers' comedic style. In 1986, with her own rival program, The Late Show with Joan Rivers, Rivers became the first woman to host a late night network television talk show. She subsequently hosted The Joan Rivers Show (1989-1993), winning a Daytime Emmy for Outstanding Talk Show Host  Source Wikipedia more….
Rosa Raisa, L'altra notte.." Mefistofile, 1923 Vocalion
16.07.2012
Rosa Raisa (30 May 1893 — 28 September 1963) was a Polish-born, Italian-trained, Russian Jewish dramatic operatic soprano. In 1926 she created the role of Turandot at La Scala, Milan.
She was born as Raitza Burchstein, daughter of Herschel and Frieda Leah (Constantanovsky) Burchstein, in Białystok in 1893. Her mother died in 1899 and Herschel remarried, Chaya. Along with her cousins (Sasha Vigdorchik and his family) she fled Poland when she was 14 due to the pogroms, emigrating to the Isle of Capri, Italy. There Raitza met Dario Ascarelli and his wife Ester,], who recognized her talent and potential and sponsored her at the Naples Conservatory (San Pietro a Majella). Her teacher at the conservatory, the contralto Barbara Marchisio (1833–1919), had been one of the most prominent Italian singers of the mid-19th century. (See Marchisio's entry in The Concise Oxford Dictionary of Opera, edited by Harold Rosenthal and John Warrack, Oxford University Press, second edition, 1980.)
Walk2Israel close up
06.09.2014
http://www.jwrp.orgJoin Jewish women, from all over the world, for the journey of a lifetime to reawaken the passion and commitment that have been the legacy of the Jewish people for the last 4,000 years.
http://www.jwrp.org Join Jewish women, from all over the world, for the journey of a lifetime to reawaken the passion and commitment that have been the legacy of the Jewish people for the last 4,000 years.
The Jewish Women's Renaissance Project (JWRP) was established in 2008; and our mission is to empower women to change the world through Jewish values that transform ourselves, our families, and our communities.
Our flagship program, T.A.G. (Transform and Grow) Missions to Israel, offers women a special gift: a highly subsidized 9-day action-packed trip to Israel. Women travel as a group, grow as a group, and continue their journey back to their communities as sisters, having shared an incredible experience together. They share a common vision of self growth and personal development to reach their potential as Jewish women, wives, and mothers. To date, JWRP has brought thousands of women from 60 cities and 12 countries. Please note that this trip is primarily designed for women who have children at home under the age of 18.
The JWRP is about connecting tens of thousands of Jewish women to their Jewish identity so they can inspire their families and communities and inspiring them to take a leadership role in impacting other women.
WWW.JWRP.ORG
https://www.facebook.com/jwrpofficial
twitter and instagram @jwrpmission
Contact info:
To reach us email info@jwrp.org
Or call (240) 283-6371

KIDS-TEENS: Mitzvah Boulevard #3 – Shabbos Trailer
31.08.2014
It's Friday afternoon, Shabbos is coming soon and Bubby is off to a late start. It's a race against time with so much to do to get ready for Shabbos. Will they make it in time? Join the cast of Mitzvah Boulevard as they learn all about Shabbos and the things we do for the special day. Mitzvah Boulevard "Shabbos" is the third in the Mitzvah Boulevard series of learning and entertainment DVD's.
Each Mitzvah Boulevard DVD is packed with Torah and Jewish values presented in a way that kids of all ages will understand and enjoy! – Guest appearance by Benny Friedman
To pick up Mitzvah Boulevard Vol. 3 – Shabbos or any of the other DVDs in the Torah Treasure family, visit your nearest Jewish bookstore, or simply go to torahtreasure.com, Amazon Prime and MostlyMusic.com.

תפילות ראש השנה :נוסח חסידי ברסלב
10.09.2014
מפי רב שרגא לוי
ניגונים עתיקים נשגבים
Melodies of rosh hashana sung by rav shraga levi
Part 1

Itai the Penomenon – Shana tova to all 2014
13.09.2014

Jewish Csárdás. Muzsikás (Hungary) in Moscow, 17.03.2013
09.05.2013
[For English see below]
Проект «Эшколот» и Институт Балашши представляют:
«Еврейский чардаш». Концерт группы Muzsikás (Венгрия). Москва, 17.03.2013.
Музыканты представляют традиционную музыку евреев Трансильвании и Карпат.
Подробнее о событии: http://eshkolot.ru/event/38621
Официальный сайт группы: http://www.muzsikas.hu/
Eshkolot Project and Balassi Intézet present the concert "Jewish Csárdás". Muzsikás (Hungary), Moscow, 17 Mar 2013.
Muzsikás playing the Jewish music from Transylvania and the Carpathian Mountains region.
More info at http://eshkolot.ru/event/38621
Band's official website: http://www.muzsikas.hu/

eshkolot.ru.
שי בן צור והרג'סטאן הופעה מלאה 2013
"Jessica Livianu Loves The YouTube Biography of Rabbi Haim ASA, by David LIVIANU"
Stories of Ha'Rav Yehudah Z'eav Lebovitch 8-27-2013
26.08.2013
Stories of Ha'Rav Yehudah Z'eav Lebovitch 8-27-2013
Lectures From Rabbi Dror Moshe Cassouto, Yeshivat Chut Shel Chessed, Jerusalem, Israel
For more Torah Lessons by Rabbi Dror Moshe Cassouto please go to:
http://www.breslev.co.il/vod/torah_le…
Please subscribe to receive the latest of the shiurim and events!

SFJFF Presents: Online Short of the Month .SFJFF Presents: A Tale of a Woman and a Robe
08.09.2014 SFJewishFilmFestival
Director Nurit Jacobs -Yinon's video-art 'A Tale of a Woman and a Robe' deals with the act of immersion in a ritual bath (mikveh) by women converts. This immersion, signifying the final stage of the conversion process, obligates the women to immerse in the presence of three rabbinic judges while wearing only a robe. The video-art examines the immersion experience from the women converts' viewpoint, an experience which may simultaneously evoke feelings of both elation and humiliation. The work exposes the woman's role, as both present at, and absent from, the ceremony, and gives expression to an artistic, personal and public statement.
This short film is part of the San Francisco Jewish Film Festival short film showcase program, SFJFF Presents. To discover more great Jewish short films each month, join the SFJFF YouTube channel by clicking the red SUBSCRIBE button above.
For more details about SFJFF films and programs, visit http://www/sfjff.org.






Ihr Fregt Mikh Vos Ikh Troier? – Nathan "Prince" Nazaroff
Ihr Fregt Mikh Vos Ikh Troier?
– Nathan "Prince" Nazaroff
From the album "Jewish Freilach songs"
Ihr fregt mikh vos ikh troier
Vos veyn ikh oif'n koll
Tzvei Freind hob ikh farloren
In beide oyf eynmol
…
Der ershte iz mein liebste
A maidl lieb ind feyn
Vos hot mir obgeshvoren
Oyf evig trey tzu zein
…
Der tzveyte iz mein khaver
Mein bester giter freynd
Mit velchn mein getrayer
Geht tzu der khippe heint
…
Nit fregt mikh vos ikh troyer
Vos veyn ikh oif'n koll
Tzvei freynd hob ikh farloren
In beide oyf einmol

Schwartz's Sirba / A Briv Fun Yisroel – Di Naye Kapelye
03.04.2009
Schwartz's Sirba / A Briv Fun Yisroel – Di Naye Kapelye
Lyrics from the Di Naye Kapelye website (www [DOT] dinayekapelye [DOT] com):
Foiae verde, bleter grine,
Oy, in yedere medine,
Shpint der shpin zayn povetine
Fil mit gift in fil mit sine
Foiae verde, grine bleter,
Lebt zikh git, der g'vir, der feter,
In der uremer arbeter
Ligt in drerd a kilometer
Track 4 on their album "Traktorist"… A description from the liner notes:
"This medley brings together an energetic instrumental, first recorded in 1920 by violinist Abe Schwartz and his 12-year-old daughter Sylvia, with a Yiddish vocal that originally appeared in "Naye Velt Zhurnal", a 1950 Romanian Yiddish Communist magazine that Bob harvested at a junk sale in Warsaw." …

Zaidy by Moshe Yess
18.08.2014
1982 – The Megama Duo: Moshe Yess ob"m and Rabbi Shalom Levine ob"m. Archival material, for educational purposes only. To support the Moshe Yess Legacy Album visit his official website: mosheyess.ca

Jerusalem Media Workshop
OMA & BELLA Trailer
02.05.2012
Oma and Bella is an intimate portrait of two elderly Jewish women in Berlin with humor, powerful stories, and a deep fondness for good food. As the documentary follows them through their daily lives, a portrait emerges of two Holocaust survivors who stayed in Germany. They answer questions of heritage, memory and identity, ultimately, through the re-creation of the sumptuous foods from their childhood. This film, made by Oma's granddaughter, follows them as they struggle to retain a part of their past while being very much engaged in the present.

Salomon Rossi Hebreo (1570 – 1630) סלומונה רוסי
ימי הרדיו מאוצרות קול ישראל
Showcasing innovative Israeli TV formats: international TV executives search for next 'Homeland'
23.11.2013
For the second year in a row, Keshet Media Group is organizing the Innovative TV Conference in Jerusalem, where Israeli TV professionals get to meet their international counterparts.

Michael Coren & Israpundit – Long-term peace impasse
11.08.2014
Ted Belman of Israpundit.com sits down with Michael Coren to discuss the potential for peace in the Middle East.

On a Wing from the Holy Land
14.08.2014
On a Wing from the Holy Land available on Amazon: http://amzn.to/Y9M61J and Barnes & Nobel: http://bit.ly/1sZJKOi

84: 7.8.14

We visit with Myra Melamed, daughter of Yiddish singer Herschel Melamed, to learn about the recently produced CD, "Herschel Melamed: 18 Songs."
Why Don't We Ask? – Salomon Says
10.08.2014
Don't be afraid to ask for advice.
For more articles and videos by Rabbi Salomon visit http://www.aish.com

Do You Pass the Israel Test?
30.06.2014
Would you believe us if we said that the best litmus test of any society's success is its attitude towards Israel? Well, it's true. As George Gilder explains, whether a society envies and resents Israel's success or celebrates and tries to replicate it is indicative of that society's progress. Countries that "pass" the "Israel Test" tend to rise. Those who don't tend to sink. So, does your society pass the "Israel Test"? In five minutes, find out

Isaac Bashevis Singer's Yiddish Speech in Stockholm 1978
01.04.2011
יצחק באַשעוויס־זינגער'ס רעדע אויפן באַנקעט אין שטאׇקהאׇלם ערב זיין באַקומען דעם נאׇבעל־פּרייז פאַר ליטעראַטור אין דעצעמבער 1978 מיט א קורצן אַריינפיר־וואׇרט פון אפרים שעדלעצקי, טראַנסמיטירט אויף "קול ישראל" אויף יידיש מוצאי פּורים, תשל"ט לפ"ק

85: 8.6.14
Aaron Lansky visits with Professor Devin Naar to discuss Ladino, the Judaeo-Spanish language which was developed in parallel with Yiddish.

The National Yiddish Book Center
28.04.2012
We went and saw the National Yiddish Book Center in MA.
Song: Holocene – Bon Iver
Holocaust Survivors' Yiddish Cultural and Literary Activity
29.12.2009
כנס ירושלים: מאה שנות יידיש 2008-1908
The Jerusalem Conference: A Century of Yiddish 1908-2008
Sponsored by:
The Institute for Advanced Studies, The Hebrew University
and The Israel Science Foundation
with the support of:
Israel National Commission for UNESCO
The Yaakov Groper Foundation (Jerusalem)
The Yiddish Forward (New York)
YUNG YiDiSH (Israel)
the organizing committee:
The Yiddish Chair,
The Institute for Contemporary Jewry,
The Mandel Institute of Jewish Studies,
The Hebrew University of Jerusalem.
DVDs of the full conference are available for purchase. Please contact hguys@vms.huji.ac.il or dovsadaninst@mscc.huji.ac.il
————————————
שארית הפליטה: הפעילות התרבותית והספרותית ביידיש
יום 4 יום חמישי 10 דצמבר 2009
אלה פלורסהיים תרבות יידיש במחנות העקורים בגרמניה בראי העיתונות של אנשי שארית הפליטה (עברית)
קרי פרידמן-כהן החוליה החסרה בביוגרפיה האינטלקטואלית של רחל אוירבך: יצירתה הספרותית בין שתי מלחמות העולם (אנגלית)
יחיאל שיינטוך הכתבים ביידיש של אלי ויזל (עברית)
Holocaust Survivors' Yiddish Cultural and Literary Activity
Ella Florsheim Yiddish Culture in the DP Camps in Germany as Reflected in Holocaust Survivors' Press (Hebrew)
Day 4 Thursday, December 10, 2009
Carrie Friedman-Cohen The Missing Link in Rokhl Auerbach's Intellectual Biography: Her Interwar Yiddish Literary Creativity (English)
Yechiel Szeintuch Eli Wiesel's Yiddish Writings (Hebrew)
כנס ירושלים: מאה שנות יידיש 2008-1908
The Jerusalem Conference: A Century of Yiddish 1908-2008
די שארית-­הפּליטה און אירע ליטעראַרישע און קולטורעלע אויפֿטוען
אלה פֿלאָרסהיים די ייִדישע קולטור אין די די. פּי.-לאַגערן פֿון דיַיטשלאַנד, אין שפּיגל פֿון דער פּרעסע פֿון דער שארית­הפּליטה (העברעיִש)
קערי פֿרידמאַן-כּהן דער אומבאַקאַנטער בינדרונג אין רחל אויערבאַכס אינטעלעקטועלע ביאָגראַפֿיע: איר ליטעראַרישע שאַפֿונג צווישן ביידע וועלט­מלחמות (ענגליש)
יחיאל שיינטוך אלי וויזעלס ייִדישע כּתבֿים נאָך בוכנוואַלד (העברעיִש)
Michal Tal
Israel in the Media
The Spielberg Jewish Film Archive – Jerusalem On Line Broadcast to JTN LA
28.07.2014
Jerusalem On Line Broadcast to JTN Los Angeles
1987
62:17 min.
English
Panel discussion between MKs Eliyahu Ben Elissar, Rabbi Menachem Porush and Simcha Dinitz over the question of religious pluralism in Israel and Jewish identity.

"A kas fun a yidene" fun Y.-L. Perets (Khane Fishman-Gonshor)
28.07.2014
י.־ל. פּרץ און די ייִדישע פֿרױ
פֿיפֿטער טײל׃ "אַ כּעס פֿון אַ ייִדענע"
חנה פֿישמאַן־גאָנשאָר
Lectures sponsored by the Jewish Community Foundation of Montreal.
דער לײענזאַל
Leyenzal – A Yiddish Literacy Project

"Being Connected in Any Way is Important to Me": Yiddish and My Jewish Identity
28.07.2014
Bina Addes, Wexler Oral Historian and child of Holocaust survivors, speaks about her own connection to Yiddishkeit, the diffusion of Yiddish into mainstream culture, and the need to actively preserve Jewish traditions following the Holocaust.
To learn more about the Yiddish Book Center's Wexler Oral History Project, visit:
http://www.yiddishbookcenter.org/tell…

I AM A JEW — Introduction
29.01.2013
The American Jewish pre-teen considers their Bar or Bat Mitzvah to be various things. For some it is the end of religious schooling. For others it is the task of learning a Torah portion. For many, it's plans for a big party. And while formal Jewish education may indeed conclude at the age of 13, a young person's understanding and appreciation of their roles as Modern Jews has only just begun to develop. As these perceptive 'tweens' approach the often-confusing stages of adolescence, their Judaism can continue to be an integral source of dignity and strength in their lives. The time for answering their questions about Judaism will soon be over. The opportunity to build an intellectual foundation of progressive Jewish pride is now.
The goal of the film 'I Am A Jew' is not to teach students 'how to be a Jew', but rather how to think about and practice Judaism in a proud new way. Only then will they understand and appreciate what it means to say, "I Am A Jew."
For more information, visit http://www.TheOllendorffCenter.org



LET US BE JOYOUS — BORIS DORFMAN A MENTSH
27.07.2014
A kind of making of …
edited by Marek Gajczak

BORIS DORFMAN OFFICIAL TRAILER /SHORT/
27.07.2014
A radically Yiddish Film: Boris Dorfman – A Mentsh
by Uwe & Gabriela von Seltmann
© Apfelstrudel Media Berlin/ Stowarzyszenie Film Kraków
Architect of the Jewish Future (Mordecai M. Kaplan)
21.03.2014 The Program for Jewish Civilization, the Mordecai M. Kaplan Center for Jewish Peoplehood, and the Department of Jewish Studies of McGill University are hosted a conference on the life, work, and legacy of Rabbi Mordecai Kaplan.
Rabbi Mordecai M. Kaplan (1881-1983) is now widely acknowledged to have been one of the most influential Jewish thinkers of the 20th century as a founder of Reconstructionist Judaism. During the conference presenters explored the ways in which his thought may be even more important in the 21st century.

JewishOperaLives!@KulturFestival,FAU
140306 Rachel's Romance – from LA JUIVE 19.03.2014
Soprano Helene Williams, accompanied at the piano by Leonard Lehrman, sings Rachel's Romance, "Il va venir," from Act II of Jacques Fromental Halevy's LA JUIVE, at the Jewish Kultur Festival of Florida Atlantic University in Boca Raton, Mar. 6, 2014.

Popular Erwin Schulhoff Videos
Erwin Schulhoff (Czech: Ervín Šulhov; 8 June 1894 – 18 August 1942) was a Czech composer and pianist. He was one of the figures in the generation of European musicians whose successful careers were prematurely terminated by the rise of the Nazi regime in Germany and whose works have been rarely noted or performed.
Schulhoff was born in Prague into a family of Jewish German origin. The noted pianist and composer Julius Schulhoff was his great-uncle. Source Wikipedia
Popular Alfred Schnittke Videos
Alfred Schnittke (Russian: Альфре́д Га́рриевич Шни́тке, Al'fred Garrievič Šnitke; November 24, 1934 – August 3, 1998) was a Sovietand Russian composer. Schnittke's early music shows the strong influence of Dmitri Shostakovich. He developed a polystylistic technique in works such as the epic First Symphony (1969–1972) and First Concerto Grosso (1977). In the 1980s, Schnittke's music began to become more widely known abroad with the publication of his Second (1980) and Third (1983) String Quartets and the String Trio (1985); the ballet Peer Gynt (1985–1987); the Third (1981), Fourth (1984), and Fifth (1988) Symphonies; and the Viola (1985) and 1st Cello (1985–1986) Concertos. As his health deteriorated, Schnittke's music started to abandon much of the extroversion of his polystylism and retreated into a more withdrawn, bleak style.Schnittke's father, Harry Viktorovich Schnittke (1914–1975, rus.), was Jewish and born in Frankfurt.[1] He moved to the USSR in 1927 and worked as a journalist and translatorfrom the Russian language into German. His mother, Maria Iosifovna Schnittke (née Vogel, 1910–1972), was a Volga German born in Russia. Schnittke's paternal grandmother, Tea Abramovna Katz (1889–1970), was a philologist, translator, and editor of German-language literature. Source Wikipedia
Popular Viktor Ullmann Videos
Viktor Ullmann (1 January 1898, in Teschen – 18 October 1944, in KZ Auschwitz-Birkenau) was a Silesia-born Austrian[1] composer, conductor and pianist of Jewish origin.
Viktor Ullmann was born on January 1, 1898 in Těšín (Teschen), modern Český Těšín / Cieszyn. It belonged then to Silesia in the Austro-Hungarian Empire and is now divided between Cieszyn in Poland and Český Těšín in Czechoslovakia. Both his parents were from families of Jewish descent, but had converted to Roman Catholicism[2] before Viktor's birth. As an assimilated Jew, his father, Maximilian, was able to pursue a career as a professional officer in the army of the Austro-Hungarian Empire. In World War I he was promoted to colonel and ennobled. Source Wikipedia
SFJewishFilmFestival
Popular Yiddish theatre & Yiddish Language videos
Hershey Felder
Felder was born in Montreal, Quebec, Canada on July 9, 1968 to Jacob Felder (born in Ustrzyki, Poland, 1929) and Eva Surek Felder (born in Budapest, Hungary, 1946). A first-generation North-American, much of Felder's upbringing included Eastern European traditions, in particular traditions associated with the Jewish faith into which he was born. Early schooling included Hebrew Academy Day School of Montreal as well as synagogue affiliations with Tifereth Beth David Jerusalem Synagogue in Côte Saint-Luc, Quebec.(Hershey Felder (born July 9, 1968) is a Canadian pianist, actor, playwright, composer, producer, and director. He created (as playwright, actor, and pianist) the role of American composer George Gershwin for the theatrical stage in the stage play George Gershwin Alone. Combining the craft of acting and concert-level piano performance, George Gershwin Alone was followed by the creation of the role of Fryderyk Chopin, the Polish composer/pianist, the roles of Ludwig van Beethoven and Gerhard von Breuning inBeethoven, As I Knew Him, the role of Leonard Bernstein in The Making of a Maestro: Bernstein, and Franz Liszt in Rock Star. These works comprise "The Composer Sonata."Wikipedia)
Alon Nechushtan Videos
Alon Nechushtan Trio performs "Muppet Shock" at the Cornelia Street Cafe in New York City. Celebrating the release of the "Words Beyond" CD on Buckyball Records.
Alon Nechustan – piano, Michael Bates – bass, Howard Owen – drums
The Dorel Livianu Music Museum
The Belzer Rebbe by the Kotel on Rosh Chodesh Sivan 5774 אדמו"ר של בעלז בכותל בראש חודש סיוון
31.05.2014
Answering Kidnapping with Kindness – Salomon Says
22.06.2014
Our role in the rescue mission
Please pray for the safe and speedy return of Yaakov Naftali ben Rachel Devorah, Gilad Michael ben Bat Galim, and Eyal ben Iris Teshura.
For more articles and videos by Rabbi Salomon visit http://www.aish.com
Special Mass Prayer at Talmon
20.06.2014
The Jewish Mobsters
Etgar Keret
Talk Yiddish To Me (Nisht-Dirty Parody)
Doni zasloff thomas
Elie Wiesel Interview with Oprah
Ben Gurion University
Lithuanian Jewish Culture
Temani Yemanie Hebrews
JEWISH WORLD : JewishNewsOne
Israel and Jewish Culture Michael Laitman
Popular Festival of Jewish Culture in Warsaw videos
Popular San Francisco Jewish Film Festival videos SFJFF Presents: The Tailor
12.02.2014
Culture and confusion meet on a Brooklyn street, in this hilariously charming tale of similarities amid diversity. Film directed by Gordon Grinberg
This short film is part of the San Francisco Jewish Film Festival short film showcase program, SFJFF Presents. To discover more great Jewish short films each month, join the SFJFF YouTube channel by clicking the red SUBSCRIBE button above.
For more details about SFJFF films and programs, visit http://www/sfjff.org.
---
Rabbi Haviva Ner-David on "women's mitzvot" and transcending gender binariesPosted: 26 Aug 2014 06:39 AM PDT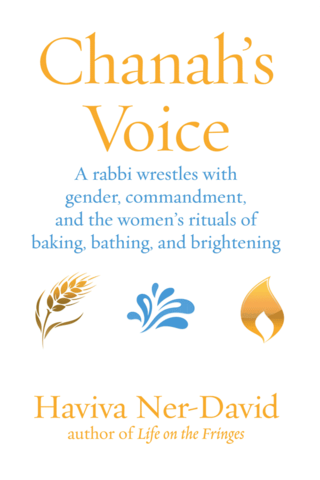 Last night I went to hear Rabbi Haviva Ner-David speak in Pittsfield at an event co-presented by Congregation Beth Israel (my shul),Knesset Israel, Hevreh, and and Rimon Center for Jewish Spirituality. Here's how we described the event on the flyers:
Rabba Haviva Ner-David is an author, pioneer in Jewish women's post-denominational thinking, wife, and mother of seven living on Kibbutz Hanaton. She is also a dynamic speaker coming to share the experiences and thinking which led to her latest book: Chana's Voice: A Rabbi Wrestles with Gender, Commandment, and the Women's Rituals of Baking, Bathing and Brightening (new from Ben Yehuda Press).

All genders are invited to join us for a talk followed by light refreshments and an opportunity to chat with the author and get books autographed.
I'd actually heard Rabbi Ner-David speak a few years ago at the Mayyim Hayyim mikveh conference Gathering the Waters — I blogged about her remarks in the post The emerging mikveh movement in Israel. I've been a fan of her work for a long time, ever since I first read Life on the Fringes: A Feminist Journey Toward Traditional Rabbinic Ordination.
She began her remarks by explaining how the process of writing her first memoir led to the spiritual and intellectual inquiry of this second book. "Life on the Fringes was about my childhood growing up Modern Orthodox in New York," she explained, "and my struggles as a feminist with Orthodoxy and tradition, and my decision to study to become a rabbi — but wanting to get Orthodox rabbinic ordination."
That first book is memoir mixed with halakhic interpretation (Jewish-legal analysis), and one of its main themes is is women's role in tradition. Hair covering, women studying Torah, taking on the obligations which only men are technically obligated to perform — the "positive time-bound mitzvot." (I've written about those before: Time-bound, 2010.) It occurred to me, as I heard her speak, that the combination of memoir and halakhic interpretation makes me think of midrash aggadah and midrash halakha, the interweaving of narrative and legal interpretation which makes up so much of classical Jewish tradition.
She wrote in Life on the Fringes about tallit and tefillin — things which (in her Modern Orthodox childhood) men did, and women didn't do. Chanah's Voice explores how she came to recognize that in focusing so strongly on claiming tallit and tefillin for herself, she had neglected the mitzvot which women are traditionally obligated to perform. "I didn't know when I started writing the book what I was going to find," she noted. "But I decided to spend that year struggling with these three mitzvot."
The three mitzvot which are traditionally considered womens' mitzvot are challah (taking challah — when one bakes a certain amount of bread, one is supposed to take out a portion of the dough and set it aside for the priests, and since today we don't have priests, one sets it aside and burns it), niddah (after menstruation one counts a certain number of days and then immerses in a mikveh before engaging in sexual relations again) and hadlakat ha-ner (lighting shabbat candles.) Together they're known by the acronym ChaNaH, which is a nifty confluence because Chanah is the Biblical figure who is considered to have invented prayer.
"As a feminist, I had a lot of baggage around all three of these [mitzvot]," she admitted, and all the women in the room chuckled.
Where her first book interwove memoir with halakha, this book interweaves memoir with other kinds of Jewish texts — midrash, Hasidut, and kabbalah. She notes that when she wrote Life on the Fringes, she was caught-up in halakha, a subject which as a woman she wasn't encouraged to study at all. Studying Jewish law was a way of doing what the men did, and she did that for many years. But this book arises out of a different impulse, and not surprisingly draws on different kinds of Jewish texts.
How did the project of Chanah's Voice begin? "My Rosh Chodesh group had disbanded," she recalled, "and around that time, there was a small group of us left who wanted to continue to meet, so we decided to meet twice a month. We were trying to think of a topic on which to focus, so I said, I just decided I want to spend time understanding these three mitzvot; maybe we can do that as a group?"
The book begins with a beautiful short preface about the kabbalistic notion of the breaking of the vessels, a text suggesting that the breakage was intentional because it allows us as humanity to have a role in creating repair. "Revelation of Torah is continual; it's not something given once in one time and one place," she noted. Feminism too is a continual revelation, and is one of the ways we can work together toward creating a redeemed world.
After that preface, Chanah's Voice is divided into three sections, one focusing on each mitzvah. Each section opens with a quote from classical Jewish text which shows what she was struggling with as that section was written — for instance, "There are three sins for which women die in childbirth: a lack of care with regard to niddah, the separation of challah, and the lighting of the Shabbat lamp." (This is a famous mishna, and oy, is it problematic to the contemporary feminist mindset.)
The challah section of Chanah's Voice, she said, is very much about the idea of the tradition valuing men's work over women's work, and about her journey into shifting that perspective. Challah, baking bread, is definitely considered women's work. (Whereas in that traditional paradigm, laying tefillin is men's work.)
For me one of the most interesting parts of the evening was when she was talking about how taking challah came to feel emblematic of a way of elevating the experience of living in Israel. She read part of the challah section of the book, beginning with a passage about how when she and her husband first made aliyah (emigrated to Israel), she imagined that she was moving to an Israel which would soon be at peace with its Arab neighbors. That peace, in turn, would give Israel spaciousness to work on other important issues like religious pluralism and civil rights. Halevai — would that it had been so. (Would that it were so even now!) But we all know that that dream has not yet come to pass. What does it mean, what can it mean, to elevate the choice of living in that place at this moment in time?
By way of response, she cited a teaching from Rabbi Yehuda Leib Alter of Ger (also known as the Sfat Emet — I've posted his teachings here many times before) about why the commandment to take challah comes, in the Torah, right after the story of the spies. The spies returned with the slanderous description of the promised land as a place which devours its inhabitants, and right after that we read the commandment to take challah. How are these related? Challah represents physical sustenance drawn from the earth. When we give a gift of dough to God, we elevate our need for sustenance into a holy act. We respond to the physical world with elevation. But the spies didn't do that:
The sin of the spies represented a failure to cope with the actuality of the physical world. Because they refused to live in the reality of the lower world, they couldn't elevate it with their piety — instead they disparaged it. They brought the people down with them. The response to the sin of the spies, therefore, is to practice taking challah — to elevate the world through spiritual acts.
No matter how hopeless it may seem to seek to build the just and righteous society of her dreams in the land of Israel, she resolved to remember the Sfat's Emet point that we can always seek to uplift the reality we're given. She recommitted herself, she said, to "renewed elevation in the face of despair." She decided to prepare enough dough to fulfill the mitzvah of taking challah — a symbolic reminder of the weekly mission of elevating the physical world and perfecting it. (The mitzvah of taking challah only applies when you bake a certain quantity of bread.) The choice to bake extra bread becomes a holy act, and baking more bread than you need creates an opportunity to give it away, to practice the mitzvah of giving.
Some people might think that as a feminist, and at the time a rabbinical student, I would end up with a more apologetic solution — that I would look into these womens' mitzvot and say, oh, look at these beautiful mitzvot women were given, why am I running to do tallit and tefillin? But the solution that I came to is that, no, there's beauty in both the "mens' mitzvot," the things we've constructed as a society to call the male side of Judaism, and the more "feminine side." The feminine side has been devalued; we have to find the value in it and lift it up, and offer it to the men and say, look what you've been missing as well.
"I'm in favor of de-gendering mitzvot in general," she noted. In her opinion, there shouldn't be "men's" mitzvot and "women's" mitzvot — there should be mitzvot, period. "In general I think it's a mistake to obligate certain people based on their gender. People have all kinds of talents and callings, and it seems to me arbitrary to divide it along gender lines."
She told the story of baking challah together with her women's group, and chanting intensely while baking and kneading, and then experiencing an earthquake in Jerusalem while they were doing that. (This is very rare!) And she related that to the story of Korach, in which the earth opens up and swallows the rebels — who dared to say "we're all equal." (A story with which she acknowledged she has always struggled — I suspect that every Jewish feminist has.)
Ultimately she made the case that Korach's message was true but it came before its time — though she also suggested that Korach's problem may have been a hidden belief that he himself should be in power (e.g. he wanted to uplift himself by way of devaluing Moshe), and noted that she doesn't want to uplift women's mitzvot by devaluing men's ones — she wants to elevate them all.
She spoke beautifully about baking bread with the right kavanot (holy intentions) of connections with the earth and with God. "Bread baking is not just about the end result; the dough and the baker are both changed in the process. Baking challah… has become like a prayer for me," a prayer which she believes has the ability to effect cosmic change. (That made me think of my recent post Seeking peace, and about the idea that in pursuing internal peace we can effect change in God.) "The mitzvah of challah is about recognizing brokenness, and building, without ever destroying."
I appreciate her point that taking on mitzvot which are traditionally understood to be the purview of men is only a partial step toward progress. Taking on tefillin instead of challah, e.g., does nothing to break down the inequality built into the system as we've inherited it.  And I resonate strongly with her vision of a world in which men and women together create change in how we relate to gender roles. "The new model," she said, "will be more just, more healthy, more balanced, and therefore more sustainable." It's a very Judy Chicago vision — "and then both men and women will be gentle, and then both women and men will be strong," etc. (And it's a very Jewish Renewal vision.)
Part of the process of writing this book, she explained, has been a process of coming to question tradition in certain ways — coming to a place of total egalitarianism and counting women in minyan, for instance. That's a huge shift from the kind of Orthodox feminism which had been home for her previously. "I decided I wasn't willing to wait anymore," she said.
When reading from the section about niddah, she cited the midrash about how at the parting of the Red Sea, even fetuses in their mothers' wombs were able to see the presence of God because their mothers' wombs became as transparent as glass. It's a beautiful piece of poetry, and I liked her interpretation of what it means. Of course the fetuses could see God; "having not yet been influenced by the human world, their connection to God would have been intuitive," she noted.
The real miracle, she said, was not that fetuses could see the presence of God; it was that people who were already living in the human world could "see" God's presence! The era of seeing God's presence is long over. Maybe today we need to think in terms of a different sense. Maybe we need to listen to our own inner voice and trust that it reflects the divine spark within us.
She talked about the problem of male-dominated systems — the halakhic system; the medical system — presuming control over women's bodies in order to preserve the patriarchal status quo. What would it take for us to be courageous enough to implement a halakhic solution to the challenges of working with infertility within the niddah paradigm which wouldn't sacrifice women on the altar of "the way things have always been done"?
And she returned to the midrash about the fetuses in their mothers' glass wombs. "The halakha that the rabbis had been interpreting for centuries felt like opaque and impenetrable walls –" providing a safe enclosure, and/but, also suffocating. "I felt able to see through these traditions and walls, perhaps for the first time, to the presence of God."
If Judaism is representing something that's not progressing toward a better world, then it's worth taking a risk to see what will happen if we change things. To listen to Chanah's voice. To not be so afraid. Fear will hold us back from a system that's more just and more holy.
Ultimately, she said, "Torah must be just and good. If not, we are misinterpreting Torah."
Chanah's voice is the silent voice. This is of course how women's voices have so often historically been experienced — silent; or at least, not heard by men; not meant to be heard by men; not honored by men. (Look at the story of Chanah in I Samuel — she goes to pray silently for the deepest yearnings of her heart, and the priest rebukes her because he assumes she is drunk. I'll be sharing a new poem about that on Rosh Hashanah, by the way.)
What does it mean to seek to hear the silent voice, to read the white fire within which the black fire is contained? I think this is the whole project of Jewish feminism. I'm really excited to read this book and to delve more deeply into the piece of an answer which R' Ner-David brings to this major question of our time.
Preparing for ElulPosted: 28 Jul 2014 06:05 AM PDT
Today is Rosh Chodesh Av, the first day of the lunar month of Av. One month from now we'll enter Elul, the month immediately preceding the Days of Awe. Many of us strive to make Elul a month of introspection and spiritual preparation for the powerful holidays ahead.
Last year I blogged daily during the month of Elul, as part of #blogElul, an internet-wide carnival of posts on pre-high-holiday themes organized by Rabbi Phyllis Sommer (a.k.a. Ima Bima.)
Some weeks after the holidays were over, I began receiving email from my friend and teacher Rabbi Daniel Siegel in response to my #BlogElul postings. He suggested that I might share these Elul meditations in printed form, for those who would enjoy having a tangible book to hold and leaf through.
I did a bit of editing and pruning and layout work. And now, in time for the Elul to come, I offer a new chapbook of Elul material: Elul Reflections. Here's a description:
Prepare for the Days of Awe (the High Holidays) by reading these daily meditations for the lunar month of Elul, exploring the season's themes of forgiveness, transformation, and change. Each day of Elul is matched with a short essay or poem arising out of that day's theme. And each theme is a verb, an invitation to action, from "Prepare," "Act, and "Bless" to "Know," "Believe," and "Return."
This volume is meant to help you enter wholly into the spiritual potential of this month, the season of teshuvah, repentance/return. Also in these pages: a Psalm 27 variation by Rabbi Brant Rosen, a set of other Elul resources, and ample space to jot down your own responses as you do your Elul work.
Of course, you're also welcome to simply return to my 2013 archives and reread last year's posts here. And who knows, it's possible I'll do #blogElul again this year too, in which case those who subscribe to this blog will receive new material every day of Elul once again! But for those who liked what I shared last year and would enjoy being able to reread those posts in bound form, here you go. My thanks are due to Reb Daniel for his encouragement, and to R' Phyllis Sommer / Ima Bima for running #BlogElul in the first place.
$9 at Amazon |£ 5.61 at Amazon UK | €6.59 at Amazon Europe