Select Section WEEKLY Parshat Toldot  language hebrew,french,english,spanish,german,russian, Machon Meir, CHABAD,The Jewish Woman,YOUTH/TEENS SHIURIM & COMMENTARIES


Machon Meir  ENGLISH  :MeirTV English

Rabbi Dov Begon

For over 35 years, Machon Meir has become known throughout Israel as the place to get a deeper understanding what it truly means to be a member of the Jewish people. It has also become the landing point for many new immigrants from all over the world because of the institute's encouragement of living in the Land of Israel. Machon Meir has also created a strategy to distribute Torah worldwide through their media channel, Arutz Meir. Since it began, Arutz Meir has debuted a range of television series and archived over 25,000 classes which are constantly being updated and viewed daily throughout the world in 5 different languages. With a variety of topics and discussions led by renowned Jewish scholars, our viewers will surely find a class that will create sparks of inspiration. Whether you are looking to connect to your Jewish heritage or you are simply seeking out answers, we exist to imbue the words of Torah and engage our viewers with real and meaningful
Machon Meir MeirTvFrench

Rabbi Dov Begon
Rav David Partouche
Les secrets jamais dévoilés de l'histoire du peuple de juif "Cain et Abel"Rav: Mr. Rony Akrich
Machon Meir   MeirTvRussian
Rabbi Yona Levin
Rabbi Yona Levin
Rabbi Yona Levin

"За чашкой чая"
Беседа в тёплой, неформальной обстановке о том,
как современный интеллигентный слушатель воспринимает нашу традицию.
В передаче мы попробуем получить ответы на непростые вопросы,
которые еврейский народ задаёт уже не первое тысячелетие.
Присоединяйтесь, приходите к нам на чашечку чая.
Не стесняйтесь, чувствуйте себя как дома!
Из цикла передач "За Чашкой Чая" 96-го канала из Иерусалима.
Наша Традиция на вашем языке!
Machon Meir   ESPAÑOL MeirTvSpanish
Por más de 35 años, Machon Meir ha dado a conocer a través de Israel como el lugar para obtener una comprensión más profunda lo que realmente significa ser un miembro del pueblo judío. También se ha convertido en el punto de aterrizaje para muchos nuevos inmigrantes de todas partes del mundo, porque de aliento de la vida en la Tierra de Israel del instituto. Majón Meir también ha creado una estrategia para distribuir la Torá en todo el mundo a través de su canal de medios, Arutz Meir. Desde sus inicios, Arutz Meir ha estrenado una serie de series de televisión y archivado más de 25.000 clases que constantemente se están actualizando y ver todos los días en todo el mundo en 5 idiomas diferentes. Con una variedad de temas y discusiones dirigidas por renombrados eruditos judíos, nuestros televidentes seguramente encontrará una clase que va a crear chispas de inspiración.

 Rabbi Dov Begon
MeirTvSpanish
20.08.2014
Machon Meir   עברית    Rabbi Dov Bigon

Rabbi Dov Begon
Rabbi Dov Begon
Rabbi Dov Begon
Machon Meir

COMMENT: The Secret to Eliminating the Generation Gap
| | |
| --- | --- |
| The Secret to Eliminating the Generation Gap | Cheshvan 23, 5775 · November 16, 2014 |
| | |
Mrs. Layah Block
A Beautiful Sight
My son's bar mitzvah a few years ago was an opportunity for a family reunion. On Shabbat afternoon after lunch, my brother-in-law pulled me aside and pointed out a beautiful scene. A large group of teenage girls was sitting and chatting with "Bubbie," my mother-in-law, Mrs. Layah Block. The easy chatter and happy laughter continued for nearly half an hour. Despite the age difference, there was no generation gap at all.
Recently, my mother-in-law passed away, and our family gathered once again to remember our beloved mother and grandmother. One after another, the grandchildren talked about their easy and comfortable rapport with Bubbie. The fact that Bubbie related easily to their high school woes and teenage delights had always been taken for granted, but in retrospect, it was remarkable.
This got me thinking. What causes the generation gap and what does it take to bridge it? I am fairly certain that my mother-in-law didn't make a conscious effort to relate to her teenage grandchildren. It came naturally to her. What is the secret to making the generation gap disappear?
Generation Gap
I'd suggest that a major reason for the so-called generation gap is grandparents and grandchildren dismissing each other.
All too often, grandchildren view their old and frail grandparents as irrelevant. They love Granny and visit often, they love Grandpa and can't get enough of the doting old man, but when it comes down to it, their grandparents are old folks who sit at home and do boring things.
You can tell them that several decades earlier, their grandparents were vital, strapping teenagers just like them. You can tell them that their grandparents still feel young and wonder where the years went. But it will often fall on deaf ears. They will hear it in their heads, but will be hard-pressed to relate. The generation gap is too large.
Then one day they may see a picture of their grandparents in their youth and are startled by their uncanny resemblance to them. Suddenly, the old dotty grandpa is energetic and strong, athletic and adventurous. Suddenly, they see their grandparents in themselves. This is Granny? But it can't be. She looks exactly like me! Indeed, she does. They come to realize that Granny was once as strong as them, and they will one day be as frail as her. Suddenly it clicks. They get it. What you couldn't explain with a thousand words can become crystal clear with one picture. The wrinkled, old-fashioned appearance is just a shell. What is on the inside matters most.
Grandparents are often just as guilty. They see their grandchildren running around doing things they cannot do, with interests unheard of in their own youth. They conclude that this is a new generation and assume they cannot relate. "These kids cannot possibly relate to us, their-old fashioned grandparents," they figure. "We are good for hugs, kisses and lollipops, but beyond that, kids need to be left alone."
Nothing can be further from the truth. Children have so much to gain from their grandparents, and vice versa. I look at my children, nieces and nephews and see how their relationship with their Bubbie and Zaidy has enriched them. I know they cherish each memory, and I wonder what life might have been like if this were lacking.
Our external pursuits may be different. But underneath, we are all the same. Children seek fun, meaningful encounters, and so do adults. We pursue our objectives differently, but our goals are the same. High-school woes and geriatric woes are both woes. Just because these are not our woes at this time doesn't make them unimportant or unrelatable.
A second cause of the generation gap is our fixation with the superficial. When my son told his grandmother about his childish scrapes and teenage struggles, she didn't baby or dismiss him. She looked deeper and saw his pain and determination. She related to his joys and triumphs because underneath they were the same as her own. Just because grandchildren and grandparents go about their goals in different ways does not make them different people. Facebook and iPads don't define the youth, just like knitting and crocheting don't define the old. Underneath, we are one.
Abraham and Isaac
In this week's Torah portion, we are introduced to "Isaac, the son of Abraham." The Torah then explicitly states that "Abraham begot Isaac." The commentaries wonder about the redundancy and explain: Isaac was the son of Abraham, and in case anyone suspected differently (since Isaac was born when Abraham was 100), G‑d made it so that Isaac perfectly resembled his father, so everyone would know that Abraham begot Isaac. The father's genetic material was imprinted on the son.1
"Isaac the son of Abraham, Abraham begot Isaac." There was no generation gap between them because its two primary causes were lacking. They did not view one another as strangers who cannot relate to each other, because despite the hundred-year gap between them, Isaac was a perfect likeness of Abraham. They couldn't dismiss each other as old folk or young kid, because when they looked at each other they saw carbon copies of themselves.
The second cause of the generation gap is the divergent styles of surface pursuits. Here the Torah tells us that Isaac always remained the son of Abraham. No matter that Abraham hosted guests and Isaac dug wells, no matter the difference in their styles, interests and personalities, they were always a unit. Abraham saw Isaac as his son and Isaac saw Abraham as his father. There was no generation gap.2
VOICES: G-d is My Pilot
| | |
| --- | --- |
| G-d is My Pilot | Cheshvan 24, 5775 · November 17, 2014 |
| | |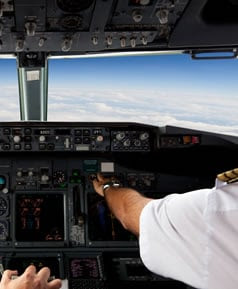 She was having a bad Monday morning. I saw it all over her face as I made my way through the crush of people exiting the train station.
"Today is just not my day," I heard her say to no one in particular, and she went on to complain about the several mishaps that had already managed to ruin her day before 8 a.m. It sounded like quite a maddening morning, and I felt sorry for her.
She was having a bad Monday morning
"Give your day a chance, there's still quite a lot of it ahead!" I heard myself say. I'm not sure if I was that annoying stranger who offers unsolicited advice, or perhaps I was the bearer of a message she needed to hear. I laughed at myself for my uncharacteristic gall, and she smiled as we parted ways.
I don't usually join into strangers' conversations on my way to work. But something tugged at me, the memory of a significant experience just a few weeks before . . .
It was the busiest time of the week at Camp Gan Israel of Edmonton, the last few minutes of camp on a Friday. True to the nature of my job as an assistant director, I was being pulled in five directions all at once. As I rushed by the supply room, a staff member called out to me, "Your phone rang a couple times, Shaina. Someone is trying to reach you." It couldn't have been my Canadian phone; I had that phone hanging from my neck, the signature assistant director look.
An alarm went off in my head. I immediately went to check who might have been calling my American phone. Two missed calls from my brother and sister, and a voicemail message waiting for me . . . a message I didn't want to listen to. I stood there frozen in time. A time when I knew that my grandfather was still alive, living his last few moments in this world. If I'd listen to the message, the world would forever change.
But I couldn't stand there forever. I closed my eyes as I listened to the gentle voice of my brother, bearing the sensitive news of my grandfather's passing. My dear grandfather, whose kind voice I could still hear in my mind.
The shock hit me all at once. There was going to be a funeral and a shivah. My family would all gather together to support my grandmother . . . my grandmother! Again, a rush of emotions as I thought about my grandparents and the many years they'd shared together.
I dialed my brother's number to hear the news straight from him. He told me the funeral would be early Sunday morning and that my mother was hoping we'd all make it into town. With the help of a kind travel agent and some other G‑d-sent messengers, an hour later I had a ticket for flight AC 1174 on motzoei Shabbat(the evening after Shabbat).
I had a tight connection to catch in Toronto that worried me; I certainly couldn't afford to miss it and have to catch the next outgoing flight to New York—I was just making it in time to the funeral as it was. As soon as I got on the plane, I told a stewardess that I was on my way to a funeral, and she assured me that I would be able to move up to business class for the last 20 minutes of the flight, which would ensure that I would be among the first passengers to disembark.
I whispered Tefilat Haderech, the prayer for travelers, as the plane took off, and said my Shema prayers as I prepared to go to sleep. My ability to sleep practically anywhere served me well; I slept soundly for almost the entire flight and awakened to hear the stewardess inviting me to business class for landing. Gratefully, I settled into my front-row seat right next to hers. I could hear the stewardess' jolly conversations behind the curtain as I dozed off into a light slumber.
Through the fog of sleep, I thought I heard the pilot announcing that we would be preparing for an emergency landing. I opened my eyes to see my kind stewardess nervously holding the mic, announcing that we were to put every belonging in the overhead compartment, practice the bracing position, and remove any sharp objects, so as not to harm the slides in case we would indeed be making an emergency exit. "Passengers are instructed to leave their belongings behind them . . ."
Leave my belongings behind? I needed my passport with me to catch my connecting flight! I called over my kind stewardess and asked her when we'd be able to get our belongings back.
"If we make an emergency landing, my dear, your life is more important than your belongings," she said as calmly as she could, but even I could detect that, behind her pasted smile, she was very nervous. This was clearly an emergency. It was no longer about making my connecting flight; it was about making it off the plane safely.
I whispered the few Psalms I knew by heart over and over again. I had a lot of questions, and I wasn't too shy to use my seat up front to my advantage. The patient stewardess explained to me, "I think we will be just fine. Our pilot is well trained for such situations. We will be okay. I trust him." She was saying all the lines she was supposed to, only I wasn't sure who she was trying to convince more—me or herself.
I listened closely to the announcements: "We've got a fairly significant flight control problem right now." "We've lost most of our flaps, and we've lost our autopilot."
I closed my eyes and thought about our Pilot
I closed my eyes and thought about our Pilot, the One who steers the direction of every moment of life, the One who chooses who will live and who will die. G‑d never loses controls over His "aircraft" and is the master behind every occurrence of every day. Surely, I can trust Him. I whispered some more Psalms.
I looked around me to see the stewardess answering the calls and transmitting the messages to the rest of the crew. Things appeared to be calming down, but until we would touch the ground, no one knew if we'd need to make an emergency exit. Then the airplane hit the ground abruptly, and the passengers broke out into a loud applause. We had made a safe landing!
Despite the delay, I still had time to make it to my next flight. I thanked my kind stewardess with fewer words then I would have liked as I rushed out into the airport. I knew I really had to thank my Pilot, the One who sends me safe landings every day, the One who sent me a strong message today on how to appreciate every moment of life.
Every miracle, every day.
WEEKLY STORY: A Pound of Candles
| | |
| --- | --- |
| A Pound of Candles | Cheshvan 24, 5775 · November 17, 2014 |
| | |
In his youth, the famed Maggid of Zlotchov, Rabbi Yechiel Michel, lived in a certain town, where he would sit all day in the local Beit Midrash (study hall and synagogue) and pursue his studies.
In that town there lived a simple Jew who earned his livelihood by transporting travelers and merchandise in his wagon. One day, the wagon driver came to the local rabbi in a state of great distress. "Help me, Rebbe!" he wept. "I have committed a terrible sin. I have desecrated the holy Shabbat. How can I atone for my transgression?"
"How did this come to pass?" asked the Rabbi.
"Last Friday," the man explained, "I was returning from the marketplace with a wagonload of merchandise when I lost my way in the forest. By the time I found my way to the outskirts of the city, the sun had already set. So preoccupied was I with my worry over the merchandise, that I failed to realize that the Shabbat had arrived until it was too late…"
Seeing how broken-hearted the man was, the rabbi comforted him and said: "My son, the gates of repentance are never closed. Donate a pound of candles to the synagogue and your transgression will be forgiven."
The young prodigy, Rabbi Michel, overheard this exchange, and was displeased by the rabbi's approach. "A pound of candles to atone for violating the Shabbat?" he thought to himself. "The Shabbat is one of the most important mitzvot of the Torah. Why is the rabbi treating the matter so lightly?"
That Friday afternoon, the wagon driver brought the candles to the synagogue. As Rabbi Michel watched disapprovingly from his table against the back wall, he placed them on the lectern for the synagogue beadle to light in honor of the Shabbat. But this was not to be. Before the beadle arrived, a stray dog carried off the candles and ate them.
The distraught penitent ran to report the incident to the rabbi. "Woe is me!" he wept. "My repentance has been rejected in Heaven! What shall I do?!"
"You're making too much of the matter," the rabbi reassured him. "These things happen — there's no reason to deduce that G-d is rejecting your repentance. Bring another pound of candles to the synagogue next week, and everything will be alright.".
But when the beadle lit the candles on the following Friday afternoon, they inexplicably melted down, so that by the time Shabbat commenced, nothing was left of them. And upon his third attempt on the week after that, a strong wind suddenly blow out the candles just when Shabbat began and it was not possible to relight them.
The rabbi, too, realized, that something was amiss, and advised the wagon driver to seek the counsel of the great Chassidic master, Rabbi Israel Baal Shem Tov.
"Hmm…" said the Baal Shem Tov, upon hearing the man's story. "It seems that a certain young scholar in your town finds fault with the path to repentance that the rabbi has prescribed for you. Never mind. Next week, donate another pound of candles to the synagogue. This time, I promise you that everything will be alright. And tell Rabbi Michel that I would be honored if he could trouble himself to come visit me."
Rabbi Michel wasted no time in abiding by the Baal Shem Tov's request. But no sooner had he and his coachman set out that all sorts of troubles beset their journey. First, the wagon tumbled into a ditch. Then, an axle broke many miles from the nearest town. After which they lost their way altogether. When they finally found the road to Mezhibuzh it was late Friday afternoon and the sun was about to set. They were forced to abandon the wagon and continue on foot.
Rabbi Michel arrived at the Baal Shem Tov's door an hour into Shabbat, weary and traumatized by his near-violation of the holy day. "Good Shabbat, Reb Michel," Rabbi Israel greeted him, "come in and warm yourself by the fire. You, Reb Michel, have never tasted sin, so you did not comprehend the remorse a Jew feels at having transgressed the will of his Father in Heaven. I trust that you now understand something of the agony that our friend experienced. Believe me, his remorse alone more than atoned for his unwitting transgression…
PARSHAH IN A NUTSHELL: Toldot
Cheshvan 26, 5775 · November 19, 2014
Toldot
Genesis 25:19-28:9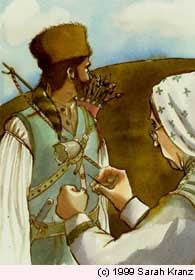 Isaac marries Rebecca. After twenty childless years their prayers are answered and Rebeccaconceives. She experiences a difficult pregnancy as the "children struggle inside her"; G-d tells her that "there are two nations in your womb," and that the younger will prevail over the elder.
Esau emerges first; Jacob is born clutching Esau's heel. Esau grows up to be "a cunning hunter, a man of the field"; Jacob is "awholesome man," a dweller in the tents of learning. Isaac favors Esau; Rebecca loves Jacob. Returning exhausted and hungry from the hunt one day, Esau sells his birthright (his rights as the firstborn) to Jacob for a pot of redlentil stew.
In Gerar, in the land of the Philistines, Isaac presents Rebecca as his sister, out of fear that he will be killed by someone coveting her beauty. He farms the land, reopens the wells dug by his father Abraham, and bores a series of his own wells: over the first two there is strife with the Philistines, but the waters of the third well are enjoyed in tranquility.
Esau marries two Hittite women. Isaac grows old and blind, and expresses his desire to bless Esau before he dies. While Esau goes off to hunt for his father's favorite food, Rebecca dresses Jacob in Esau's clothes, covers his arms and neck with goatskins to simulate the feel of his hairier brother, prepares a similar dish, and sends Jacob to his father. Jacob receives his fathers' blessings for "the dew of the heaven and the fat of the land" and mastery over his brother. When Esau returns and the deception is revealed, all Isaac can do for his weeping son is to predict that he will live by his sword, and that when Jacob falters, the younger brother will forfeit his supremacy over the elder.
Jacob leaves home for Charan to flee Esau's wrath and to find a wife in the family of his mother's brother, Laban. Esau marries a third wife — Machlat, the daughter of Ishmael.
WEEKLY ALIYOT: Parshat Toldot
Cheshvan 26, 5775 · November 19, 2014
Toldot Aliya Summary
General Overview: In this week's reading, Toldot, Jacob and Esau are born. Isaac relocates to Philistine where he digs wells, resulting in friction between him and the locals. Rebecca and Jacob successfully deceive Isaac, tricking him into giving to Jacob the blessings he had intended for Esau.
---
First Aliyah: Rebecca had trouble conceiving. Isaac and Rebecca prayed for children, and after twenty years of marriage Rebecca became pregnant. She was concerned about her exceedingly difficult pregnancy, and was advised by G‑d that this was due to two children – two nations – struggling in her womb. She gave birth to twin boys: a hairy, ruddy boy named Esau, and a second son, born clutching his brother's heel, named Jacob. Esau became a hunter, while Jacob was an honest man who frequented the schools of Torah. Isaac favored Esau, while Rebecca preferred Jacob. One day, Esau came home from the field hungry, and pleaded with Jacob to give him some of the stew he was cooking. Jacob agreed to Esau's request provided that he give him his birthright as firstborn in exchange—and Esau acceded to this barter. There was a famine in Canaan, and Isaac was escaping the famine by traveling to Egypt via Philistine when G‑d told him to remain in Philistine. G‑d also informed Isaac that he would visit upon him all the blessings He had promised to Abraham.
---
Second Aliyah: Isaac settled in Philistine. When the townspeople inquired regarding his wife, he told them that she was his sister, fearing that otherwise the Philistines would kill him in order to take Rebecca. Eventually, Abimelech, king of the Philistines, noticed that Rebecca was Isaac's wife and though he reprimanded Isaac, he issued a decree that no one touch them. While in Philistine, Isaac sowed crops, and miraculously harvested a hundred times more than a field's normal yield.
---
Third Aliyah: Isaac became extremely wealthy. He also re-dug some of the wells that his father Abraham had dug, but had since been stopped up by the Philistines. The Philistines eventually became envious of his wealth, and asked him to leave. Isaac complied, moving away from the city and settling in the Gerar Valley. There, Isaac's servants dug two new wells but the Philistines contested his ownership over these wells. The third well he dug was uncontested.
---
Fourth Aliyah: G‑d appeared to Isaac and blessed him and assured him that He would always be with him. Abimelech approached Isaac and requested to enter into a peace treaty with him.
---
Fifth Aliyah: Isaac agreed to Abimelech's request. On that day, Isaac's servants informed him that they had successfully dug another well. At the age of forty, Esau married two wives. Their idolatrous ways anguished Isaac and Rebecca. Isaac had now advanced in age, and he became blind. He summoned Esau and told him that he wished to bless him, but first he should go to the field and hunt some game for him to eat. Rebecca heard this conversation and advised Jacob to don Esau's clothing and trick Isaac into blessing him instead. Rebecca prepared meat and gave it to Jacob to bring to his father. She also took hairy goatskin and put it on Jacob's smooth arms and neck. Jacob approached his father and presented himself as Esau, and Isaac ate from the repast Rebecca had prepared.
---
Sixth Aliyah: Isaac blessed Jacob with the "dew of the heaven and the fat of the earth," and granted him mastery over his brother. No sooner than the blessing ended, Esau arrived from the field, only to be informed by his father – who now understood what had transpired – that the blessing was already given to his younger brother. Esau was furious and Isaac comforted him with a minor blessing. Esau was determined to kill Jacob, but Rebecca, who got wind of this plot, asked Isaac to send Jacob to Charan to find a wife. Isaac did so, and blessed Jacob again before he departed.
---
Seventh Aliyah: Isaac sent Jacob to his brother-in-law Laban's home, to marry one of his daughters. Esau married again, this time to Machalat the daughter of Ishmael.
TORAH STUDIES: Parshat Toldot
Cheshvan 26, 5775 · November 19, 2014
Toledot
The Sidra of Toledot begins with an account of the generation of "Isaac the son of Abraham," and adds, "Abraham begat Isaac." Why the repetition? The Rebbe quotes four explanations, each of a different kind, each representing a different level of Biblical interpretation.
Each is apparently unconnected with any of the others, but the Rebbe explores them in depth and shows their inner relation to one another—demonstrating, by this example, the essential unity of the various ways of understanding the Torah.
1. The Four Explanations
Our Sidra begins with the words, "And these were the generations of Isaac the son of Abraham: Abraham begat Isaac."1 The commentators on the Torah ask the immediate question, why does the verse repeat itself in telling us that Abraham begat Isaac?
Among the various answers given are the following:
(i) The Talmud2 (and the Midrash3) say that the cynics of the time were casting aspersions on Abraham's parentage of Isaac (Sarah had lived childless with Abraham for many years; and yet she bore Isaac only after she had been forcibly taken by Abimelech).4 Therefore, G-d made Isaac facially identical with Abraham so that everyone should recognize that he was indeed Abraham's son. The double expression of the verse gives testimony to this fact.
(ii) The Midrash5 comments: "Isaac was crowned with Abraham and Abraham was crowned with Isaac." Each was the other's pride.
(iii) The Chassidic explanation6is that Abraham is a figure, or paradigm, of the service of love and kindness, while Isaac is the exemplar of fear and strictness. Each of these poles of worship has two levels. There is the lower fear, which is adherence for fear of punishment for sin, or for any harm that may befall one as a result of sin, while the higher fear is a sense of awe in the face of the majesty of G-d, and a withdrawal from sin because it is against G-d's will.
The lower love is an attachment to G-d for the ulterior motive of reward, whether material or spiritual. But the higher love is independent of any desire for personal benefit, and is simply a cleaving to G-d for its own sake.
The verse, in its apparent repetition, is teaching us something about the relation of these four forms of service. The order of the names (Isaac, Abraham, Abraham, Isaac) tells us that the order of the worship of G-d starts with the lower fear, ascends to the lower love, and then to the higher love, and finally reaches its highest point in the higher fear.7 The lower begets the higher, for though one starts by worshipping G-d for ulterior motives, one eventually comes to do it for its own sake.8 And this applies to all Jews (that they must serve G-d with both love and fear9), for Abraham and Isaac and Jacob are called the "Fathers" of the Jewish people, meaning that all their descendants have inherited their capacities and the obligation to use them.
(iv) The Zohar10 explains that Abraham stands symbolically for the soul (and Sarah, for the body. For the Torah says, "And Sarah died,"11 meaning the body, which is mortal; while about Abraham it is written "And Abraham arose above the face of his dead,"12alluding to the soul, which transcends death). Isaac, whose name means "laughing" or "rejoicing," stands for the pleasures which the soul will have in the world to come. So the verse, thus translated, reads: "Pleasure will be the reward to the soul" ("Isaac, the son of Abraham") in the world to come, if "the soul begets pleasures ("Abraham begat Isaac") by its service in this world.
2. The Inner Unity
There is a general principle that when different interpretations are given to one and the same verse in the Torah, they are connected, even though superficially they seem to bear no relation to each other.
A proof of this is that the Rabbis13 explain that the word "shaatnez" (the forbidden mixture of wool and linen) is a fusion of three words: "shuah" (combed), "tavui" (spun), and "nuz" (woven); and argue14 that since the Torah combines these into one word it intends that a cloth must have all three properties before the Torah declares it shaatnez (i.e., that the wool and linen must be combed, spun and woven together). If we learn from the fusion of separate letters into one word that all three terms are connected, a fortiori must different explanations be connected if they are attached to the selfsame letters in Torah.
What is the relation between our four explanations?
All the stories of Torah have moral implication directly relevant to the life of each Jew.15 And we can readily understand the moral of the Chassidic explanation above. It is that a Jew must serve G-d with both poles of his emotional responses: Love and fear. The implication of the Zohar's interpretation is that by the this-worldly service of the Jew's embodied soul he creates spiritual pleasures which will be revealed to him in the world to come, and by recognizing this, his whole manner of service takes on a new life.
But what of the interpretations of the Talmud and the Midrash—which on the face of it have no immediate relevance to us?
The connection between these two is that both relate events which were out of the ordinary course of nature.
If nature had obeyed its physical laws, Abraham could not have had a child: He and his wife were old and barren. This is why when G-d told him he would bear a son, the Torah says: "He brought him outside,"16 which the Rabbis17 translate: "Break away from your astrological speculations," in which Abraham had foreseen that he would be childless.
And if the evolution of the spirit had taken its ordinary course (whereby succeeding generations diminish in spiritual stature; as the Rabbis18 say, "If the earlier Jews were sons of angels, then we are sons of men, etc.") then Abraham would not have been "crowned" in Isaac. For this implied that Isaac completed and complemented his father's service, and supplied an element which Abraham himself lacked.
So both these explanations convey to us the profound fact that a Jew may transcend the constraints of natural law, not only in spiritual matters, but in material matters as well.
Abraham had, as it were, spiritual offspring before Isaac, for "the offspring of the righteous are their good works."19 But the birth of Isaac proved that even in the physical domain miraculous events attended him.
And this is the real refutation of the "cynics of the generation." For their claim was (in depth) that though they conceded that a Jew might transcend limitations in the spiritual realms, to produce an effect in the physical world required the temporal power of the secular rulers (the claim that Abimelech was the father of Isaac); i.e., in material affairs he is subject to natural law.
In making Isaac facially resemble Abraham, G-d made his true parentage apparent to all, showing that the channel of physical power was Abraham (the soul, to follow the Zohar's reading) not Abimelech (the worldly ruler). The soul has no hindrances, either in itself or when it seeks to translate the devotion into action.
3. The Soul's Freedom
This leads us to an understanding of the words of Rabbi Yosef Yitzchak (sixth Lubavitcher Rebbe):20
"All the people on the face of the earth must know this: That only our bodies have been sent into exile and the servitude of (foreign) rulers. But our souls have not been exiled or enslaved.
"We must say openly before all, that in all matters relating to our religion, the Torah, the commandments and the customs of Israel, we Jews have no-one who can dictate to us, nor may any pressure be brought to bear against us."
This is, on the face of it, paradoxical, for what advantage is it if the soul is free so long as the body is in exile, and the soul must fulfill G-d's will through the body in the physical world?
But in fact, such is the strength of the soul's arousal that it can remove the body from its servitude to physical constraints. And this must be done openly so that "all the people on the face of the earth" (including the "cynics of the generation") should see that Abimelech (worldly power) has no domain over the Jew either in body or in soul.
4. Service and Reward
The connection between the four interpretations is now clear.
The Talmud belongs to the "revealed" part of Torah, so it addresses itself to the skepticism which can arise here in this "revealed" physical world, answering the challenge of the "cynics" by showing that even at a material level a Jew is not subject to the constraints of nature.
The Midrash is an intermediate link between Torah's "revealed" and "inward" aspects,21 so it treats the subject in the same way as the Talmud, and also gives a deeper explanation, showing that a Jew transcends nature, also the normal ("natural") spiritual order. He stands aside from the progressive decline of the human spirit, so that "the crown of the old is their grandchildren"22—the later generations perfect the service of the earlier. (And since the Midrash, in this, its second comment, speaks from a level in which cynicism has no place, it has no cause to answer it in the way that the Talmud does.)
Chassidut—which explains the path of service of G-d—also takes us into the realm of "higher than nature." Its moral was that each Jew must serve G-d with love and fear together. Now, normally these are incompatible emotions—love means drawing near; fear is the consciousness of a distance separating. But in worship of G-d the Jew transcends the natural movement of his feelings and can fuse these two opposite responses23 in a unique involvement of his whole being. When he does this, he is set apart by Heaven from the course of nature, both physically (as in the Talmud's interpretation) and spiritually (as in the Midrash).
The Zohar, which expresses the esoteric aspect of Torah, speaks of the world to come, and explains that by a Jew's efforts in this world to let his soul break through the bounds of embodied existence, he is rewarded by the spiritual delights of the future life.
5. The Reward is the Act
To take this further, it is said24 that "the reward of a Mitzvah (commandment) is a Mitzvah"; that is, the reward lies in the act itself, and not in the later and additional pleasure. For, in the world to come, what is granted to the Jew is not an incidental consequence of his good works, but is the good works themselves, revealed in their true character. For now, possessed of a body, he does not perceive the inner spiritual reality of an act of doing G-d's will. In the afterlife he does, and this is his reward.
The first three explanations speak about the act of performing a Mitzvah, while the Zohar directs itself to the reward. But since the reward is the act, we can see a closer unity between all four.
6.The Service of the Body,
The Reward of the Soul
Isaac was so called because the name means "rejoice," and Sarah said, when he was born to her in her old age, "G-d had made rejoicing for me."25 Now the name of G-d used in this verse is Elokim, which is usually taken to refer to G-d's imminence in nature ("Elokim" is, in fact, numerically equivalent to the Hebrew word for nature), which serves to conceal the four-lettered name which stands for G-d's transcendence. And there is a Chassidic explanation that the verse means "rejoicing has come from my service of sanctifying nature." That is, that in the physical world is hidden the imminent presence of G-d. And by dedicating one's acts in holiness, one draws out this presence into openness and revelation, which is the Divine purpose in creation, causing G-d Himself to rejoice.
Man, who was created in the image of G-d, also has, as it were, both imminent and transcendent aspects26—the body and the soul respectively. And as G-d rejoices through our sanctification of the world, so He rejoices in our sanctification of the body, for this is the fulfillment of the Divine purpose.
And while now it is the soul which gives life to the body, in the world to come it will be the body which will be the giver of life to the soul. For the purpose of creation is realized by refinement of the body, and since the soul is the force which refines the body, it will therefore share in the pleasure created through its effect on the body.
This, then, is the ultimate connection between the four interpretations. The first three speak of man's service, of how the soul lifts the body out of its natural constraints, and by transforming nature into manifest holiness brings pleasure to G-d ("Abraham begat Isaac," or "the soul creates pleasures"). As a result, the soul is rewarded by these very pleasures in the world to come—the concern of the Zohar—when "Isaac is the son of Abraham," or, "the soul receives its pleasures" in return.
(Source: Likkutei Sichot, Vol. III pp. 780-7)
ESSAY: Rivers of the Soul
| | |
| --- | --- |
| Rivers of the Soul | Cheshvan 25, 5775 · November 18, 2014 |
| | |
Rivers of Eden by Yoram Raanan.
"And a river flowed forth from Eden to water the garden, and it divided into four streams…and the name of the fourth is Pras." (Genesis 2:10)
The Talmud identifies this fourth river as the original flow of water which came forth from Eden, and gave birth to the other three streams. Ultimately, it is said to be the source of all the world's rivers, as well as the underground water table which is tapped into and revealed whenever a well is dug.
Jews are well-diggers. It's an occupation we inherited from our forefathers. Long before Columbia and Harvard, even before Cordoba and Pumbaditha, we knew how to tap the earth for living, and life-giving, waters.
All Jews are well diggers
It's not actually as easy as it sounds. To dig a well you must first have faith that there's water to be found. Then you have to invest yourself in the arduous task of removing layers of stone and earth to reveal the potential trapped within.And if you want your wells to have a chance at benefiting the world – you have to know how to make them last.
Abraham dug wells, but they didn't last. The Philistines stopped them up, covered over the gushing waters with dirt, until Isaac matured and was able to re-open his father's wells. He even dug three of his own, and this time the wells lasted.
So, too, did the lesson they convey – a lesson in how to tap into our own hidden potential. All Jews are well-diggers, even today. Whatever you do for your physical livelihood and your spiritual livelihood, all depends on digging lasting wells.
The spiritual livelihood of Abraham was in publicizing the knowledge of G-d. His life revolved around having guests – feeding them, sheltering them, and telling them that all gratitude should go not to him, their host, but to the One who created everything. Abraham's life and words were a source of direct light beaming down into a world of darkness and illuminating it. As long as he was physically here in this world, all of physical creation responded to that light. But when he passed away, his students no longer followed his teachings precisely. And so, the Philistines were able to stop up his wells.
But Abraham was blessed with a son who would continue and build upon his work. This son had a different, but complementary, Divine service. While Abraham, too, dug wells, it wasn't his primary task. For Isaac, well-digging was his primary physical and spiritual livelihood. His task was not to shine a lot from above to below as was his father's, but rather to remove all barriers and reveal vitality and light that would flow from below to above.
It isn't something that happens overnight – rather, it's a process that goes through gradual stages of maturity and depth. These are alluded to in the names given to Isaac's three wells – Eisek, Sitna, and Rechovot.
The name of the first well, Eisek, derives from a root meaning "physical strife." Isaac named this well Eisek because there his servants argued with the Philistines over ownership of the well. The name of the second well, Sitna, comes from a root meaning "hatred," because there they also quarreled. The third well, however, he named Rechovot, saying, "Now G-d has made for us wide spaces, and we will be fruitful in the Land."
Only when you engage your intellectual faculties can you reach your deepest spiritual potentials
The first two wells are allusions to engaging in life from our lower soul levels only. The first well, Eisek, alludes to one who has activated only his lowest level – the level of action. The second well alludes to one who has also engaged his emotions and psyche. Hence the names of the first two wells refer to physical strife and emotional strife.When we seek to make a significant change in our lives, or to improve our relationships with others, or with G-d, and we are doing so only on the level of behavior, then we are acting on the level of action. We're stuck at the first well – a place of open conflict. When we also engage our emotions, we're one step closer to real change, but still vulnerable to opposition and negative emotions – from within and without.
So how do we get to a place of wide spaces, of real progress?
To reach the third level requires using the intellect. Only when you engage your faculties of wisdom, knowledge, and understanding can you reach your deepest spiritual potentials, revealing a lasting flow of vitality and Divine light symbolized by a well that was permanent and undisputed.
That's the secret of well-digging bequeathed to us by Isaac. It's a secret that was well-understood by Rabbi Shneur Zalman of Liadi, the founder of Chabad Chassidut, when he formulated a path in Divine service based on the intellectual understanding of G-d. To make real changes in your way of living requires changing your way of being, and to do that you need to fill, and fulfill, your intellect through constant learning and contemplation.
And as your intellect changes, you can dig deeper into your heart and make real changes in your emotions and thus actions, making your own life into a source of illumination that transforms the world from within.
That's the well which is called Rechovot – a place of ever-expanding space where our world and our lives are never constricted because we can sense the Infinite hidden within. And that's the point at which you can tap into the fourth river, a source of life-giving water that flows from the primordial Garden of Eden straight into your own soul.
All of which is meant to lead to "we will be fruitful in the Land."
Each one of us has the power, and thus the obligation, to make our own unique imprint on this world, for though the commandment to be fruitful refers to having physical children, it also refers to the creative and intellectual impact that Jews have always had on the world. When it comes from the deepest point within, it's not only how we express ourselves – it's part of serving G-d.
חסר לכם משהו? אולי ה' מחכה לכם…

‎

המגזין השבועי של אתר בית חב"ד

קוראים יקרים,אין מילים. תמונות מחרידות שמזכירות לנו עבר אפל. מראות של יהודים עטופים בטלית ובתפילין שוכבים על הארץ. סידורים מוכתמים בדם יהודי…

לאחינו ואחיותינו ממשפחות גולדברג, טברסקי, לוין וקופינסקי: לב כל עם ישראל בוכה יחד איתכם. המחבלים הארורים לא פגעו באנשים היקרים לכם כל-כך בגלל שהם הכירו אותם. הם עשו זאת כי הם רצו להרוג יהודים, וכשהם פגעו ביקיריכם הם פגעו בכל אחד ואחת מאיתנו. הגרזן שלהם לא כוון רק אל ארבעה מתפללים בבית כנסת בשכונת הר-נוף בירושלים. הוא הונף מול עם ישראל, בשנאה צרופה וברוע בלתי נתפס. תהא נשמתם צרורה בצרור החיים. הלוואי שהם יהיו מליצי טוב לפני בורא העולם עבורכם ועבור עם ישראל כולו.

הבה נישא תפילה עבור אלו שנפצעו בפיגוע שבורא העולם ישלח להם מהרה רפואה שלימה מן השמיים בקרוב.

ואת מקבלי ההחלטות נשאל את השאלה של כולנו: עד מתי זה יימשך? האם לא הגיע הזמן לעשות שימוש בכל הכלים שברשותנו כדי להביא ביטחון ושקט אמיתי לאזרחי ישראל?

שיהיו לנו מעתה ואילך רק בשורות טובות!

הרב מנדי קמינקר
| | |
| --- | --- |
| רבקי קמינקר | |

הרחיבו את ידיעותיכם

כאשר יעקב מתחזה לעשו כדי לקבל את הברכות, הוא לובש את "בגדי החמודות" של אחיו. מה הפך בגדים אלו לבגדי חמודות? סקירה מרתקת

לרגל כינוס השלוחים העולמי המתקיים השבוע בניו-יורק

בישיבה מיוחדת לציון עשרים שנה להסתלקותו של הרבי, חה"כ ד"ר רות קלדרון הקדישה כמה מילים על מפעל השליחות של הרבי וקראה לעם ישראל לאמץ את הרעיון

 לצפיה

 (4:04)

שיעורי תורה בוידאו

כיצד התפתחה המסורת וההלכה? שיעור מרתק שסוקר את מעמד הר סיני ועד לימינו אנו

יעקב נחימובסקי

 לצפיה

 (15:03)

הרבי

פרופסור אהרן צ'חנובר, חתן פרס נובל, מספר על מפגש מרתק שלו עם הרבי.

הרבי מליובאוויטש זי"ע

מה קורה בפרשת השבוע

הראשון, אדום ושעיר, מקבל את השם עשו; אחיו יצא כשהוא אוחז בעקב הראשון, ולפיכך קיבל את השם יעקב. כשגדלו, עשו הפך להיות צייד ויעקב בילה את ימיו בלימוד תורה

מוזיקה לצפיה והאזנה

צפו בארבעים דקות של ניגוני חב"ד מרוממי לב ומרטיטי נשמה

 לצפיה

 (38:50)

מעניין לדעת…

מי הם שלוחי חב"ד? כיצד הכול התחיל? ומה מניע אותם? כאן תמצאו את התשובות לשאלותיכם

מערכת האתר

נקודה למחשבה

כשאנחנו רוצים משהו שחסר לנו אנו מתפללים לבורא העולם. אבל אחד הרעיונות היותר מפתיעים הוא שלפעמים בורא העולם יצר את החוסר הזה כדי שנתפלל אליו, כי הוא פשוט רוצה את התפילות שלנו

מנדי קמינקר

רעיון לפרשת השבוע

עשיו רוצה את העדשים. יעקב מציע לתת לו את הנזיד בתמורה לזכות הבכורה של עשיו. כתאום הבכור, עשיו היה אמור להיבחר לשרת בבית המקדש. עשיו מקבל את ההצעה והעסקה נחתמת

יוסי גולדמן

השאלות שלכם

יש לנו ידידים טובים שגם הם לא דתיים. נולדו להם חמישה ילדים, ובדיוק כפי שאת מתארת לעצמך הם היו מאוד חריגים בשכונה

מינדי שמרלינג

רעיון להפטרה

הנביא מלאכי מביא דו-שיח מרתק בין בורא העולם לעם ישראל. היהודים רוצים להבין מדוע הקדוש ברוך הוא אוהב אותם, והתשובה מפתיעה

שמואל רסקין

כשהזוגיות במשבר

אני מרגישה שבעלי לא יודע לדבר בכנות. הוא ממציא כל מיני תירוצים בשביל להשיג משהו שהוא רוצה. למשל במקום להגיד שהוא עייף הוא יגיד שכואבת לו הרגל…

אודליה מימון
\