Tag Archives:
Parshat Shemot
Weekly Parasha F-U-L-L  Version  5777
24JEWISH.TV WEEKLY PARASHAH,, Select MyRabbi,,, Languages : hebrew,english,russian,french,spanish Great Shiurim and Commentaries Selection
ARCHIVES
Select Section WEEKLY Parshat shemot language hebrew, french, english, spanish, german, russian, Machon Meir, CHABAD, The Jewish Woman, YOUTH/TEENS SHIURIM & COMMENTARIES

Weekly Parsha
The Torah does not describe for us in any form whatsoever as to what happened to the family of Yaakov – who are now the people of Israel, and suddenly very numerous and at one time very influential and comfortable in Egyptian society – in the years between the death of Yosef and the enslavement of the Jews many decades later. The Torah is not here to give us a narrative of interesting historical facts and, as it did in the book of Bereshith, it skips over decades and even centuries without giving us any in-depth description. But Midrash does attempt to somehow fill that void and portrays for us on one hand a people who attempted to remain separate and unique from the Egyptian majority…
ONCE UPON A CHASID: Empty Threat? (Shemot)
| | | | |
| --- | --- | --- | --- |
| | | | |
| | |
| --- | --- |
| Empty Threat? | Tevet 16, 5774 · December 19, 2013 |
| | |
Do you say to kill me..?! (2:14)
Speaking negatively of another kills three: the speaker, the one who listens, and the one who is spoken of …
– The Talmud, Erchin 15b.
Two Mezhebuzh citizens were involved in a bitter dispute. Once, while they were angrily having it out in the local synagogue, one shouted at the other: "I will tear you apart like a fish!"
Rabbi Israel Baal Shem Tov, who was in the synagogue at the time, told his disciples to form a circle, each taking the hand of his neighbor, and to close their eyes. The Baal Shem Tov himself closed the circle by placing his holy hands upon the shoulders of the two disciples who stood nearest to him. Suddenly, the disciples cried out in fright: they saw the angry man actually ripping his fellow apart, just as he had threatened!
No potential ever remains unrealized. A person's every act, word, and even thought has an effect. At times, the effect is concrete and tangible; at times, is is more subtle and can be discerned only a finer, more spiritual eye.
CHASSIDIC DIMENSION: Children — Large and Small (Shemot)
Tevet 16, 5774 · December 19, 2013
Shmos
FOOTNOTES
1.
Shmos 4:22.
2.
Ibid.
3.
Hosheah 11:1; See at length Or HaTorah, Beshallach p. 382ff; Ki Na'ar Yisrael ,5666, Sefer HaMa'amarim 5678 p. 159ff.
4.
Devarim Rabbah 5:7.
5.
Tanya , beginning of ch. 2.
6.
Cf. Tanya ch. 38 (p. 50b and onward).
7.
Shmos 1:1.
8.
Ibid.
9.
Tanya ch. 2,
10.
See discourses titled Atta Echad 5702, 5729.
Based on the teachings of the Lubavitcher Rebbe, Rabbi Menachem M. Schneerson    More articles…  |   

GARDEN OF TORAH: Challenge, Growth, and Transition (Shemot)
| | | | |
| --- | --- | --- | --- |
| | | | |
Tevet 16, 5774 · December 19, 2013
Challenge, Growth, and Transition
Shmos; Exodus 1:1 – 6:1
FOOTNOTES
1.
More specifically, the reference is to the level of yechidah, the dimension of soul which is absolutely one with G-d. This level is revealed through the challenges of exile.
2.
See Shmos Rabbah 1:4. Rashi's notes to Exodus 6:16.
3.
Exodus 5:23.
4.
Ibid. 2:23-24.
5.
Ibid. 3:12.
6.
And yet a person with insight can see how an individual's name tells volumes about his character. In that vein, Yoma 83b relates that Rabbi Meir could deduce a person's character from his name.
7.
Shaar HaYichud VehaEmunah, ch. 1.
8.
Likkutei Torah, Behar 41c.
9.
Genesis 32:29.
10.
Kiddushin 36a; Rus Rabbah, Pesichta 3; see also Likkutei Sichos, Vol. XI, p. 3 and sources cited there.
11.
Song of Songs 5:2.
12.
Zohar, Vol. III, p. 95a; see Shir HaShirim Rabbah on the verse.
13.
This concept also gives us insight into the nature of redemption: redemption does not require the creation of anything new, but the revelation of a potential which already exists.Similarly, this idea points to the manner in which we can endeavor to bring this potential into expression by all Jews. What is necessary is to call the person by his name Yisrael, and to give him an opportunity to reveal who he is. Since he is a Jew and by nature "desires to fulfill all the mitzvos and separate himself from sin" (Rambam, Hilchos Gerushin 2:20), he will respond, expressing his inner nature.
14.
Shmos Rabbah 1:3 (quoted by Rashi in his commentary to Exodus 1:1) explains why the names of the tribes are repeated in this Torah reading after having been mentioned in the Book of Genesis.
15.
Zevachim 73a, Shulchan Aruch, Yoreh De'ah 110:1.
16.
See also Pe'ah 7:1 (and Rambam, Hilchos Matanos Aniyim 5:23), which states that no entity with a name is ever considered forgotten. The fact that its owner gave it a name indicates its constant importance in his eyes.
17.
Midrash Tanchuma, Bechukosai, sec. 3. See Tanya, chs. 33 and 36.
18.
Sichos Simchas Torah, 5689.
19.
Sound the Great Shofar (Kehot, N.Y., 1992), p. 112-113.
PARSHAH PICKS: Leadership and the People (Shemot)
| | | | |
| --- | --- | --- | --- |
| | | | |
Tevet 15, 5774 · December 18, 2013
General Overview:
This week's Torah reading, Shemot, begins the Book of Exodus. Pharaoh issues harsh decrees against the Israelites, beginning decades of Jewish suffering and slavery. Moses is born and raised in the Egyptian royal palace. After killing an Egyptian, Moses escapes to Midian and marries. G‑d appears to him in a burning bush and demands that he return to Egypt to redeem the Israelites. Moses returns to Egypt with the intention of freeing the Jewish people.
| | |
| --- | --- |
| By Rabbi Jonathan Sacks | |

PARSHA

Exodus 1:1–6:1

Pharaoh enslaves the Hebrews, and orders all male babies killed. Moses is born, placed in a basket on the Nile, and discovered and raised by Batyah, Pharaoh's daughter. Moses leaves the palace and discovers his brethren's hardship. G‑d appears to him in a burning bush, and sends him to advocate for the Israelites' freedom.

COLUMNISTS

A bush is on fire but it is not consumed. A nation is killed time and time again — but it does not die…

By Shimon Posner

You feel the pain and bitterness, even more deeply than the others, yet you carry in your heart an inextinguishable flame of faith, hope and optimism. You are Miriam, the quintessential Jewish woman

By Chana Weisberg

VIDEO

Parshah Shemot

"Think good and it will be good" is not just a feel-good slogan. It means that by trusting in G-d, we actually elicit His help from on High. Find out what happened when Moses doubted if he was deserving of G-d's help. (Based on Likutei Sichos volume 36, Sicha 1.)

By Moishe New

 Watch

 (45:00)

How to Study Torah – Shemot

When G-d charges Moses with the task of leading the Jews out of Egypt, Moses asks G-d what His name is and G-d responds, "I will be what I will be." How does this cryptic answer help us understand the problem of evil and suffering?

By Mendel Kaplan

 Watch

 (45:00)

Letters and Numbers of Torah – Shemot

When G-d shows Moses a sign by having him turn a staff into a snake, G-d asks Moses, (Exodus 4:2) "What is this in your hand?" But the two words, "mah zeh" ("what is this") are spelled in the Torah as one word, "mizeh" ("from this.") How does the term "mizeh" hint to the Alter Rebbe and Maimonides whose yahrzeits are this week?

Aaron L. Raskin

 Watch

 (25:00)

AUDIO
FOR FRIDAY NIGHT: The Power of Invention (Shemot)
Tevet 16, 5774 · December 19, 2013
The Power of Invention
FOOTNOTES
1.
There is more information about making bricks in the account of the attempt to build the Tower of Babel, Genesis 11:3.
2.
Based on the Lubavitcher Rebbe's Likkutei Sichot, vol. 6 pp.14- 25.
By Tali Loewenthal    More articles…  |   

Dr. Tali Loewenthal is Lecturer in Jewish Spirituality at University College London, director of the Chabad Research Unit, and author of Communicating the Infinite: The Emergence of the Habad School.
TORAH STUDIES: Parshat
| | | | |
| --- | --- | --- | --- |
| | | | |
Tevet 15, 5774 · December 18, 2013
Shemot
FOOTNOTES
1.
Shemot 4:13.
2.
Lekach Tov.
3.
Cf. Shemot Rabbah, 2:4. Zohar, Part I, 253a.
4.
Rambam, Hilchot Melachim, end of ch. 11.
5.
Ibid.
6.
Malachi 3:22. Cf. Shabbat, 89a.
7.
Bereishit 49:10.
8.
Baal Haturim on Bereishit, Ibid. Cf. supra, p. 2 and note 5.
9.
Cf. Tanya, Part I, beg. of ch. 42.
10.
Cf. Bereishit Rabbah, 14:7; 3:3.
11.
Shabbat, 146a.
12.
Ibid. Zohar, Part I, 52b; Part II, 193b.
13.
Zohar, Ibid. Cf. Tanya, Part I, end of ch. 36.
14.
Zechariah 13:2.
15.
Cf. supra, pp. 11 ff.
16.
Rambam, Hilchot Melachim, 9:1.
17.
Yoma, 28b; Kiddushin, 82a.
18.
Cf. Shulchan Aruch Harav, Orach Chaim, 60:4.
19.
Likkutei Torah, Tzav, 17a. Shaar Hoemunah, ch. 56.
20.
Cf. Kohelet Rabbah, end of ch. 11 and beg. of ch. 2.
21.
Tanya, Part I, ch. 36.
22.
Isaiah 40:5.
23.
I Kings 8:51.
24.
Tanya, Part I, beg. of ch. 37.
25.
Cf. Torah Or, Vaera, 55b.
26.
Shulchan Aruch, Orach Chaim, ch. 61. Cf. Berachot, 13b.
27.
Olam—he-elam.
28.
Shemot Rabbah, end of ch. 29.
29.
Shemot 3:12.
30.
Tanchuma, Pekudei, 3.
31.
Yalkut Shimoni, Remez, 702.
32.
Hilchot Deot, 5:1.
33.
Jerusalem Talmud, Sanhedrin, 1:1. Cf. Devarim Rabbah, 1:10.
34.
Isaiah 44:6.
35.
Maharsha, Sanhedrin, 97a.
36.
Cf. Tanya, Part IV, 4.
Adapted by Rabbi Jonathan Sacks; From the teachings of the Lubavitcher Rebbe    More articles…  |   

WEEKLY ALIYOT: Parshat Shemot
| | | | |
| --- | --- | --- | --- |
| | | | |
Tevet 15, 5774 · December 18, 2013
Shemot Aliya Summary
General Overview: This week's Torah reading, Shemot, begins the Book of Exodus. Pharaoh issues harsh decrees against the Israelites, beginning decades of Jewish suffering and slavery. Moses is born and raised in the Egyptian royal palace. After killing an Egyptian, Moses escapes to Midian and marries. G‑d appears to him in a burning bush and demands that he return to Egypt to redeem the Israelites. Moses returns to Egypt with the intention of freeing the Jewish people.
---
First Aliyah: Jacob's sons all died. Jacob's descendents in Egypt, however, were "fruitful and swarmed and increased and became very very strong." A new Pharaoh arose, and he resolved to find a solution to the "Israelite problem." He proposed to afflict the Israelites and impose slave labor upon them, thus preventing them from multiplying. He implemented the plan, and the Israelites were forced to construct storage cities for Pharaoh. "But as much as they would afflict them, so did they multiply and so did they gain strength." Pharaoh then summoned the Hebrew midwives and instructed them to kill all the Hebrew sons that they delivered. The righteous midwives feared G‑d, however, and defied Pharaohs order.
---
Second Aliyah: Pharaoh called the midwives to task for not following orders. They answered that the Hebrew women were skilled in midwifery and delivered their babies before they even arrived. G‑d rewarded the midwives for their bravery. Pharaoh then commanded the Egyptians to cast all newborn male Israelites into the Nile. Moses was born. His mother, who feared for her baby's life, put him into a waterproofed basket and set him afloat in the Nile. Pharaoh's daughter came to bathe, and took the child as her own. Moses' sister Miriam, who observed the entire episode, offered to bring a Hebrew nursemaid for the child, and when Pharaoh's daughter agreed to the suggestion, Miriam called the child's mother. Moses' mother nursed the child and after he was weaned brought him back to Pharaoh's daughter.
---
Third Aliyah: Moses was raised in Pharaoh's palace. When he matured, he went out one day and saw an Egyptian smiting a Hebrew. Moses slew the Egyptian. Word of his deed reached Pharaoh, and Moses was compelled to flee. He escaped to Midian where he married Zipporah, the daughter of Jethro. They gave birth to a son, Gershom. Back in Egypt, meanwhile, the plight of the Israelite slaves was worsening. They cried out to G‑d, and He remembered the covenant He had made with their forefathers.
---
Fourth Aliyah: Moses was shepherding Jethro's flocks in the wilderness when he arrived at the "mountain of G‑d." There he saw a bush burning, yet it was not being consumed by the fire. When he approached to investigate the phenomenon, G‑d called out to him. G‑d declared that He has seen the Israelites' afflictions, and has decided to deliver them from their Egyptian masters.
---
Fifth Aliyah: G‑d gave Moses specific instructions: He was to gather the Israelite elders and inform them that G‑d had remembered them and would now rescue them from Egypt and bring them to a Land of Milk and Honey. Then he was to approach Pharaoh and request permission to leave along with the Israelites. G‑d informed Moses that Pharaoh would not accede to this request – but the redemption would come nonetheless, after G‑d will smite Egypt with a strong arm. At that point the Israelites would leave with much riches. G‑d gave Moses three miracles to perform before the Israelites to prove that he was sent by G‑d. When Moses protested that he was not suited to be G‑d's messenger due to his speech impediment, G‑d assigned his brother Aaron to be his spokesperson.
---
Sixth Aliyah: Moses took his wife and two sons and headed for Egypt. G‑d charged Moses to warn Pharaoh: "So said G‑d, 'My firstborn son is Israel. So I say to you, send out My son so that he will worship Me. And if you refuse to send him out, behold, I will slay your firstborn son.'" En route to Egypt, Moses' wife rescued her husband from divine wrath by performing a circumcision on their son. Moses met Aaron, who had come from Egypt to greet him, and together they went to Egypt, gathered the elders and performed the wondrous signs that G‑d had given Moses.
---
Seventh Aliyah: Moses and Aaron went to Pharaoh and presented G‑d's demand. Pharaoh mocked the request and instructed the Egyptian taskmasters to increase the Israelite slaves' workload. The Israelites were unable to meet Pharaoh's new demands, and were viciously beaten as a result. Moses addressed G‑d: "Why have You mistreated this people? Why have You sent me? Since I have come to Pharaoh to speak in Your name, he has mistreated this people, and You have not saved Your people." G‑d responded: "Now you will see what I will do to Pharaoh, for with a mighty hand he will send them out…"
PARSHAH IN A NUTSHELL
| | | | |
| --- | --- | --- | --- |
| | | | |
Tevet 15, 5774 · December 18, 2013
Shemot
Exodus 1:1 – 6:1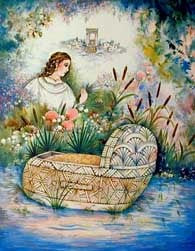 The Children of Israel multiply in Egypt. Threatened by their growing numbers,Pharaoh enslaves them and orders the Hebrew midwives, Shifrah and Puah, to kill all male babies at birth. When they do not comply, he commands his people to cast the Hebrew babies into the Nile.
A child is born to Jocheved, the daughter of Levi, and her husband, Amram, and placed in a basket on the river, while the baby's sister,Miriam, stands watch from afar. Pharaoh's daughter discovers the boy, raises him as her son, and names him Moses.
As a young man, Moses leaves the palace and discovers the hardship of his brethren. He sees an Egyptian beating a Hebrew and killsthe Egyptian. The next day he sees two Jewsfighting; when he admonishes them, they reveal his deed of the previous day, and Moses is forced to flee to Midian. There he rescues Jethro's daughters, marries one of them – Zipporah – and becomes a shepherd of his father-in-law's flocks.
G-d appears to Moses in a burning bush at the foot of Mount Sinai and instructs him to go to Pharaoh and demand: "Let My people go, so that they may serve Me." Moses' brother, Aaron, is appointed to serve as his spokesman. In Egypt, Moses and Aaron assemble the elders of Israel to tell them that the time of their redemption has come. The people believe; but Pharaoh refuses to let them go, and even intensifies the suffering of Israel.
Moses returns to G-d to protest: "Why have You done evil to this people?" G-d promises that the redemption is close at hand.
| | |
| --- | --- |
| | OU Shabbat Shalom Weekly |
| | |
| --- | --- |
| I Lived the PEW ReportMe'ira FeinbergAs the daughter of two loving parents, a Roman Catholic mother and a Jewish father, raised within the Reform Jewish movement, I didn't have to read the Pew report, I grew up as the Pew report. | |
| | |
| --- | --- |
| | |
| | | |
| --- | --- | --- |
| Reading the FootnotesRabbi Dr. Tzvi Hersh WeinrebWe often "see" our brothers in difficulties of one sort or another. Typically, matters stop right there. We "see" them, but we do not extend ourselves in the ways that Moses did. Quite the contrary: we tend to look away. | | |

| | | |
| --- | --- | --- |
| Birth AnnouncementsRabbi Eliyahu SafranThe birth of the child who would grow to be the man able to speak directly with God; the child who would grow to be the man able to enter into the prophetic state at will and to transcend the corporeal state completely; Moshe was just like you and me! Moshe was born from mortal Ish and mortal Bat. | | |

| | | |
| --- | --- | --- |
| Parashat Shmot: A New Book, An Old StoryRabbi Ari KahnAlthough the burning bush is not off limits, Moshe immediately understands that it is to be observed from a respectful distance, and not to be approached. Similarly, when his staff is transformed into a serpent, Moshe recoils; perhaps he is reminded of an old adversary. We have seen the serpent before and the results were devastating. | | |

| | | |
| --- | --- | --- |
| Exodus: Pharaoh's IronyOU PressWhat messages of hope and God's salvation that emerge from the Jews' enslavement in Egypt did Rabbi Menachem Genack highlight in his letters to President Bill Clinton? | | |
| | | |
| --- | --- | --- |
| Why I Never Think of 'Aliyah to Reform Jewry'Miriam L. WallachIn a recent article by Ms. Carlebach, daughter of the late, great Rabbi Shlomo Carlebach, she shared her recent experiences at the Union for Reform Judaism convention in San Diego. While online reactions varied, I wondered if, sans the name recognition, anyone would read an essay I would write about why I love Orthodox Judaism. | | |

| | | |
| --- | --- | --- |
| Tefillah Tips: Baruch She'amar ContinuedRabbi EpsteinRav Schwab zt"l explains that the beginning of Baruch She'amar presents ten "definitions" of the ineffable name of G-d. The tefillah is divided into two parts. The first part presents the ten definitions, and the second part consists of the blessing we recite before praising Hashem with פסוקי דזמרה- Verses of Song. | | |

| | | |
| --- | --- | --- |
| Turning the Evil Inclination to GoodMichael LinetskyEven during the Days of Repentance, with Yom Ha-Kippurim right around the corner, we may find that our resolutions for the new year have begun to waver. | | |

| | | |
| --- | --- | --- |
| L'Ayla Women "Getaway" from Snow in YerushalayimOU IsraelOn Monday and Tuesday, December 16 and 17, when Yerushalayim was still shoveling out from under a record-breaking snowstorm, a group of L'Ayla women enjoyed themselves. They went on the Winter Getaway which was planned – and named – before anyone knew about the snow. Despite the snow, the women enjoyed a warm and wonderful two days in Israel's north. | | |

| | | |
| --- | --- | --- |
| Winter VegetablesEileen GoltzWhoever said that white after Labor Day is a no obviously wasn't referring to winter white root vegetables. Immediately, potatoes, cauliflower and onions come to mind. But how can we not include celery turnips and parsnips into our list of amazing and delicious foods that are actually good for you? | | |
| | | |
| --- | --- | --- |
| Rabbi Micah Greenland is Named International Director of NCSY, the OU's Youth MovementSteve SteinerRabbi Micah Greenland of Chicago has been named by the Orthodox Union as International Director of NCSY, the youth movement of the OU. For the past year he has held the title of Interim Director while succeeding Rabbi Steven Burg, who held the position for eight years before joining the Simon Wiesenthal Center as eastern director. | | |

| | | |
| --- | --- | --- |
| JUMP Teens Host Israeli Dance Troupe for Uplifting ShabbosLeelah PaulAt the end of November, the SKA JUMP team successfully ran its first event of the year. Organized as a component of NCSY, the Jewish Unity Mentoring Program (JUMP) focuses on providing Jewish high school students with leadership skills that will enable them to help create positive changes in their schools and communities. | | |